Static GK
Static General Knowledge is a vital section present in almost every competitive exam, carrying substantial weight for aspirants gearing up for these examinations. However, candidates frequently encounter difficulties in gathering all the necessary Static GK PDFs from a centralized source. This article endeavors to offer an extensive compilation of resources concerning Static GK, streamlining your last-minute review in preparation for the 2023 exams. Rest assured, this list contains the most up-to-date information on General Awareness for the upcoming examinations.
General Knowledge
Static General Knowledge encompasses knowledge about the world, geography, history, politics, economics, and other unchanging subjects. It comprises information that remains consistent and doesn't undergo immediate changes. This encompasses facts about individuals, locations, objects, significant dates, currencies, traditional dances, and more – essentially, facts that hold universal relevance and retain their accuracy over time. Here is a list of Static GK topics along with links to PDFs that provide more detailed information.
Static General Knowledge: Importance
As the coming days witness multiple defense exams such as AFCAT, CRPF, CDS, NDA, etc., candidates must focus on studying both Current GK updates and Static GK. Aspirants are putting their best efforts to succeed in these exams. To gain an advantage over others, DefenceAdda is here to support you by offering a comprehensive list of all static topics for General Awareness in a single place. This consolidated resource will enable you to revise all crucial subjects at once, giving you a valuable edge in your exam preparation.
List of Static General Knowledge Topics
Student has to prepare General Awareness section very well in order to score well. In this section, Static GK plays a very important role as most of the questions come from this section only. The General Awareness section contains questions from the following topics:
| | |
| --- | --- |
| Topic | No. of questions |
| Geography | 6-8 questions |
| Current Affairs | 5-6 questions |
| Indian Polity | 3-4 questions |
| History | 3-4 questions |
| Science and Technology | 2-3 questions |
| Economics | 2-3 questions |
Complete List of Static General Knowledge
As you can see a major portion of the GA section is covered with static GK, Defenceadda is helping you get all the material in one place. Now, aspirants, you don't have to search for every individual PDF. Just save this article and revise these PDFs till the exam day arrives.
Static GK PDF
Static GK topics include variety of topics. The students who prepare for the defence exam would like to learn about the Static GK. There are many more such topics that candidates can study to improve their General Knowledge. Candidates can download these PDFs to study Static GK topics in-depth.
You can download individual PDF and read them for upcoming Examinations. Your Static GK portion is now fully covered.
Static GK: Full Forms
Current Affairs
Current Affairs can be prepared from any standard magazine. Adda247 also covers the current affairs on its various study materials. We also provide the Daily Current Affairs Quizzes here. This will help you in covering your daily current affairs. Practice them on a regular basis and you will feel the difference. Your General Awareness section is fully prepared for both Static and Current portion by covering these PDFs and Quizzes. Keep Revising! Keep Studying!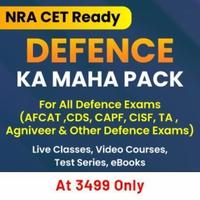 Now keep yourself updated with Latest Defence Jobs and News 24×7 Download ADDA247 App Now! CLICK HERE