Indian Coast Guard Question Papers (Model)
India Coast Guard Recruitment: Indian Coast Guard (ICG) has released the notification for the recruitment post of Navik (Domestic Branch- DB, General Duty- GD) and Yantrik for 01/2023 batch. Many candidates will be appearing for the exams. In this article we will be enlisting the Model Question Papers PDFs for various posts.
ICG Navik/Yantrik Recruitment 2022
The best way of getting started in your preparation is knowing the examination well, and to make a full proof strategy you must be aware of the type of questions asked in the exams hence practicing the model papers will give you an edge as it will help you know the areas you need to concentrate your focus on and the way you should attempt questions for efficiently using the time provided to you.
ICG Navik/Yantrik Admit Card Out
You might be wondering from where should you download the model papers but ADDA247 has made your search easy , below we are listing all the model papers, you just keep on practicing, rest leave on us. All The Best!
Indian Coast Guard Question Papers (Model): Link to Download PDFs
Regular practice not only helps you develop marvelous skills to ace an examination but also empowers you to get better as time goes by. Once you attune yourself to constant practice with mock tests, the real examination no longer seems outlandish to you. So, practice hard, compromise it for nothing, and ace the ICG Exam this time.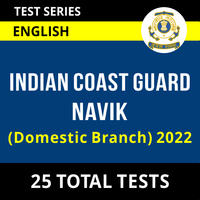 Now keep yourself updated with Latest Defence Jobs and News 24×7 Download ADDA247 App Now! CLICK HERE
Indian Coast Guard Question Papers (Model): FAQs
Q1. What is the total number of vacancies announced by ICG?
Ans. A total of 300 vacancies has been announced by ICG for Navik and Yantrik posts.
Q2. What is the exam date of ICG Navik and Yantrik?
Ans. Exam date has been announced by the Indian Coast Guard for Navik and Yantrik posts. Check Here