SSB Interview Questions: The Interview is the process in which the candidate is in direct conversation with the IO (Interviewing Officer) and is assessed on his/her personality and is asked questions pertaining to the PIQ (Personal Information Questionnaire) filled by the candidate.
SSB Interview Questions
The Interviewing Officer (IO) starts talking in a very relaxed manner with you at the start and then starts asking questions based on your PIQ. The questions are generally asked in a rapid fire sequence and about 8-10 questions will be asked at one go. The candidate has to answer the questions in the same sequence as asked. In between the IO may ask some other questions as well to get some things clarified. The IO may ask 5 – 6 rapid fire sequences during the interview.
The questions will be ranging from a myriad of topics like your education from school, favourite teachers and why do you like them, questions regarding your friends, family and colleagues, the subjects you liked at school or college, what you like about your job, questions regarding your pocket money or salary and how you utilize it, your goals dreams and aspirations, sports and co-curricular activities, general awareness, current affairs, defence news, geopolitics and India's relations with its neighbours.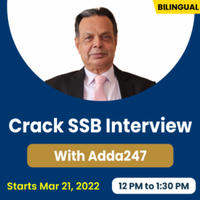 SSB Interview Questions: FAQs
Q1. How much time will I get after writing my story PPDT?
Ans. The whole picture is visible for 30 seconds. After 30 seconds, you get a minute to summarize the important aspects of the picture, and you have 4 minutes to write a story.
Q2. How long is the SSB Process?
Ans. SSB takes 5 days to select a candidate in which he/she has to pass multiple tasks over 5 days.