AFCAT Salary
AFCAT Salary 2023: Air Force Common Admission Test (AFCAT) is conducted twice a year by the Indian Air Force recruiting authorities for the induction of the Officers in Flying, Technical, Administration, Logistics branch for permanent and short service commission officers. Every year lakhs of candidate apply and appear for this exam. To crack this exam all you need is right approach and proper strategy.
AFCAT 1 2023 Official Notification
AFCAT Job Profile, Salary Structure and Career Growth
Apart from patriotism, honour, adventure, and passion, the Indian Air Force offers an attractive salary structure and career growth which draws the youth towards joining the Indian Air Force. Indian Air Force takes care of its officer very well and pays them a handsome amount of salary along with a lot of additional benefits and allowances.
AFCAT Job Profile with Salary Structure
As an official in the Indian Air Force, anything is possible for you. You start your career as a Flying Officer and can ascend to the position of Air Marshal. The divinely selected individual from the Flying Branch turns into the top of the family for example The Chief of Air Staff.  Know rank structure below:
Junior Level Officers
Flying Officer (Fg Offr): Taking off a profession in Air Force, this is the primary position an official wears after fruitful consummation of the preparation.
Flight Lieutenant (Flt LT): Beginning the ascension, Flight Lieutenant is the following bar in the Indian Air Force pecking order, where you assume and significant function as an individual from a firm group.
Leader Level Officers
Squadron Leader (Sqn Ldr): Taking on greater obligations under the care of you, the Squadron Leader attempts numerous assignments. Presently you are a senior level boss.
Wing Commander (Wg Cdr): Gearing up for the higher grounds the Wing Commander, the following higher position, takes on extra duties.
Group Captain (Gp Capt): Taking charge of men and the board, you as a Group Captain may order a medium-sized Air Force Station or be a significant connection in dynamic instrument at different IAF developments.
AFCAT Salary: Chief Level Officers
Air Commodore: An Air Commodore is the following position and of a Principal Director. You may order a huge Air Force Station, or hold Staff Appointments (senior-level) at Air HQ/Command HQ.
Air Vice-Marshal: Only the challenging not many ascension this high in the Air Force progression. An Air Vice Marshal is liable for taking vital choices.
Air Marshal: Just one stage underneath the highest point of the stepping stool, the Air Marshal orders a ton of intensity.
AFCAT Salary: Chief of Indian Air Force
Air Chief Marshal: The highest point of the bar for the most elite from the flying branch. The Air Chief Marshal heads the Air Force family and is answerable for all vital and strategic choices in the midst of harmony and war.
| | | |
| --- | --- | --- |
| Rank | Level | (Pay in Rs.) |
| Flying Officer | Level 10 | 56,100 – 1,77,500 |
| Flight Lieutenant | Level 10 B | 6,13,00-1,93,900 |
| Squadron Leader | Level 11 | 6,94,00 – 2,07,200 |
| Wing Commander | Level 12A | 1,21,200 – 2,12400 |
| Group Captain | Level 13 | 1,30,600-2, 15,900 |
| Air Commodore | Level 13A | 1,39,600-2,17,600 |
| Air Vice Marshal | Level 14 | 1,44,200-2,18,200 |
| Air Marshal HAG Scale | Level 15 | 1, 82, 200-2,24,100 |
| HAG + Scale | Level 16 | 2,05,400 – 2,24,400 |
| VACS/Airforce Cdr / Air Marshal (NFSG) | Level 17 | 2,25,000/-(fixed) |
| CAS | Level 18 | 2,50,000/-(fixed) |
In addition, the following allowances are admissible to the newly Commissioned Officers in Flying and Technical Branches.
Flying Allowance @ Rs 11250 PM to Flying Branch Officers.
Technical Allowance @ Rs 2500 PM to Technical Branch Officers
Specifications about Flying and Technical Allowances
| | |
| --- | --- |
| Rank | Flying Pay |
| Flying Officer | Rs 11,250 /- |
| Flight Lieutenant | Rs 13,750 /- |
| Squadron Leader | Rs 17,500/- |
| Wing Commander | Rs 17,500/- |
| Group Captain | Rs 17,500/- |
| Air Commodore & above | Rs 13,125/- |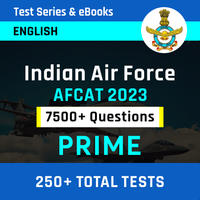 AFCAT Related Posts