AFCAT SSB
AFCAT SSB: AFCAT written examination was successfully conducted by Indian Air Force in the month of August 2022. The result for the written exam will be declared in the month of September. Candidates who will clear the written examination will appear for their AFSB Interview process.
AFSB 2 2022 Complete Selection Process
AFSB is the same thing as SSB is, i.e. service selection board interview. Here in AFSB AF stands for Air Force. Everyone tells you how to clear the written exam but no one provides guidance as on how to clear the AFCAT SSB process. Not much information is there on internet about the AFSB process.
AFCAT  Exam consists of three stages: Written Examination, AFSB and Interview round. In this article, we will discuss in detail the step by step process of AFSB and the SSB dates released by Indian Air Force.
Register Here for Free Counselling Session for AFSB
AFCAT: Exam Summary
Name of Exam
Air Force Common Admission Test
Conducting Body
Indian Air Force
Periodicity
Twice a year
Exam Level
National
Mode of Application
Online
Mode of Exam
Online (CBT)
Exam Rounds
3 Stages (Written + AFSB + DV)
Exam Dates
Written Test: 26th, 27th & 28th August
AFSB: to be announced soon
Expected Candidates
2 lakhs approx.
Available Seats
283
Job Location
Across India
Official Website
https://afcat.cdac.in
AFSB (Air Force Selection Board)
AFSB is the second phase of the exam. Candidates who clear the written exam will receive the call letters for AFSB Interview round. Selected Candidates will be called at one of the Air Force Selection Board. This phase is 5 day process in which a candidates has to perform various kinds of intellectual and mental tasks. Last day will be the Interview round.
Candidate will be evaluated on the basis of his performance in all the tasks combined. Candidates who have applied for NCC Special Entry and Meteorology Branch will be directly called for AFSB testing at one of the AFSB  centers. Flying candidates will go for CPSS and PABT tests. In AFSB the medical may not take place immediately after the selection. You will be given a date for the medical. Ask the board for the procedure when in doubt.
AFSB Selection Process
Candidates who have successfully cleared the written examination will receive a Call letter to report to any one of the Air Force Selection Boards located at Dehradun, Varanasi, Gandhinagar and Mysuru. At the Air Force Selection Board (AFSB), you undergo following tests in order to ascertain your suitability and gauge your potential as an Officer in the Indian Air Force.
1. STAGE I TESTING
Officer Intelligence rating Test.
Picture perception and Discussion Test.
STAGE-I is a screening test. Those who qualify STAGE-I are eligible to undergo STAGE-II testing. STAGE-I disqualified candidates are routed back after announcement of results.
2. STAGE II TESTING
All STAGE-I qualified candidates undergo following tests as part of STAGE-II testing during next four to five days. Fifth day is for CPSS testing (Flying branch).
Psychological Tests are written tests that are conducted by a Psychologist.
Group Tests are interactive indoor and outdoor activities which are a combination of mental and physical work.
Interview involves a personal conversation with an Interviewing Officer.
Candidates who have applied for flying branch and have been recommended, will also have to undergo Computerised Pilot Selection System (CPSS) test .
These tests will be explained to you in detail before they are conducted at the Selection Board.
Medical Examination
If you are recommended by the Selection Board, you will be sent for the medical examination either at Air Force Central Medical Establishment (AFCME), New Delhi or Institute of Aviation Medicine, Bengaluru.
Physical Fitness:
While reporting to the SSB, candidates are advised to be physically fit and healthy in order to undergo various tests at AFSB. Candidates should aim to achieve an ability to run 01 miles (1.6 km) in 10 minutes, 10 push-ups and 3 chin ups.
Tattoos – Permanent body tattoos are only permitted on the inner face of the forearm (from inside of elbow to the wrist) and on the reverse side of palm/ back (dorsal) side of the hand. Permanent body tattoos on any other part of the body are not acceptable. Tribes with tattoo marks on the face or body as per their existing customs and traditions will be permitted on a case to case basis.
Narcotics – Use/possession of narcotics is banned. The candidate may be tested for the presence of drugs in the body during Medicals and subsequently during training/ service career as an officer. If the candidate is found to be using/ in possession of narcotics during any time of training/service career, the candidate would be debarred from joining the Indian Air Force or be removed from service if already joined.
AFSB 2 2022 Dates
Candidates who clear the AFCAT written examination will be notified via email for their SSB Interview dates for AFCAT. Candidates can select their AFSB venues as per their convenience.
Check AFSB Day-wise Process here
AFCAT 2 2022 Final Merit List
Once the AFSB Interviews are over for all the candidates at the AFSB centers, IAF will prepare the 
final merit list 
of students who will be inducted in the Indian Air Force as
Group A Gazetted Officers in Flying and Ground Duty (Technical and Non-Technical) branches for courses commencing in July 2023.
 IAF will decide the separate 
minimum cut off
 for each online test and the AFSB Interview. Candidates needs to clear both cut off individually in order to be in the final merit list.
AFCAT Training
Training is scheduled to commence in the first week of July 2023 for all courses at Air Force Academy Dundigal (Hyderabad).
The approximate duration of training for Flying and Ground Duty (Technical) Branches is 74 weeks and that of Ground Duty (Non-technical) Branches is 52 weeks at Air Force Training Establishments.
PAN Card, Aadhaar card and account in SBI/ Nationalised Bank is mandatory at the time of joining Air Force Academy (AFA). Aadhar Card is mandatory for Registration.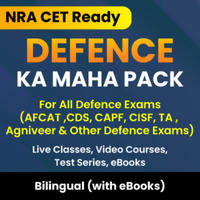 Now keep yourself updated with Latest Defence Government  Jobs 24×7 Download ADDA247 App Now! CLICK HERE
AFCAT SSB: FAQ
Q1. Is there any SSB in AFCAT?
Ans. Yes after qualifying afcat written exam there is SSB.
Q2. Is AFCAT SSB difficult?
Ans. No AFCAT SSB is not difficult if you prepared well. For preparation you can check out our most successful course on AFCAT SSB.