PNB SO Syllabus 2022
PNB SO Syllabus 2022: Punjab National Bank has recently released the notification for the PNB SO Recruitment 2022 of specialist officers (Manager & Senior Manager) with 145 vacancies along with the complete syllabus. The first and foremost step for beginning with the preparation is to understand the PNB SO Syllabus and Exam Pattern.  To get shortlisted for the vacancies, the candidates have to qualify in Online Main Exam.  In this article, we have discussed detailed PNB SO Exam Pattern 2022 and PNB SO Syllabus for Online Exam as notified by the commission.
PNB SO Syllabus 2022 Overview
PNB will conduct an MCQ test through the online mode for shortlisting the candidates for 145 vacancies released for specialist Officers. Here are some general details related to PNB SO Syllabus 2022. Have a look at the PNB SO 2022 Syllabus details as summed up in the below table.
PNB SO Syllabus-Overview
Exam Conducting Body
Punjab National Bank
Exam Name
PNB SO EXAM 2022
Mode of Exam
Online
Type of Questions
Objective Type
Category
Syllabus
Marking Scheme

Part I

Part II

1 mark

2 marks

Negative Marking
1/4 of marks assigned to the question
No. of Questions
170
Selection Process
Online Exam and Interview
Official website
www.pnbindia.in
PNB SO 2022 Notification Out for 145 Vacancies- Click Here
PNB SO Exam Pattern 2022
Before proceeding ahead for PNB SO Syllabus, the candidates must be well aware of PNB SO Exam Pattern 2022. The Exam Pattern for PNB Manager and Senior Manager Posts is given below. The selection will be through Online Main Examination and Interview.
PNB SO Online Exam Pattern 2022
The PNB SO exam will be held in online mode.
The tests except for the Test of the English language will be available bilingually, i.e. in English and Hindi.
There is a penalty of one-fourth or 0.25 of the marks assigned to that question.
If a question is left blank, i.e. no answer is marked by the candidate; there will be no penalty for that question.
The duration of the examination will be 2 hours.
The Online Test shall be as per following pattern:
Part
Name of Test
Questions
Marks
Duration
Part A
Reasoning
40
40
25 minutes
English Language
40
40
25 minutes
Quantitative Aptitude
40
40
25 minutes
Part B
Professional Knowledge
50
100
45 minutes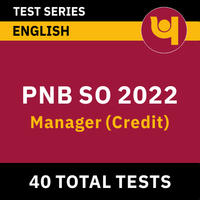 PNB SO Interview 2022
The candidates who will qualify for the written test for PNB SO will be eligible to appear for the PNB SO.
The total marks allotted for the Interview are 25.
The minimum qualifying marks in the interview will not be less than 45% i.e.11.25 for SC/ST candidates & 50% i.e. 12.5 for other candidates.
The combined final score of candidates shall be arrived at on the basis of aggregate scores obtained by the candidates in the Online Main Examination and Interview.
Interview scores of the candidates failing to secure minimum qualifying marks or otherwise barred from the interview or further process shall not be disclosed.
A candidate should qualify both in the Online Main Examination and interview and be sufficiently high in the merit to be shortlisted for the subsequent provisional allotment process.
PNB SO Syllabus
The syllabus for PNB SO Online Main Examination has been section-wise discussed below.
PNB SO Syllabus for Reasoning
Syllabus for Reasoning for the Online Exam is summed up below.
Analogy
Series Completion
Verification of truth of the Statement
Situation Reaction Test
Direction Sense Test
Classification
Data Sufficiency
Alpha-Numeric Sequence Puzzle
Puzzle Test
Blood Relations
Coding-Decoding
Assertion and Reasoning
Arithmetical Reasoning
Operations of Mathematics
Venn Diagrams
Word Sequence
Missing Characters
Sequential Output training
Directions
Test on Alphabets
Eligibility Test
Dot Situation
Identical figure groupings
Forming figures and analysis
Construction of Squares and Triangles
Series
Analytical Reasoning
Paper Folding
Paper Cutting
Cubes and Dice
Water Images
Mirror Images
Figure Matrix
Completion Incomplete Pattern
Spotting embedded figures
Classification
Rules Detection
PNB SO Syllabus for English
Syllabus for English for the Online Exam is summed up below.
Spellings/Detecting Mis-spelt words
Antonyms and their correct usage
Common Error
Active/Passive Voice of Verbs
Comprehension Passage
Spot the Error
Cloze Passage
Fill in the Blanks
Shuffling of Sentence parts
Conversions
Sentence Rearrangement
Grammar
Shuffling of Sentences in a passage
Improvement of Sentences
Synonyms/Homonyms
Antonyms
Vocabulary
Idioms & Phrases
One word substitution
PNB SO Syllabus for Quantitative Aptitude
Syllabus for Quantitative Aptitude for PNB SO is summed up below.
Time and Work Partnership
Ratio and Proportion
Boats and Streams
Simple Interest
Time and Distance
Problems on Trains
Areas
Races and Games
Numbers and Ages
Mixtures and Allegations
Mensuration
Permutations and Combinations
Problems on L.C.M and H.C.F
Pipes and Cisterns
Percentages
Simple Equations
Problems on Numbers
Averages
Indices and Surds
Compound Interest
Volumes
Odd Man Out
Quadratic Equations
Probability
Profit and Loss
Simplification and Approximation
PNB SO Syllabus for Professional Knowledge
Importance of Banks and Credit in the Economy

The Role of Commercial/Corporate Credit

Classification of Commercial Borrowers

Role and Importance of the RBI

Borrower Legal Due Diligence
Structural Elements of Credit Facilities
Commercial/Corporate Credit Products
Key RBI Guidelines for Credit Facilities
Credit Risk and its Components
Measuring Credit Risk
Credit Assessment Framework
Credit Underwriting
Introduction to the Basel Accords on Banking Supervision
Understanding Objectives, Providers and Uses of Credit Ratings
Understanding Global Credit Ratings from External Credit Rating Agencies
"Understanding National Credit Ratings from Indian External Credit Rating Agencies"
Accrual Accounting
Accounting Concepts and Principles
Financial Statements Structure and Composition
Analysis of Financial Statements
Project Appraisl
Working Capital Management
Priority Sector lending
Retail Loans
Documentation
Types of Charges
Credit Monitoring
Fair Practices on Lender's Liability
Exposure Norms
Non-Fund based credit Facilities
PNB SO 2022 Qualifying marks
Candidates have to qualify for all the Tests of Part-I. The part-II i.e. professional knowledge test scores will be considered only for those candidates who qualify in each paper in Part-I. Minimum qualifying marks in each individual Test will be decided by the Bank.
Candidates who obtain minimum qualifying marks as decided by the Bank in Part-I will be considered for shortlisting for Interview on the basis of merit prepared as per marks obtained by them in Part-II i.e. Professional Knowledge Test.
FAQs – PNB SO Syllabus 2022
Q. What is the duration of the PNB SO Online Mains Exam?
Ans. The duration of the PNB SO Mains Exam is 2 hours.
Q. Is there any negative marking for PNB SO Exam 2022?
Ans. Yes, there will be a negative marking of 1/4 marks assigned tp each question for each incorrect answer.
Q. What is the selection process for PNB SO posts?
Ans. The candidates will be shortlisted through Online Mains Exam and Interview.