States and Capitals of India 2021: India (Bharat) is located in the Southern part of the largest continent in the World, Asia and is officially known as the Republic of India. It is governed by the parliamentary form of government. There are 28 states and 8 union territories (UT's) in India, as per the latest data of the year 2021. Each state and union territory in India has an administrative, legislative and judicial capital. Every state is ruled by a Chief Minister. Here we have covered the list of the Indian States, Union Territories, and their capitals.
States and Capitals of India: Map Of India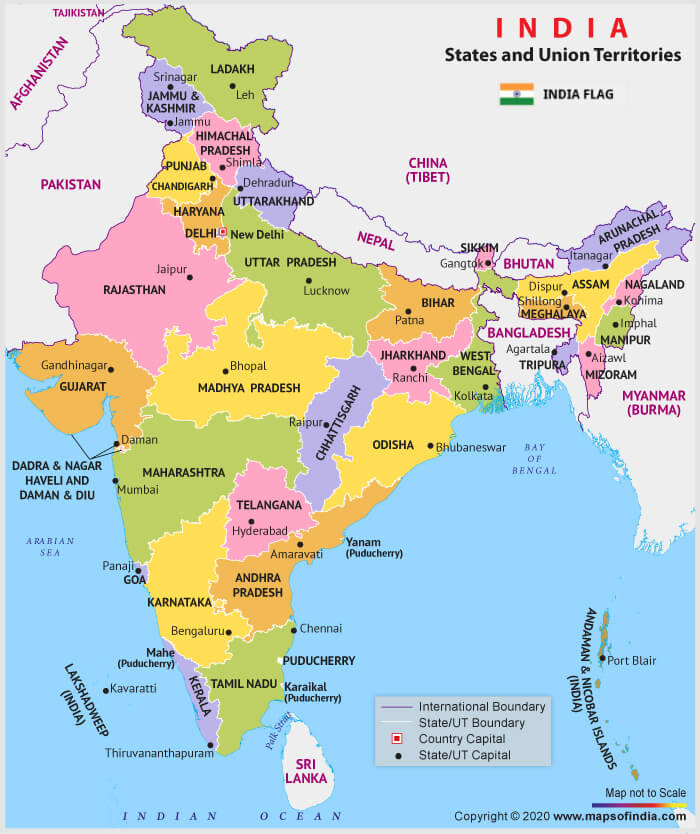 Difference Between States And Union Territories
Before we get into the State and Capitals, let us first understand the difference between a state and a union territory. Out of the eight union territories in India, Delhi, Puducherry (formerly Pondicherry) and Jammu & Kashmir have their own legislatures. Each union territory has a capital of its own or the main area of administration.
| | | |
| --- | --- | --- |
| Basis of Difference | States | Union Territories |
| Control and Administration | The state has its own administrative units with their own elected government. | Union Territories are constituent units that are controlled and administered by the Central Government. |
| Executive Head | Executive Head is the Governor | Executive Head is the President |
| Relationship with Centre | The relationship with the Centre is Federal. | Unitary with the Centre. i.e. all the powers rests in the hands of Union. |
| Headed by | Administered by the Chief Minister and elected by the people. | Administered by the Administrator which is appointed by the President. (except Delhi, Puducherry and Jammu & Kashmir) |
| Real Head | Chief Minister is the real head. | Lieutenant is the real head. |
States and Capitals of India
With knowledge of states and union territories, now let us have a look at the states and capitals of India. The states and the capitals is one of the most important topics of General Awareness and General Knowledge Questions in a number of competitive exams held in the country. The 28 Indian States and their capitals are as follows.
 States and Capitals of India

S.no

States

Capitals

1
Andhra Pradesh
Hyderabad (Proposed Capital Amaravati)
2
Arunachal Pradesh
Itanagar
3
Assam
Dispur
4
Bihar
Patna
5
Chhattisgarh
Raipur
6
Goa
Panaji
7
Gujarat
Gandhinagar
8
Haryana
Chandigarh
9
Himachal Pradesh
Shimla
10
Jharkhand
Ranchi
11
Karnataka
Bengaluru (formerly Bangalore)
12
Kerala
Thiruvananthapuram
13
Madhya Pradesh
Bhopal
14
Maharashtra
Mumbai
15
Manipur
Imphal
16
Meghalaya
Shillong
17
Mizoram
Aizawl
18
Nagaland
Kohima
19
Odisha
Bhubaneswar
20
Punjab
Chandigarh
21
Rajasthan
Jaipur
22
Sikkim
Gangtok
23
Tamil Nadu
Chennai
24
Telangana
Hyderabad
25
Tripura
Agartala
26
Uttar Pradesh
Lucknow
27
Uttarakhand
Dehradun, Gairsain (Summer)
28
West Bengal
Kolkata
Union Territories Of India: Updates
Before we get into the Union Territories and their capitals, let us first have a look at the recent updates on UT's as of March 2021.
With effect from 26th January 2020, India has 8 union territories. The Union Territories of Daman and Diu, Dadra and Nagar Haveli have become a single union territory since January 26 through a Bill passed by the Parliament in the winter session.
On August 5, the central government had announced the abrogation of the special status given to Jammu and Kashmir under Article 370 and its division into two Union Territories i.e. UTs of Jammu and Kashmir, and Ladakh.
With the merger of Daman and Diu, and Dadra and Nagar Haveli, the number of UT's have come down to eight.
Union Territories and Capitals
At Present India has 8 Union Territories and 28 States. The erstwhile state of Jammu and Kashmir has been bifurcated into two Union Territories (UT) of  J& K and Ladakh. The newly formed Union Territories have been formed under a reorganization act passed by the Parliament on 5-6 August 2020. At present India has 8 Union Territories.
Union Territories of India

S.no

Union territories

Capital

1
Andaman and Nicobar Islands
Port Blair
2
Chandigarh
Chandigarh
3
Dadra and Nagar Haveli,
Daman  & Diu
Daman
4
Delhi
New Delhi
5
Lakshadweep
Kavaratti
6
Puducherry (Pondicherry)
Puducherry (formerly Pondicherry)
7
Jammu and Kashmir
Srinagar (Summer), Jammu (Winter)
8
Ladakh
Leh
How Delhi, Puducherry, J& K are different from other Union Territories?
In India, all the states and three union territories, i.e. Puducherry, Delhi, and Jammu and Kashmir possess elected legislature and government.
There is a total of eight union territories in India, out of which 3, i.e. Jammu and Kashmir, Delhi, and Puducherry, have their elected members and the Chief Minister, as these are granted with partial statehood, by an amendment to the Constitution.
Jammu and Kashmir, Delhi, and Puducherry possess their own legislative assembly and executive council and operate like states. The remaining union territories are controlled and regulated by the Union of the country, that's why named as a union territory.