SSC GD Salary 2021
SSC GD Salary 2021: The Staff Selection Commission has postponed the notification for SSC General Duty Constable posts which was expected to be released in the 1st week of May 2021. This exam is conducted under the Ministry of Home Affairs and the salary of General Duty Constable is high with loads of benefits and allowances. The starting salary of a General Duty Constable is Rs. 23,527 per month and the basic pay is Rs. 21,700 to Rs. 69,100. The Constables selected through SSC GD Recruitment 2021 will be provided with numerous allowances and perks, which have been discussed in this article. Also, check the job profile, growth and other perks of a constable in various department.
SSC GD Salary 2021: Overview
SSC GD Constable Salary 2021 
Organization
Staff Selection Commission
Exam Name
SSC GD 2021
Vacancies
To Be Notified Soon
Category
Salary
Basic Pay
Rs. 21,700 to Rs. 69,100
Official website
ssc.nic.in
Various Posts in SSC GD
SSC GD Examination is conducted for the recruitment for various posts. Some of the posts are mentioned below:
Constable GD in Border Security Force
Constable GD in Central Industrial Security Force
Constable GD in Indo Tibetan Border Police Force
Constable GD in Sashastra Seema Bal
Constable GD in Central Reserve Police Force
Rifleman GD in Assam Rifles
Constable GD in Secretariat Security Force
Constable GD in National Investigation Agency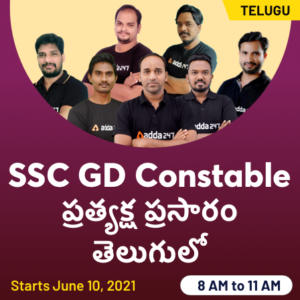 SSC GD Salary Structure 2021
The net salary for a newly joined SSC GD Constable is Rs. 23,527 per month (approximately) and the Basic Pay provided to a General Duty Constable at various security forces is Rs. 21,700. A detailed breakdown of the GD Constable Salary has been mentioned here:
Additions to the salary of SSC GD Constable:
Dearness Allowance (DA) of Rs. 434 is provided out of the total salary
House Rent Allowance (HRA) is provided which after the calculation is Rs. 2,538.
Transport Allowance (TA) provided for the travel expenses is Rs. 1,224
The total gross for PGT Teacher is Rs. 25,896
The complete details of the salary have been tabulated below.
SC GD Constable Salary 2021
Basic SSC GD Salary
Rs. 21,700
Transport Allowance
Rs. 1,224
House Rent Allowance
Rs. 2,538
Dearness Allowance
Rs. 434
Total Earnings
Rs. 25,896
Total Deduction (Pension Contribution + CGHS + CGEGIS)
Rs. 25,896
Net Earnings
Rs. 23,527
SSC GD Constable Perks
Other than the above-mentioned salary structure, SSC GD salary also comprises various other benefits and allowances, which include:
Transportation Allowance
Medical Facilities
Pension schemes
Annual paid leaves
Security allowances
Field allowances
SSC GD Salary 2021: Job Profile
The duties and responsibilities of the General Duty Constable are higher and the candidate should be available 24*7. Initially, SSC GD Constable is appointed as a guard or escort and have to do the below-mentioned duties
GD Constable has to manage all the duties and charges in the absence of Sub-Inspector and Assistant Sub-Inspector.
GD constables may even have to solve cases for investigations.
SSC GD Constable has to work under the supervision of SHO and follow his instructions.
The detailed job profile for various Security forces has been discussed here.
Roles of GD Constable in BSF
To protect the Indo-Pakistan and Indo-Bangladesh Border.
To promotes a sense of security among the people living in the border areas.
To prevent trans-border crimes, unauthorized entry into or exit from the territory of India.
To prevent smuggling and any other illegal activities on the Border.
Anti-infiltration duties.
To collect trans-border intelligence.
Roles of GD Constable in ITBP
To protect the border between India & China (from Ladakh to Arunachal Pradesh)
To restore and preserve order in any area in the event of a disturbance.
Vigilance on the northern borders.
Detection and prevention of border violations.
Keep a check on illegal immigration and trans-border smuggling.
To provide security to sensitive installations and threatened VIPs.
To maintain the peace in the assigned areas and promotion of a sense of security among the local populace.
Roles of GD Constable in CISF
To provide security to various Public Sector Units and other important infrastructures.
Be in-charge of airport security at all commercial airports in India.
To provide security on the Delhi Metro is handled by the Central Industrial Security Force (CISF)
To protect the Government infrastructure projects and industrial units.
Special Security Group (SSG) provides security cover to persons nominated by the Home Ministry
To provide protection, safety, and security to Industrial undertaking/installations, also offer protection against fire hazards.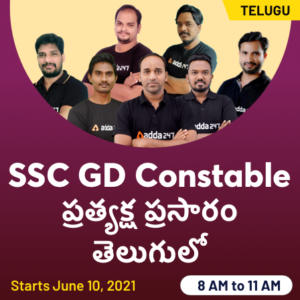 Roles of GD Constable in SSB
To monitor and prevent cross-border crimes, and other illegal activities
Protection of the Indo–Nepal and Indo–Bhutan borders
Roles of GD Constable in CRPF
To look after the internal security across India
Operate abroad as part of Indian Peace Keeping Force and the UN peacekeeping missions
Give VIP security during election duties, from guarding of vital installations to counter-Naxal operations.
Roles of GD Constable in Assam Rifles
To provide internal security under the control of the army through the conduct of counter insurgency and border security operations,
To provide aid to the civil power in times of emergency, and
To provide communications, medical assistance and education in remote areas.
In times of war, working as a combat force to secure rear areas if needed
Role of GD Constable in SSF
This unit is responsible for providing entry in Secretariat premises, posting of guards at Secretariat gates and other places of premises,
To maintain the internal discipline, entry of vehicles and their parking, regulation for taking material out of Secretariat premises and protection of Secretariat property.
SSC GD Promotion
The General Duty Constable has been provided with promotion after a certain period of different CAPF departments on the basis of their performances and the duration of their services. Many times, the candidates have to appear in the departmental exams to get promotions. SSC GD Constable is promoted to the post of Senior Head Constable and may be required to take charge of a police station. The SSC GD Salary also increases along with the promotion to various posts.
The posts SSC GD Constable may be further promoted are mentioned below in a sequence:
Senior Constable
Head Constable
Assistant Sub Inspector
Sub Inspector
Inspector
SSC GD Salary 2021: FAQs
Q. What is the in-hand salary of SSC GD Constable?
Ans. The in-hand salary provided to the General Duty Constable in various security forces at the time of joining is Rs. 23,527/-
Q. What is the perks offered to General Duty Constable?
Ans. A General Duty Constable is offered various allowances including transportation, medical facilities, pension schemes, annual paid leaves, security allowances, and field allowances.
Q. What is the scope of career growth of GD Constable in various security forces?
Ans. Depending on the duration of their services, a general duty constable can be promoted to Senior Constable, Head Constable, Assistant Sub Inspector, Sub Inspector, Inspector.
Q. What are the responsibilities of the SSC General Duty Constable post?
Ans. SSC GD post comes under the Ministry Of Home Affairs (MHA) who has to follow responsibilities like internal security, border management, Centre-State relations, administration of Union Territories.