ESIC Stenographer Syllabus 2022
ESIC Stenographer Syllabus 2022: The candidates aspiring to become a stenographer in the ESIC will have to go through a proper selection process that will comprise the Main examination and the skill test in stenography. The candidates willing to clear both these phases must prepare with the right guidance in the right direction through ESIC Syllabus and Exam Pattern. Here we have provided a detailed and authentic ESIC Stenographer syllabus and ESIC Stenographer Exam Pattern with all the latest changes. ESIC has notified a total of 165 steno vacancies under ESIC Recruitment 2022.
ESIC Stenographer Syllabus 2022 – Overview
The candidates interested in stenographer posts under ESIC Recruitment 2022 can go through an overview of the ESIC Stenographer Syllabus and ESIC Exam Pattern.
ESIC Stenographer Exam Pattern 2022
Recruitment Body
Employees' State Insurance Corporation (ESIC)
Name of the post
Stenographers
Stenographer Vacancy
165 stenographer posts
Category
Syllabus & Exam Pattern
Mode of Exam
Online
Selection Process
Main Examination & Skill Test
Official Website
@esic.nic.in
ESIC Admit Card 2022 Out for UDC & Steno- Click Here
ESIC Stenographer Exam Pattern 2022
The ESIC Stenographer Exam Pattern Comprises two phases namely,
Phase 1: Main Examination
Phase 2: Skill Test in Stenography
ESIC Stenographer Phase 1 – Main Exam Pattern
The marks obtained in Phase-I Main Examination will be considered for final selection. For each wrong answer, there will be a negative marking of one-fourth of the mark assigned to that question. The candidates will be shortlisted for Phase-II Skill Test in Stenography in the ratio of 1:10 i.e. about 10 times the number of vacancies in each category on the basis of their performance in Phase – I.
S.No.
Subject
No. of Ques.
Marks
Duration
Version
1
English language and comprehension
100
100
70 mins
Hindi and English except for English Language & Comprehension
2
Reasoning Ability
50
50
35 mins
3
General Awareness
50
50
25 mins
Total
200 Ques.
200 Marks
130 mins
ESIC Stenographer Phase 2 – Skill Test Pattern
The ESIC Stenographer skill test is qualifying in nature. The candidates who are shortlisted in the Main Examination will be required to appear in the Skill Test of Stenography. The candidates will be given one dictation for 10 minutes in English or Hindi (as opted by the candidates in the Online Application Form) at the speed of 80 words per minute. The matter will have to be transcribed on a computer. The Transcription Time is as under:
| | | |
| --- | --- | --- |
| Language of Skill Test | Time Duration | Time Duration for PWD candidates eligible for scribe |
| English | 50 Minutes | 70 Minutes |
| Hindi | 65 Minutes | 90 Minutes |
ESIC Stenographer Syllabus 2022
There are mainly three subjects as per the ESIC Stenographer Syllabus 2022 for the phase 1 main examination. The topic-wise ESIC Stenographer Syllabus is provided below for the English language, Reasoning ability and general awareness.
ESIC Stenographer Syllabus – English Language & Comprehension
For the ESIC stenographer posts, candidates must be well versed in basic English. Below we have provided the topics from which the questions will be asked in the English Language & Comprehension section of the ESIC Syllabus for the posts of stenographers.
Grammar
Shuffling of Sentences in a passage
Improvement of Sentences
Synonyms/Homonyms
Antonyms
Vocabulary
Idioms & Phrases
Spellings/Detecting Mis-spelt words
Common Error
Active/Passive Voice of Verbs
Comprehension Passage
Cloze Passage
Fill in the Blanks
Shuffling of Sentence parts
Conversions
Sentence Rearrangement
ESIC Stenographer Syllabus – Reasoning Ability
The Reasoning ability is an important section in the ESIC Syllabus for the posts of the stenographer. The candidates must have the presence of mind to solve the questions from the following topics of the ESIC Syllabus for Stenographers.
Verbal Reasoning
Analogy
Series Completion
Verification of truth of the Statement
Situation Reaction Test
Direction Sense Test
Classification
Data Sufficiency
Alpha-Numeric Sequence Puzzle
Puzzle Test
Blood Relations
Coding-Decoding
Assertion and Reasoning
Arithmetical Reasoning
Operations of Mathematics
Venn Diagrams
Word Sequence
Missing Characters
Sequential Output training
Directions
Test on Alphabets
Eligibility Test
Dot Situation
Identical figure groupings
Forming figures and analysis
Construction of Squares and Triangles
Series
Analytical Reasoning
Paper Folding
Paper Cutting
Cubes and Dice
Water Images
Mirror Images
Figure Matrix
Completion Incomplete Pattern
Spotting embedded figures
Classification
Rules Detection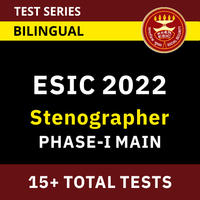 ESIC Stenographer Syllabus – General Awareness
The ESIC stenography aspirants must be well aware of what is happening around them in their surroundings. Below are the important topics from the general awareness section of the ESIC Stenographer Syllabus 2022.
Concept of Budget
Schemes and Policies implemented by Government
Indian Banking Industry History
Functions of Banks
Types of Banks
RBI and its Monetary Policy
Capital market in India
Money Market in India
Role of Banking
Finance Commissions
Taxes on Income and Expenditure
Financial and Railway Budget
Revenue of Central Government
Economic Planning
Inflation
National Income
Public Finance
Bills