IBPS PO Salary 2021
IBPS PO Salary: An IBPS PO gets a handsome salary along with a dozen of perks and benefits which in turn tempts the govt. job aspirants to apply for this job. All the information provided here is given as per the latest IBPS PO 2021 Notification. Here we are discussing the IBPS PO Salary, Job Profile, Career Growth, and Promotion Policy of an IBPS PO.
IBPS PO Salary 2021
The IBPS PO Notification release in August every year. The appointed candidates for the IBPS PO post will be placed in the Junior Management Grade Scale 1or JMGS-I. The JMGS 1 term is generally used to refer to the officers who have just entered the Officer Cadre after promotion from the Clerical Cadre.
The IBPS PO Pay Scale will be Rs. 23700-980/7-30560-1145/2-32850-1310/7-42020.
Type of Pay
Amount
Basic Pay

Rs 23700/- ( Increment in 4 stages-
Salary after 1st Increment- Rs. 30560/-
Salary after 2nd Increment-Rs. 32850/-
Salary after 3rd Increment- Rs. 42020/-

Special Allowances
Rs 18, 36.75
Dearness Allowances
40% of the basic pay(Varies based on inflation rates)
City Compensatory Allowances
Rs 870
House Rent Allowance
Rs 2133
Gross with HRA
Rs 38, 703.38
Medical Aid
Rs 8000
Entertainment
Rs 500
Newspaper
Rs 300
Petrol
Rs 3000
Telephone
Rs 400
Canteen Subsidy
Rs 400
Pension Contribution
Rs 25000
Gross Annual CTC(with HRA but without leased accommodation)
Rs 5, 57, 640
IBPS PO Salary: Increment
There is a provision of timely increment of the pay of the IBPS PO officer as given below:
| | | |
| --- | --- | --- |
| Increment Percentage | Basic Pay | Gross Salary |
| 15 % | Rs.26,706/- | Rs.37,068/- |
| 20 % | Rs.27,866/- | Rs.38678/- |
| 25 % | Rs.29,026/- | Rs.40,288/- |
| 30 % | Rs.30,187/- | Rs.41,899/- |
As mentioned, a basic salary of Rs 23,700 is paid. Additionally, other allowances such as Dearness Allowance(DA), House Rent Allowance(HRA), City Compensatory Allowance (CCA), and Special Allowances are also there. An annual increment of Rs 980 for 7 years is paid.
To get regular job updates, access to mock tests download our app by clicking below:
IBPS PO Salary In India After Bipartite Settlement
Wage revision in public sector banks is held place every five years. The 11th bipartite settlement is due from November 1, 2017. Bank PO salaries revision takes place based on bipartite settlement. Therefore, for IBPS PO 2021 the salary will be decided based on the 11th Bipartite Agreement.
IBPS PO Salary Slip
Here we have shown the salary slip of an employee for the IBPS PO Post.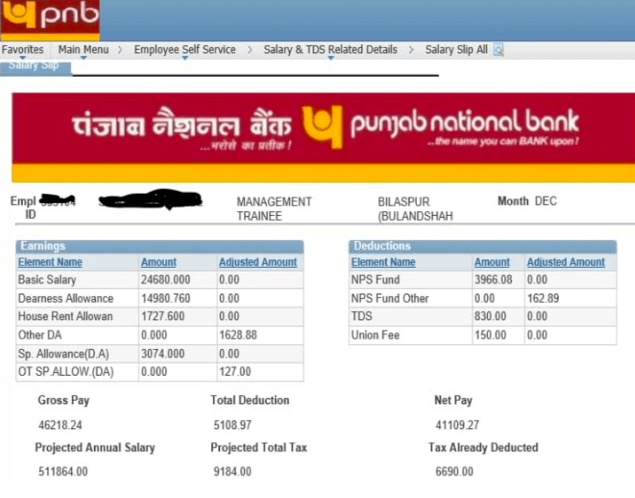 IBPS PO Perks And Allowances
As said earlier, it is not just the salary that is the tempting force, but it is also the Perks and Allowances that one receives as an IBPS PO. The following are the perks that are enjoyed by an IBPS PO:
Leased Accommodation – This benefit is dependent upon the place of posting and is available to the bank officers. Some banks provide official bank accommodation/bank quarters instead of leased housing.
Travelling Allowance – Most banks provide a fixed Traveling Allowance and reimbursement of petrol bills.
Medical Aid – Revised price is Rs 8000/- p.a. This is the amount for the medical needs of the employee.
Newspaper Reimbursement: A fixed monthly amount for newspaper service.
Coverage under New Pension Scheme
IBPS PO Job Profile
IBPS PO is one of the reputed jobs in the banking sector and provides many lucrative offers to the employees. Probationary Officer is trained for multiple operations such as finance, accounting, billing, investment, revenue collection, etc. during his/ her probation period to acquaint them with the banking procedure.
1. Resolving customer queries of the branch
2. Maintaining and supervising regular branch activities
3. Public relations and addressing issues and grievances of customers
4. Directing daily transactions of customers and processing loan(s) detail
5. Bringing new businesses to the bank branch

IBPS PO Salary: IBPS PO Promotion
The stages of promotion for an IBPS PO is given below.
Middle Manager – Middle Management Grade Scale 2
Senior Manager – Middle Management Grade Scale 3
Chief Manager – Senior Management Grade Scale 4
Assistant General Manager – Senior Management Grade Scale 5
Deputy General Manager – Top Management Grade Scale 6
General Manager – Top Management Grade Scale 7
Executive Director
Chairman and Managing Director
Participating Bank For IBPS PO 2021
The participating banks for the IBPS PO 2020 are given below. For 2021 the list will be updated with the notification
Banks Participating In IBPS PO 2020
1.Bank of Baroda
2.Bank of India
3.Bank of Maharashtra
4 Canara Bank
5. Central Bank of India
6. Indian Bank
7. Indian Overseas Bank
8. Punjab National Bank
9. Punjab & Sind Bank
10. UCO Bank
11. Union Bank of India
You can apply for other Bank Jobs that offer a handsome salary.
IBPS PO Salary 2021: FAQ's
What is the basic pay for an IBPS PO?
Ans. The basic pay of a Probationary Officer is Rs.23,700.
What are the perks of an IBPS PO?
Ans. As an IBPS PO, the employee is entitled to get a medical facility, newspaper allowance, Travel Allowances, HRA, DA, and other allowances.
What is the highest post at which a person becomes an IBPS PO?
As an IBPS PO, the employee may get promoted to the rank of Chairman and Managing Director.
How many times does the IBPS PO Exam take place?
Ans. IBPS PO Exam is held annually.