List of Top 10 Sub Machine Guns In The World
Sub-machine guns are a variety of small arms, or firearms. They are short-barrelled magazine-fed weapons, often using pistol ammunition, and capable of automatic fire. Also called sub-machine carbines or machine pistols, they are inaccurate but light, simple to operate, and reasonable to manufacture. The term "submachine gun" was coined by John T. Thompson, the inventor of the Thompson submachine gun, to describe its design concept as an automatic firearm with notably less firepower than a machine gun.
Different countries use this gun to protect their territory from enemies and given below is the list of 10 most powerful Submachine Guns that are in use and most effective. Check the list given below –
1. Uzi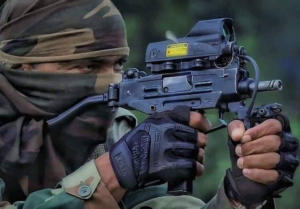 The Uzi is a variant of Israeli open-bolt, blowback-operated submachine guns and machine pistols
first designed by Major Uziel "Uzi" Gal in the late 1940s, shortly after the establishment of the State of Israel.
Secure, easy to use, powerful, reliable, time-tested, and very famous. The 9mm ammunition is admittedly weak, but it is readily available and the slow rate of fire means that you do not use bullets up too fast.
Rate of fire

:
600 rounds/min; 950 rounds/min Mini Uzi; 1200–1500 rounds/min Micro Uzi
Action

:
Blowback, open bolt
Length

:
: 445 mm (17.5 in) stockless; 470 mm (18.5 in) folding stock collapsed; 640 mm (25 in) folding stock extended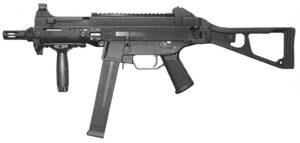 The Heckler & Koch MP5 is a 9x19mm Parabellum submachine gun, manufactured in the 1960s by a German small arms manufacturer company Heckler & Koch.
There are over 100 variants and clones of the MP5, including some semi-automatic versions.

| | |
| --- | --- |
| Action | Roller-delayed blowback, closed bolt |
| Rate of fire | 800 rounds/min |
| Muzzle velocity | 400 m/s (1,312 ft/s) |

The MP5 is one of the most widely used submachine guns in the world, having been adopted by 40 nations and numerous military, law enforcement, intelligence, and security organizations
This gun was used by the Navy SEALs and is still used by the British Special Air Service today, despite it was designed in the 60s and 70s. Very versatile, accurate and reliable.
With its decent rate of fire, it overcomes the fact that it has a small round, and is the most recognized 9mm weapon in the world. Heckler and Koch puts "German Engineering" at its finest quality with its superb weaponry.
3. Beretta PM12 submachine gun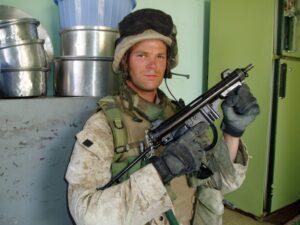 The Beretta PM12 submachine gun was developed during the 1950s. It was first revealed in 1959.
The Beretta M12 (Model 12) is a 9×19mm Parabellum calibre submachine gun designed by Beretta.
The first users were the Italian Carabinieri, Italian State Police and the Guardia di Finanza, though, in limited number, it was only widely issued beginning in 1978, replacing the old Beretta MAB.
Letters PM in the designation stand for "Pistola Mitragliatice", or machine pistol.
In 1961 this weapon was adopted by the Italian Army, special forces and law enforcement forces.
By modern standards this weapon is outdated. Though it is still used in Italy and some other countries.
The PM12 is a compact weapon. Beretta designed this submachine gun, which could be used by foot soldiers and vehicle crews.
The Beretta PM12 has a stamped steel construction and a tubular receiver.
4. MAC-10 Submachine Gun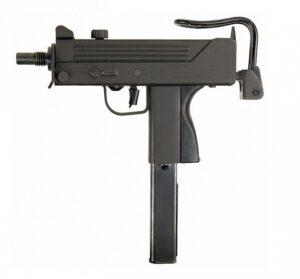 The Military Armament Corporation Model 10, officially abbreviated as "M10" or "M-10", and more commonly known as the MAC-10, is a compact, blowback-operated machine pistol/submachine gun
The MAC-10 submachine gun was designed by Gordon B. Ingram, an American arms designer in 1964.
A two-stage suppressor by Sionics was designed for the MAC-10, which not only abates the noise created, but makes it easier to control on full automatic
It was mainly aimed at special operations and law enforcement forces, as well as VIP security teams.
By 1965 several prototypes were made. This submachine gun was evaluated by the US Army, however, it was not adopted.
Production commenced in 1970 by the Military Armament Corporation (MAC). In 1976 the MAC went bust and production rights for this weapon were transferred to RPB Industries Inc.
5. Scorpion EVO 3 is a Submachine Gun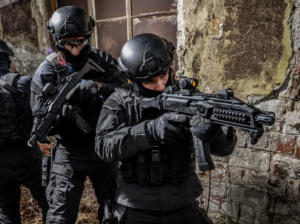 The Scorpion EVO 3 is a submachine gun, developed by Ceska Zbrojovka company.
This weapon is referred to as Skorpion in the Czech Republic. However, for the rest of the world, it is marketed as Scorpion.
It is a lightweight and compact submachine gun. It is suitable for concealed carrying and for use inside buildings, vehicles and other narrow spaces.
This weapon is chambered for standard 9×19 mm Parabellum ammunition. There is also a version chambered for .40S&W ammunition, which is very popular as a police round in the United States.
The "EVO 3" denotes that it is a third-generation weapon. Though in terms of design this weapon is unrelated to the original Sa vz.61 Skorpion
. It is actually based on a Luago prototype submachine gun, developed in Slovakia around 2002.
The design on the Luago was sold to the Ceska Zbrojovka company. The Scorpion EVO 3 was first publicly revealed in 2009.
This weapon is mainly aimed at law enforcement forces. It has been adopted by the armed forces and police of the Czech Republic.
6. Brugger & Thomet MP9 submachine gun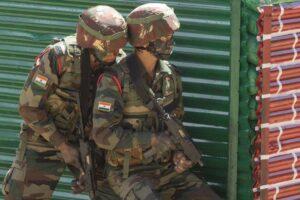 The Brügger & Thomet MP9 (Maschinenpistole 9mm, German for "machine pistol") is a submachine gun
chambered for the 9×19mm Parabellum cartridge that is designed and manufactured by Brügger & Thomet.
The MP9 is a selective-fire submachine gun. It uses 15, 20, 25, and 30-round transparent polymer detachable box magazines.
It has three safeties: an ambidextrous safety/fire mode selector switch button (manual safety), a trigger safety, and drop safety.
The MP9 is a development of the Steyr TMP. The design of the TMP was purchased from Steyr in 2001.
In 2001 Steyr stopped production of the TMP submachine gun because of the lack of sales and sold production licenses to the Swiss arms manufacturer.
Swiss arms designers made over 19 engineering changes to the Austrian weapon. Production of the MP9 commenced in 2004.
Currently, it is in service with the Swiss army and law enforcement forces.
 7. SAF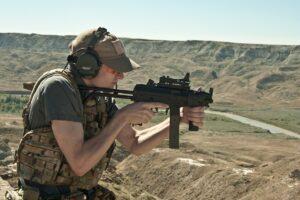 The SAF is a submachine gun developed in Chile by Fabricas y Maestranzas del Ejercito (FAMAE). The FAMAE is a small state-owned arms factory. Production of this weapon commenced in 1993.
It is in service with Chilean armed forces and law enforcement forces. Also, it has been exported to some countries, including Portugal. The FAMAE SAF is modelled after a popular and highly successful German Heckler & Koch MP5 submachine gun.
It is based on the FAMAE SG 540 assault rifle, which is a licensed-produced version of the Swiss SIG SG 540. This assault rifle was produced by FAMAE in the 1980s.
The SAF can be seen as a scaled-down and rechambered version of the SG 540 assault rifle. It is a blowback-operated weapon, which is fired from a closed bolt.
Though the rotating bolt has been redesigned and replaced by a simple blowback bolt. Upper and lower receivers are connected by two steel pins in the same manner as on the M16 assault rifle.
8. MP7 Submachine Gun

The MP7 represents a new generation of enhanced-performance submachine guns that bridge the gap between assault rifles and conventional submachine guns. Developed as a genuine personal defence weapon, it far exceeds the NATO requirements profile.
The MP7 is extremely compact, lightweight can be used in very confined spaces, and is practically recoil-free. It can be carried continuously, making it the ideal personal weapon for the soldier of today. Those who carry it will be suitably armed for the broadest range of operations.
The MP7 submachine gun was developed by the famous Heckler & Koch company of Germany. Originally this weapon was known as the HK PDW or Personal Defense Weapon.
It was designed as a competitor for a successful Belgian Belgian FN P90. The German weapon uses new intermediate ammunition. It is intended for non-front line troops, vehicle drivers, tank and artillery crews, as well as special forces units, VIP protection teams and hostage rescue units.
The MP7 was first revealed in 2000. Its production commenced in 2001. Currently, it is in service with Germany and more than 20 other countries, including South Korea and the United Kingdom.
The Heckler & Koch MP7 is a gas-operated, selective fire weapon. Its internal design resembles that of the HK G36 assault rifle but is scaled down. Otherwise, it has a layout of a typical submachine gun.
This SMG is chambered for a new Heckler & Koch 4.6×30 mm high-velocity ammunition. This ammunition is also used by the HK UCP pistol.
9. FN P90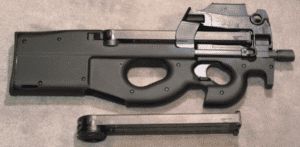 The FN P90 selective fire carbine was developed for NATO in the late 1980s as the Personal Defense Weapon (PDW) component of the integrated 5.7x28mm Weapons System.
It is currently deployed by more than 40 nations around the globe. When firing the military- and law enforcement-only SS190 Duty Round, the FN P90 is capable of greater accuracy and reliability with unbeatable stopping power.
This carbine is highly compact and ergonomic, with a fully ambidextrous thumbhole polymer stock and ambidextrous operating controls. The top-mounted detachable polymer magazine has a 50-round capacity.
 It was chambered for entirely new ammunition and intended as a personal defense weapon for non-front line troops, vehicle drivers, tank and artillery crews.
The FN P90 was introduced in the early 1990s. At the time of its introduction, it was considered a new generation weapon. It was the first personal defence weapon and in terms of dimensions, weight and firepower took an intermediate position between submachine guns and assault rifles.
10. Heckler & Koch UMP submachine gun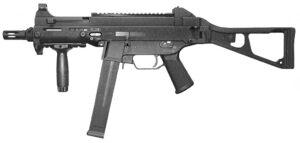 The Heckler & Koch UMP submachine gun was designed as a successor to the famous MP5 in the mid-1990s.
The main goal was to design a lightweight and powerful SMG, which would be cheaper than the MP5. This weapon was aimed mainly at the US law enforcement market.
Its production commenced in 1999 and it is still produced. However, this weapon could not surpass its predecessor in terms of popularity and proliferation. The UMP is in service with more than 20 countries.
The HK UMP is a blowback-operated, selective fire weapon, fired from the closed bolt. Its first versions, the UMP-45 and UMP-40 were chambered for .45 ACP and .40 SW ammunition respectively.
Later a 9×19 mm version became available (UMP-9). All versions have a similar design, apart from the different chambering. The UMP can fire in semi-auto, full-auto, 2- or 3-round burst modes.
Its fire mode selector also acts as a safety lock. This fire mode selector is fully ambidextrous. Cocking handle is located at the front of the receiver.
FAQs related to Sub Machine Guns