SSB Interview Batch 2022
SSB (Service Selection Board) is a 5 day long process. And for this, you need to prepare very thoroughly. Most of the students after clearing the written exam, are not able to clear the SSB Process. Therefore, to help all the Defence aspirants, we are starting online live classes for SSB Interview by India's best SSB Expert Col. Sanjeet Sirohi.  Aspirants, you would be getting your SSB Interviews dates soon. We value your preparation and we decided to launch Live Online SSB Classes. Grab the opportunity and train yourself for SSB.
Benefits of SSB Preparation
Familiarity with Process – To achieve better results, understanding of the process is very essential. Once you understand the process, it helps in managing your psyche and physical energy, which takes your performance to the next level. During SSB Training Sessions, candidates are exposed to SSB like environment and made to undergo practise sessions to get familiar with the process.
Overcome Fear of the Unknown – Once familiarity with process increases, candidates start feeling the pulse of the process which gradually enhances comprehension and a better understanding of testing tools. 
Self – Introspection – Candidates after having undergone rigorous training, would be in a position to do self-introspection which helps them in identifying their strengths and weaknesses. Exercise for identification of strengths and weaknesses takes him to the next level i.e. setting short term goals to improve upon identified weak areas

We will provide you with in-depth knowledge about the selection procedure of AFSB so that you get recommended in your very first attempt.
SSB Interview Batch
SSB Interview Batch is dedicated for all Defence aspirants who want to join Indian Armed Forces as an officer and serve our Motherland selflessly. This course will help you in developing officer like qualities and refine your skills to handle various selection techniques in SSB Interview. This course is beneficial for all candidates who appear for SSB Interview through written exams like NDA, CDS, AFCAT and candidate who directly get SSB interview call letter from 10+2 TES, TGC, UES, SSC Tech (Men and Women) Entry. You will get trained by India's Best SSB Psychologist Col. Sanjeet Sirohi.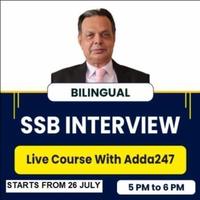 Course Highlights: 
50+ Hours of Interactive Live Classes
Basic to Advance Level Exam Preparation.
Recorded Videos available 24/7 for quick Revision.
Get Preparation tips from the experts & Learn Time Management.
Service Selection Board (SSB) Preparation Covered:
AFCAT Aspirants Preparing for SSB
CDS Aspirants Preparing for SSB
NDA Aspirants Preparing for SSB
For All SSB , AFSB and BSB Aspirants
SSB Topic Covered: 
OIR Test
PPDT
Psychological Test
Personal Interview
Group Testing Officer Task
Conference
Medical
Personal Guidance
SSB Trends & etc.
Course Language
Classes:  Bilingual
About Instructor :
Col Sanjeet Sirohi Sir :-(Retired), an economics graduate from Delhi University joined Indian Military Academy in 1975, served for 35 years and retired as a Colonel in 2009. In last 11 years, he has interacted with more than 2000 students and helped them in carving their success path by developing their Soft skills/ Employability skills.
To embark on his professional voyage with excellence, he has   attended Soft Skill Trainer Course from Institute of Image Consulting Business Institute, New Delhi.
Training/ Public Speaking Experiences.
 Worked as 'Senior Trainer' for personality development with 'Winning Mantra', Noida.
Worked as Director HR in Institute of Hotel Management, Meerut for seven years and was responsible for training and placement of fresh hospitality graduates.
Conducts coaching classes for SSB
Conducts workshops on 'Teachers/Faculty Development.'
Delivers talks during Parent-Teacher Meetings in most of the prestigious schools in NCR.
Presently, conducts classes on 'Employability Skills' for graduates and post-graduates at Chaudhary Charan Singh University, Meerut.
Delivers motivational talks on "Heroes Quest Programmed" telecasted by Firstbyte.TV, a news channel in Meerut. The topics and links are: ("Unemployability to Employability"