NDA Age Limit
NDA 1 2023 official notification has been released by UPSC on 21st December 2022 on its official website for the course commencing in 2023. NDA Exam is conducted twice every year by UPSC (Union Public Service Commission) to select eligible candidates for admission to the elite National Defence Academy and Naval Academy. In this article, you will get detailed knowledge about the Eligibility Criteria for appearing in NDA Examination.
NDA 1 2023 Official Notification PDF
NDA Exam Eligibility
The written examination will be conducted by the Union Public Service Commission for admission to the Army, Navy, and Air Force wings of the NDA and Indian Naval Academy Course (INAC). Candidates will be issued Admit Card for the same 10-15 days prior to the commencement of the NDA 1 2023 Exam. In this article, we will discuss all information regarding NDA 1 2023  Exam and its detailed Eligibility Criteria.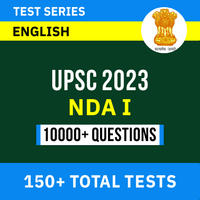 NDA 1 2023: Overview
| | |
| --- | --- |
| Name of the Organization | Union Public Service Commission |
| Name of exam | NDA 1 2023 |
| Exam type | Offline |
| Category | Eligibility Criteria |
| Total number of questions | 270 Questions (120 from Mathematics and 150 from General Ability Test) |
| Total marks | 900 Marks (300 Marks for Mathematics and 600 Marks for General Ability Test) |
| Duration  | 2½ Hours + 2½ Hours |
| Date of Examination | 16th April 2023 |
| Negative Marking | 1/3 marks |
NDA 1 Notification 2023
The Official Notification for NDA 1 2023 Exam has been released. With the release of the NDA Official Notification, the pattern, dates, syllabus etc. has also been released. You can read the official notification for NDA 1 2023 Exam by clicking on the link given below.
The approx. number of vacancies to be filled on the results of this examination are as follows:
Name of the Posts
No. of Vacancies
NDA Army
 208 (including 10 for female candidates)
NDA Navy
 42 (including 03 for female candidates)
NDA Air Force
Flying:  92 (including 02 for female candidates)Ground Duty (Technical): 18 (including 02 for female candidates)

Ground Duty (Non Technical): 10 (including 02 for female candidates)

Naval Academy
 25 (Male Candidates only)
Total Vacancies
395
NDA Eligibility Criteria
Candidates who are interested in applying must check the Eligibility Criteria before filling out the application form. If a candidate does not meet the desired eligibility criteria then his application form will be rejected.
Candidates who wish to apply for this job profile must be unmarried males and females and must meet the following eligibility criteria:
(i) Nationality
a citizen of India, or
a subject of Nepal, or
a subject of Bhutan
a Tibetan refugee who came over to India before January 1, 1962, with the intention of permanently settling in India, or
a person of Indian origin who has migrated from Pakistan, Burma, Sri Lanka, and East African Countries of Kenya, Uganda, the United Republic of Tanzania, Zambia, Malawi, Zaire, and Ethiopia or Vietnam intending to permanently settle in India.
Note: Candidates who are Gorkha subjects of Nepal will not be considered eligible.
(ii) NDA Educational Eligibility
Candidates must meet the following Educational Qualifications to complete the application process.
Post

Educational Qualification

For Army Wing of National Defence

Academy

Candidates who wish to apply must be :

12th Class pass of the 10+2 pattern of School

Education or equivalent examination

conducted by a State Education Board or

a University.

For Air Force and Naval Wings of

National Defence Academy and the

10+2 Cadet Entry Scheme at the

Indian Naval Academy

Candidates must be

12th Class pass with Physics, Chemistry,

and Mathematics of the 10+2 pattern of

School Education or equivalent conducted

by a State Education Board or a University.
Note:
– Candidates who are appearing in the 12th Class under the 10+2 pattern of School Education or equivalent examination can also apply for this examination.
– Such candidates who qualify the SSB interview but could not produce Matriculation/10+2 or equivalent certificate in original at the time of SSB interview should forward duly self-attested Photocopies to 'Directorate General of Recruiting, Army HQ, West Block.III, R.K. Puram, New Delhi110066' and for Naval Academy candidates to 'Naval Headquarters, DMPR, OI&R Section, Room No. 204, 'C' Wing, Sena Bhavan, New Delhi-110011'.
(iii) Physical Standards
Candidates must be physically fit according to physical standards for admission to National Defence Academy and Naval Academy Examination 2023.
Candidates are advised to read the guidelines given in Appendix-IV to check whether they meet the required physical standards and whether they are eligible to apply.
They should be able to fulfill the following criteria:
(a) Running: 2.4 km in 15 minutes
(b) Skipping
(c) Pushups & Sit-ups: Minimum 20 each
(d) Chin-ups: Minimum 08
(e) Rope Climbing: 3.4 meters
Height & Weight for Army and Air Force
The minimum height prescribed is 157 cms (For Air Force it is 162.5 cms). Certain exceptions are applicable for candidates based on the region from where they belong.
Height (in cms)
Weight (in kgs)
16-17 years
17-18 years
18-19 years
152
42.5
44.0
45.0
155
43.5
45.3
47.0
157
45.0
47.0
48.0
160
46.0
48.0
49.0
162
48.0
50.0
51.0
165
50.0
52.0
53.0
167
51.0
53.0
54.0
170
52.5
55.0
56.0
173
54.5
57.0
58.0
175
56.0
59.0
60.0
178
58.0
61.0
62.0
180
60.0
63.0
64.5
183
62.5
65.0
66.5
For Gorkhas and candidates belonging to hills of North-Eastern areas of India, Garhwal, and Kumaon, the minimum height will be 5 cms less than the figure mentioned above. For candidates belonging to Lakshadweep, the minimum height standard is reduced by 2 cms.
Height and Weight requirements for Navy
Height (in cms)
Weight (in kgs)
16 years
18 years
20 years
152
44
45
46
155
45
46
47
157
46
47
49
160
47
48
50
162
48
50
52
165
50
52
53
167
52
53
55
170
53
55
57
173
55
57
59
175
57
59
61
178
59
61
62
180
61
63
64
183
63
65
67
(iv) Age Limits, Sex and Marital Status
Age Limit – The age eligibility criteria to be eligible to appear for NDA is that a candidate's age must be in between 16.5 years to 19.5 years. To be eligible to NDA 1 2023 a candidate must be born in between July 2, 2004- July 1, 2007
Gender – Both Male and Female Candidates are eligible.
Marital Status – Unmarried
(v) Height Requirements
For Ground Duty Branch
The minimum height for entry into ground duty branches- 157.5 cm.
Minimum acceptable height for Gorkhas and individuals belonging to North Eastern regions of India and hilly regions of Uttarakhand- (152.5 cm).
In the case of candidates from Lakshadweep, the minimum acceptable height can be reduced by 2 cm- (155.5 cm)

For Flying Branch
| Height Requirements | Minimum | Maximum |
| --- | --- | --- |
| (i) Sitting height | 81.5 cm | 96.0 cm |
| (ii) Leg Length | 99.0 cm | 120.0 cm |
| (iii) Thigh Length | – | Maximum- 64.0 cm |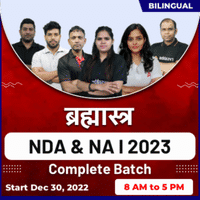 FAQs related to NDA Eligibility