Who is the Current Chief Minister of Delhi?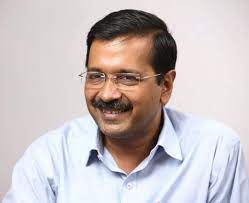 In today's time Arvind Kejriwal is a name which is now known well in Indian Political diaspora. Person who was popular social activist at some point of time turned out to be a politician. kejriwal was born in a village of Haryana. He was meticulous in his studies and due to his academic capabilities he got a seat IIT Kharagpur, in West Bengal, from where he got his degree in mechanical engineering. He wanted to go into civil services so for that he sacrificed his job in Tata Steels,  and with his sincerity and hard work he joined Indian revenue service in 1993 and there he was also able to find his better half and he got married his 1993 IRS batchmate Sunita in 1995. He also had the opportunity to work with Mother Teresa at her Kalighat Ashram for two months.
He founded a movement called Parivartan in 1999 to expose fake ration card scam and assisted the citizens of Delhi in matters related to income tax, electricity and food rations and from there he became a well known face who used to work for socail cause and to devote himself more into it he resigned from his job in 2006 and established the Public Cause Research Foundation.
2010 proved to be a turning point in the life of Kejriwal when he associated himself with the prominent social activist Anna Haraze in early 2010s while campaigning for the passing of the Jan Lokpal bill which led to the establishment of his own political party called Aam Aadmi Party (AAP) and contested in 2013 Delhi assembly election and his party won 28 out of 70 seats and he formed the coalition government with the support from the Indian National Congress and sworn in as chief minister of Delhi. But just in 49 days he had to resign due to his inability to table Jan Lokapal.
With President rule prevailing in Delhi, He contested in 16th Lokasabha Election from Varanasi constituency against the BJP prime ministerial candidate, Narendra Modi and there he had to face a defeat. His party again contested in 2015 Delhi assembly election and took record breaking 67 seats out of 70 seats and formed the government. Now again he took charge as the 7th chief minister of Delhi. Still he is able to retain his position of CM in nation capital of India, clearly tells about his political acumen and unique working style.

List of Chief Ministers in Delhi
Now let's also look at all other CMs of Delhi so far –
| S.No | Chief Minister | From | To | Party Name |
| --- | --- | --- | --- | --- |
| 1 | Arvind Kejriwal | 14 Feb 2015 | Present | Aam Aadmi Party |
| 2 | President's rule | 14 Feb 2014 | 14 Feb 2015 | |
| 3 | Arvind Kejriwal | 28 Dec 2013 | 14 Feb 2014 | Aam Aadmi Party |
| 4 | Sheila Dikshit | 29 Oct 2008 | 28 Dec 2013 | INC |
| 5 | Sheila Dikshit | 01 Dec 2003 | 29 Oct 2008 | INC |
| 6 | Sheila Dikshit | 03 Dec 1998 | 01 Dec 2003 | INC |
| 7 | Sushma Swaraj | 12 Oct 1998 | 03 Dec 1998 | BJP |
| 8 | Sahib Singh Verma | 26 Feb 1996 | 12 Oct 1998 | BJP |
| 9 | Madan Lal Khurana | 02 Dec 1993 | 26 Feb 1996 | BJP |
| 10 | Gurmukh Nihal Singh | 12 Feb 1955 | 01 Nov 1956 | INC |
| 11 | Chaudhary Brahm Prakash | 17 Mar 1952 | 12 Feb 1955 | INC |