How to Score 200+ Marks in AFCAT
With increasing competition and changing pattern of the AFCAT exam, it has now become a necessity to gain more than 200 marks in order to feel safe with the marks a candidate gets. But to gain more than 200 marks one needs to follow a proper strategy after understanding the nature of the exam carefully.
In this article we will tell you all the important tips, following which you can easily score more than 200 marks in your upcoming AFCAT 2023 exam. Read the article till the end.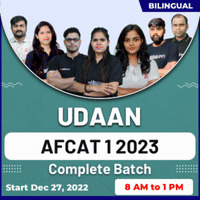 Let's first understand the paper pattern. So that we could understand its nature too.
It consists of mainly four sections Numerical Ability, English, Reasoning Ability and General Knowledge and Awareness. The number of questions has changed in the past years. Let's see it below –
This change has been observed last time. Earlier 25 questions were asked from the English section, and now it was 30. From maths questions were increased from 18 to 20 and 25 questions were asked from the reasoning section instead of 32 while 25 questions were asked from the GK section.
| | | |
| --- | --- | --- |
| Subject | Number of Questions Earlier | Number of Questions Now |
| English | 25 | 30 |
| Numerical Ability | 18 | 20 |
| Reasoning Ability | 32 | 25 |
| GK | 25 | 25 |
Tips to Score 200+ Marks in AFCAT
We are giving you tips through which you will be able to get more than 200 marks easily. Candidates must follow the given tips to gain more than 200 marks –
Analyse your strength and weakness on the basis of the subject and individual topics Work more on your weak points and give maximum time to such topics to improve your performance.
Make your own short notes while covering the syllabus. Try to go for minimum types of resources and finish your syllabus on time strategically.
Solve AFCAT previous year's papers and understand the nature of the questions asked. Revise the most important topics as many times as possible
Solve AFCAT 2023 mock tests and AFCAT previous year's question papers. Candidates are advised to solve at least one Mock Test every day to enhance their preparations and analyze their performance. Doing this will help you to prepare for your final exam and solve questions on time, especially of the maths and reasoning section.
Solve questions of every section as per the time and try to complete each section in that time frame only. Make sure that you are aware of your time management skill for every individual section that will help you to solve your paper on time.
Confidence is the key. Once you are sure about the answer, just choose that answer and move on. Since you are given a lot of time so just don't change your answers. Otherwise, you will end up getting lots of negative marks. And remember, Avoiding negative marks in one of the most important things to get good marks in the AFCAT.
Do not waste much of your time in the maths or reasoning section. If it is taking a lot of time, skip it and move to another one. Time management is also a very important factor to ace this exam.
Make sure that the candidate takes regular sleep and proper care of the diet during the time of preparation. Do not ignore your Physical health while struggling with your preparation as without good health your hard work is useless.