CRPF Constable Tradesman Syllabus 2023 & Exam Pattern
The Central Reserve Police Force (CRPF) has announced the recruitment for the post of Constable Tradesman in 2023. To prepare for the exam, candidates must have a thorough understanding of the CRPF Constable Tradesman Syllabus and Exam Pattern. In this article, we will discuss the detailed syllabus and exam pattern for the CRPF Constable Tradesman exam 2023.
CRPF Constable Exam Pattern 2023
The CRPF Constable Tradesman Exam will be conducted in four stages: Written Test, Physical Efficiency Test (PET), Physical Standard Test (PST), and Trade Test.
| Subject | Questions | Marks |
| --- | --- | --- |
| English/ Hindi | 25 | 25 |
| Elementary Maths | 25 | 25 |
| General Awareness and GK | 25 | 25 |
| Reasoning | 25 | 25 |
| Total | 100 | 100 |
Mode of Exam: Computer-Based Test (CBT)
The exam consists of multiple-choice questions (MCQs).
The written exam will be objective type and will consist of 100 questions carrying one mark each.
The duration of the exam will be two hours.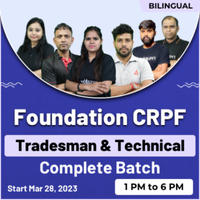 CRPF Constable Syllabus 2023
General Awareness: Questions in this section will test the candidate's knowledge of current affairs, general knowledge, and other related topics. The topics covered in this section include Indian Polity, Indian Economy, Indian Geography, Indian History, Current Affairs, and Science and Technology.
Reasoning: This section tests the candidate's logical reasoning and analytical skills. The topics covered in this section include Analogy, Blood Relation, Coding-Decoding, Syllogism, Direction Sense, Number Series, Letter Series, and Logical Reasoning.
Numerical Ability: This section tests the candidate's ability to solve numerical problems. The topics covered in this section include Number System, Simplification, Percentage, Ratio and Proportion, Average, Profit and Loss, Simple and Compound Interest, Time and Distance, Time and Work, and Mensuration.
English/Hindi: Candidate's ability to understand basic English/Hindi and his/her basic comprehension would be tested.
CRPF Tradesman Syllabus in Hindi
सामान्य जागरूकता: इस खंड के प्रश्न उम्मीदवार के करंट अफेयर्स, सामान्य ज्ञान और अन्य संबंधित विषयों के ज्ञान का परीक्षण करेंगे। इस खंड में शामिल विषयों में भारतीय राजनीति, भारतीय अर्थव्यवस्था, भारतीय भूगोल, भारतीय इतिहास, करंट अफेयर्स और विज्ञान और प्रौद्योगिकी शामिल हैं।
रीजनिंग: यह खंड उम्मीदवार के तार्किक तर्क और विश्लेषणात्मक कौशल का परीक्षण करता है। इस सेक्शन में शामिल विषयों में एनालॉजी, ब्लड रिलेशन, कोडिंग-डिकोडिंग, न्यायवाक्य, डायरेक्शन सेंस, नंबर सीरीज़, लेटर सीरीज़ और लॉजिकल रीजनिंग शामिल हैं।
संख्यात्मक क्षमता: यह खंड संख्यात्मक समस्याओं को हल करने की उम्मीदवार की क्षमता का परीक्षण करता है। इस खंड में शामिल विषयों में संख्या प्रणाली, सरलीकरण, प्रतिशत, अनुपात और समानुपात, औसत, लाभ और हानि, सरल और चक्रवृद्धि ब्याज, समय और दूरी, समय और कार्य और क्षेत्रमिति शामिल हैं।
व्यापार-विशिष्ट: यह खंड उम्मीदवार के संबंधित व्यापार के ज्ञान का परीक्षण करता है। इस खंड में शामिल विषय उम्मीदवार द्वारा चुने गए ट्रेड के आधार पर अलग-अलग होंगे। कुछ ट्रेडों में नाई, रसोइया, बढ़ई, इलेक्ट्रीशियन, प्लंबर, पेंटर, दर्जी और जल वाहक शामिल हैं।
ट्रेड टेस्ट: लिखित परीक्षा और शारीरिक दक्षता परीक्षा (PET) में अर्हता प्राप्त करने वाले उम्मीदवारों के लिए ट्रेड टेस्ट आयोजित किया जाएगा। यह परीक्षा उम्मीदवारों के संबंधित ट्रेडों में व्यावहारिक कौशल का मूल्यांकन करने के लिए आयोजित की जाएगी। परीक्षा अधिकतम 50 अंकों के लिए आयोजित की जाएगी, और उम्मीदवारों को अर्हता प्राप्त करने के लिए न्यूनतम 35 अंक प्राप्त करने होंगे।
CRPF Constable Tradesman Exam 2023 is a highly competitive exam, and candidates must prepare thoroughly to crack it. Understanding the syllabus and exam pattern is the first step towards successful preparation.
Candidates should also practice solving previous years' question papers and take mock tests to gain confidence and improve their speed and accuracy. With hard work and dedication, candidates can ace the CRPF Constable Tradesman Exam and secure a bright future in the CRPF.