Chinook Helicopter
The CH-47 Chinook is a tandem rotor helicopter. A tandem Rotor helicopter has two large horizontal rotor assemblies mounted one in front of the other. It is one of the heaviest lifting helicopters yet manufactured by the American rotorcraft company Vertol and manufactured by Boeing Vertol which is an American aircraft manufacturer. Its name has been derived from the Native American Chinook people of Oregon and Washington states.
The Chinook helicopter has been operational in the US Army since the 1960s and is presently operating in more than 19 countries, including the United Kingdom, Japan, the United Arab Emirates, and South Korea. The helicopter was initially deployed in the Vietnam War and since then has been a part of many other famous wars like the Iraq and Afghanistan wars.

Its features include a fully integrated digital cockpit management system, a Common Aviation Architecture, and sophisticated cargo-handling capabilities. With a maximum speed of 315 kilometres per hour, It is considered the world's fastest military helicopter. The Chinook has the capacity of transporting up to 45 troops and 11 tonnes of cargo. It also has a load capability of 10 tonnes underslung.
It is helpful in playing various operational roles for medical evacuation, disaster assistance, and recovery missions. The M-777 ultra howitzers, a towed 155 mm artillery piece, may also be lifted by the helicopters.
Chinook and Indian Airforce
Indian Air Force operates its fleet of 15 Boeing-made Chinook helicopters which were inducted into the service in March 2019. It is the latest helicopter in the air force fleet and costs around ₹650 crores apiece. The multi-role vertical lift platform is used for transporting men and material and also plays an important role in humanitarian and disaster relief operations.
The Indian air force received 15 deadly and heavyweight lifter Chinook helicopters from the US after placing a $3.1 billion order for 15 Chinooks and 22 Apache helicopters in 2015 to scale up the capabilities of the Indian Air Force. Chinook helicopters have been helping and bolstering the strength of the Indian Armed forces in areas of high altitudes such as Northeastern states, along the borders with China. It also means that strategically, the Chinook helicopters are proved to be quite effective for the Indian armed focus to counter China's increasing aggression in the Ladakh region.
Despite the US Army grounding its entire fleet of H-47 Chinooks over issues of engine fires, the Indian Air Force has continued the operations of its fleet of Chinook helicopters normally. Although, The Indian Air Force has sought details from Boeing, the American defence manufacturer, about the reasons behind the grounding of the US Army's fleet of Chinook helicopters.
Variants of Chinook Helicopter
Many variants have been designed for the CH-47 Chinook helicopter. Every version has its own specifications and qualities. Every latest version of CH-47 Chinook helicopters comes up with some added features. The variants of CH-47 Chinook helicopters are mentioned below:-
HC-1B
CH-47 A
CH-47 B
CH-47 C
CH-47 D
MH-47 D
MH-47 E
CH-47 F
MH-47 G
CH-47J
HH-47
Sea Chinook
Two Women Combat Pilots Flew Chinook Helicopters
Making another historical move by Indian Air Force (IAF), two women combat pilots flew Chinook helicopters for the first time. The multi-mission helicopter, manufactured by Boeing plays a crucial role in supporting the army's deployments near the Line of Actual Control (LAC).
Prior to this, Squadron Leaders Parul Bhardwaj and Swati Rathore were flying the Russian-origin Mi-17V5 helicopters before they were moved to CH-47F Chinook units based in Chandigarh and Mohanbari in Assam, respectively. The Boeing-made helicopter has been used extensively by IAF in the northern and eastern sectors amid the ongoing 28-month border row with China. It has been used for moving artillery, battlefield resupply and transportation of troops.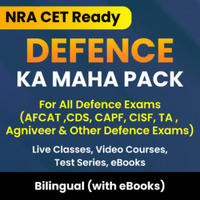 FAQs related to Chinook Helicopter
Q1. Does India have a Chinook helicopter?
Ans. Yes, the Indian Air Force operates Chinook helicopters.
Q2. How many Chinook helicopters are there in India?
Ans. Indian Air Force operates its fleet of 15 Boeing-made Chinook helicopters.
Q3.Can India buy more Chinook helicopters?
Ans. Discussions are ongoing for a further deal to buy more chinook helicopters.
Q4. How many helicopters does Pakistan have?
Ans. Pakistan is currently operating 35 helicopters.