BSF Ministerial Recruitment
Online application are invited from eligible male and female candidates to join Border Security Force for the post of Assistant Sub Inspector (Stenographer) & Head Constable(Ministerial). BSF has released the official notification for the recruitment of total 323 posts.
BSF Ministerial Recruitment 2022
Interested candidates must read the entire article in order to know every detail related to the vacancy like eligibility criteria, exam pattern, salary structure, vacancies, selection process, etc.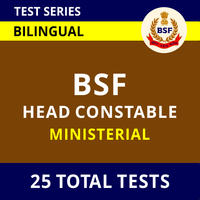 BSF Ministerial Recruitment: Overview
| | |
| --- | --- |
| Notification | BSF SI and HC Recruitment 2022 |
| Notification Date | 8th August 2022 |
| Last Date of Submission | 6th September 2022 |
| Exam Date | To be notified soon |
| City | New Delhi |
| No. of Vacancies | 323 |
| Country | India |
| Organization | BSF |
| Education Qualification | Other Qualifications, Graduate |
| Functional | Administration |
BSF Ministerial Recruitment Notification
Official Notification has been released by the Border Security Force on its official website for the recruitment of Sub Inspector (stenographer) & Head Constable (Ministerial). Last date to submit the offline application is within 30 days (i.e., 6th September 2022) from the date of publication of the advertisement in Employment News.
Click Here for the Official BSF Notification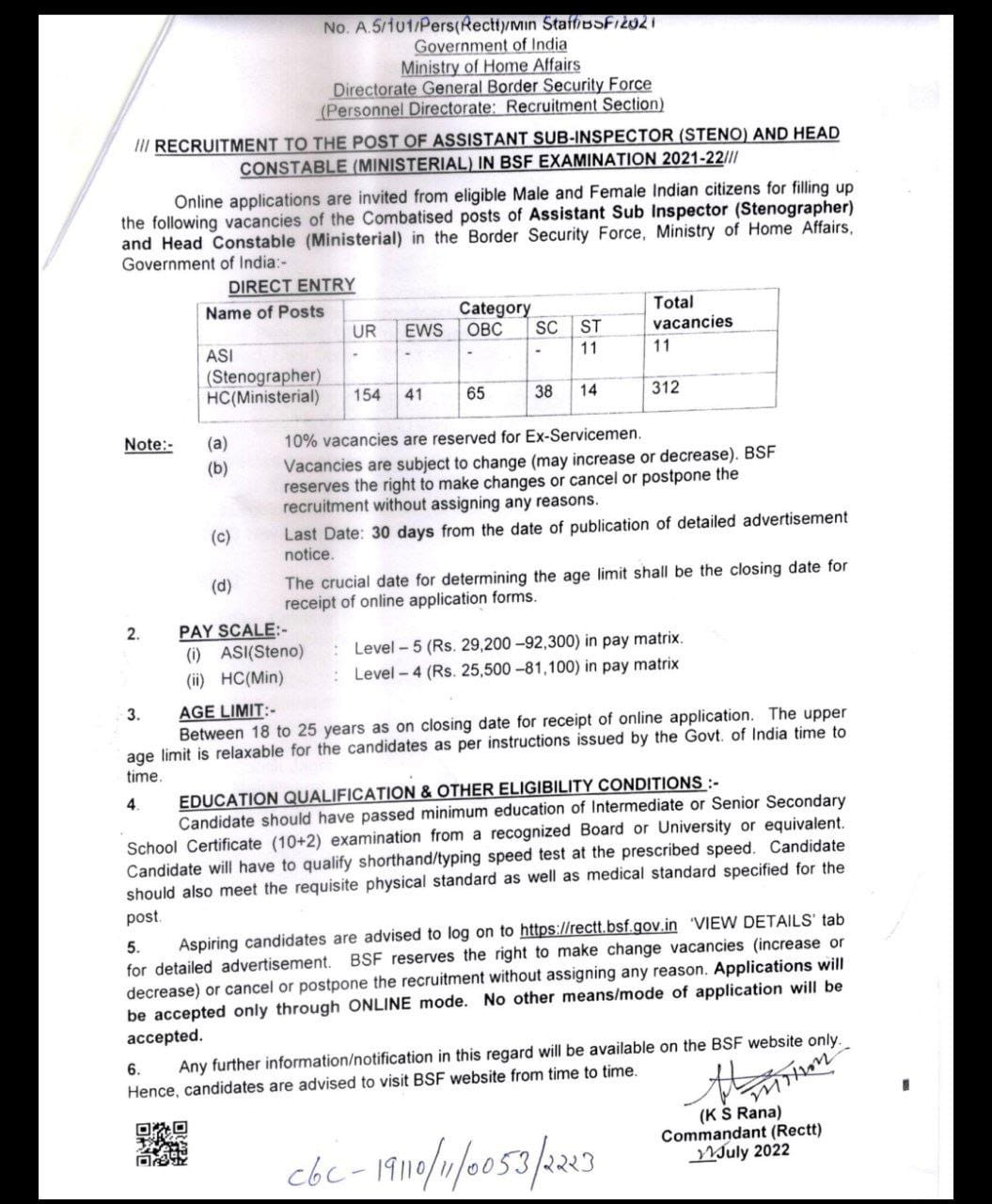 BSF Ministerial Recruitment:

Educational Qualification
Candidate should have passed minimum education of Intermediate senior secondary school certificate (10+2) examination from a recognized board or university or equivalent.
BSF Ministerial Recruitment:

Age Limit
Between 18 to 25 years as on 1st August 2022. Click Here to check more on Age Limit.
For Age Relaxation rules, you can check the official notification for BSF Recruitment 2022 for SI and Head Constable Posts.
BSF Ministerial Recruitment: Selection Process
The Selection shall be held in two phases as under:
First Phase
Second Phase
Physical Measurement.
Shorthand Test for ASI(Steno).
Typing Speed Test for HC(Min).
Documentation (Checking of Documents)
Medical Examination.
BSF Ministerial Recruitment Exam Pattern
Written Examination will be OMR based objective type with multiple questions.
It will be bilingual – Both in English and in Hindi.
Minimum qualifying marks –
Unreserved/EWS category – 35%
OBC/SC/ST categories – 33%
Written examination will be consisted of the following 5 parts –
PART
Paper Name
Total Marks
Duration
PART 1
English/Hindi Language
20 Marks
01 hour 40 minutes.
PART 2
General Intelligence
20 Marks
PART 3
Numerical Aptitude
20 Marks
PART 4
Clerical Aptitude
20 Marks
PART 5
Basic Computer Knowledge
20 Marks
Total
100 Marks
Number of candidates to be qualified in written examination will be restricted ten (10) times the number of vacancies for the post of HC(Ministerial) and thirty (30) times the number of vacancies for the post of ASI(Steno).
BSF Ministerial Recruitment Syllabus
English Language
Spot the Error, Fill in the Blanks, Synonyms/Homonyms, Antonyms, Spellings/Detecting misspelt words, Idioms & Phrases, One word substitution, Improvement of sentences, Active/Passive Voice of Verbs, Conversion into Direct/lndirect narration, Shuffling of Sentence Parts, Shuffling of Sentences in a passage, Cloze Passage, Comprehension Passage and Miscellaneous.
Hindi Language

General Intelligence
It would include questions of both verbal and non-verbal type. The test will include questions on Semantic Analogy, Symbolic operations, Symbolic/Number Analogy, Trends, Figural Analogy, Space Orientation, Semantic Classification, Venn Diagrams, Symbolic/Number Classification, Drawing inferences. Figural Classification, Punched hole/pattern-folding & unfolding, Semantic Series, Figural Pattern-folding and completion, Number Series, Embedded figures, Figural Series, Critical Thinking, Problem Solving, Emotional Intelligence, Word Building, Social Intelligence, Coding and de-coding, Other sub-topics, if any Numerical operations and Miscellaneous intelligence tests
Numerical Aptitude
Number Systems : Computation of whole number, Decimal and Fractions, Relationship
between numbers.
Fundamental arithmetical operations : Percentage, Ratio and Proportion, Square roots,
Averages, Interest (Simple and Compound), Profit and Loss, Discount, Partnership Business, Mixture and Allegation, Time and distance, Time and work.
Algebra : Basic algebraic identities of School Algebra and Elementary surds (simple
problems) and Graphs of Linear Equations
Geometry : Familiarity with elementary geometric figures and facts : Triangle and its various
kinds of centres, Congruence and similarity of triangles, Circle and its chords, tangents, angles subtended by chords of a circle, common tangents to two or more circles.
Mensuration : Triangle, Quadrilaterals, Regular Polygons, Circle, Right Prism, Right Circular Cone, Right Circular Cylinder, Sphere, Hemisphere, Rectangular Parallelepiped, Regular Right Pyramid with triangular or square Base.
Trigonometry : Trigonometry, Trigonometric ratios, Complementary angles, Height and
distances (simple problems only) Standard identities like sin2 + cos2 = 1 etc.,
Statistical Charts : Use of Tables and Graphs : Histogram, Frequency Polygon, Bar diagram, Pie-chart.
Clerical Aptitude
Clerical aptitude test assesses most of the skills necessary to perform well in a clerical position. The clerical aptitude test includes alphabetic filing, attention to detail, data checking, comparison ability, spelling checking, errors spotting and other miscellaneous issues related to aptitude of clerk.
Computer Knowledge
Basic computer fundamentals.
History and future of computers.
Operating system and basic of windows.
Computer abbreviation.
Microsoft office (MS Word and Excel).
Short Keys.
Computer communication and internet.
Miscellaneous.
BSF Ministerial Recruitment: Vacancy
| | |
| --- | --- |
| Name of the Post | Total Posts |
| Inspector (stenographer) | 11 |
| Head Constable (Ministerial) | 312 |
Check: CHSE Odisha 12th Result