Black CAT Commando
NSG term stands for the National Security Guard which is considered to be most effective at times of danger in any part of the country. NSG is a counter-terrorism force and is equipped to come into action in exceptional situations. They are experts in handling dangerous and tough situations in order to ensure the security and safety of the nation.
NSG commandos, being a counter-terrorism force, come into action whenever the country is invaded to harm. The NSG Commandos training is not limited to activities like hijacking, be it air or water. They are trained to defuse the bomb, conduct investigations post-blast, and hostage various rescue operations.
However, over the years, the NSG commandos' role somehow evolved to provide personal security to VIP s like politicians, film stars, etc. But from January 2020, the NSG force stopped providing VIP security to handle its fundamental responsibility.
The Union Cabinet took the decision in 1984 to introduce a new task force to tackle terrorism in our country. The bill for creating the same was introduced two years later, in August. The president gave his assent to the bill on September 22nd, 1986, and finally, the National Security Guard force was introduced.
They usually don't intend to interfere with or take over any local police or military groups. NSG commando is known for some extraordinary qualities like speed, power, perfectionism, quick decision making, an element of surprise, etc.
Other than NSG commandos or Black Cat Commandos, they are also known as Phantoms, who are trained in the best possible way and for every harsh and unexpected situation. Even they go to Israel for advanced training after getting selected as NSG.
Commandos are not needed in only some exceptional situations where the skillset and the experience of a special task force are needed. So, we can say that the best talent from other military organisations in the country is selected to become Black Cat Commando.
Below mentioned groups fall under NSG –
Special Action Group
Special Ranger Group
Special Composite Group
National Bomb Data Centre
Black CAT Commando: Responsibility of Different Groups in NSG
NSGs is said to be the elitist force formed by choosing the best military officers. Officers consider themselves fortunate if they get selected as a black cat commando as not many get the chance to become a part of the Phantom force. NSG consists of all qualities to prove that they really are Phantoms. They are being divided into different groups as per the requirement of different roles and these are –
Special Action Group
Special Action Group is a special response unit of the National Security Guards and Its members are chosen exclusively from the Indian army. They have the responsibility of performing different operations like counter-terrorism, counter-hijacking operations, etc.
Special Ranger Group
The safety and security of VIPs of the nation are handled by the Special Ranger Group. Commandos admitted in this force are drawn from the Indian Army State Police Force.
Special Composite Group
This group is responsible for handling counter-terrorist operations and they are deployed particularly in these 5 regions – Chennai, Mumbai, Hyderabad, Kolkata, and Gandhinagar.
National Bomb Data Centre
The National Bomb Data Centre group was established in 1988 and pretty much cleared by the name, commandos of this group have the responsibility of monitoring and analysing all bombing incidents inside the country. Members of this group are generally taken from the military or the Indian army.
Black CAT Commando: Eligibility to Get Selected in NSG
To become a part of NSG foremost requirement is that the person must be in armed forces like the Central Police Armed Force or the Indian Army.
Its selection process consists of three below-mentioned steps –
Pre-selection Training
Under this level, eligible candidates are shortlisted to move to the next level and its eligibility criteria includes –

In order to get selected from the Indian army, candidate need 3 years of experience and 5 years of experience is required for the candidate from the police force.
The maximum age limit is not more than 35 years.
Standard physical and medical requirements are required to be met.
The shortlisting process also contains some physiological and physical tests which are required to be qualified by the candidate.

Qualification Training
Qualification training is training for a time period of 3 months which is followed by advanced training of 9 months.Its criteria include activities like fighting in harsh conditions and jumping from heights are carried out to make sure that candidates can perform under pressure. Since its a difficult process so its dropout rate is about around 80%.
Final Advanced TrainingAfter completing Qualification training, Candidate need to go through this training for a time period of nine months. It is considered to be the toughest training under NSG.Training criteria includes –

Includes activities like surveillance, bomb defusion, unarmed combat, reflex training, etc.
Candidates completing both the basic and advanced training are selected for NSG and provided additional training.
This training is conducted at the National Security Guard training centre in Manesar, Haryana.
Black CAT Commando: Salary
The average annual compensation for an NSG commando is INR 10 Lakh, while the monthly salary for an Indian NSG commando is INR 80,000-3,00,000. Depending on a police officer's or soldier's rank, the Para Commando salary may vary accordingly.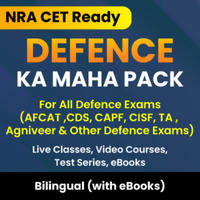 FAQs related to Black CAT Commando
Que – What are the various groups that fall under Black Cat Commando?
Ans – Special Action Group, Special Ranger Group, Special Composite Group and National Bomb Data Centre.
Que – How much is the salary of Black Cat Commando?
Ans – The average annual compensation for an NSG commando is INR 10 Lakh.

Que – What is the other name of Black Cat Commando?
Ans – They are also called phantoms.