AFCAT 3 Days 3 Mocks Challenge
AFCAT 1 2023: The Indian Air Force has released the exam dates of AFCAT as well as the admit cards. The exam will be from 24th Feb to 26th Feb 2023. The candidates who have applied for the AFCAT must buck up because only a few days are left for the examination. We are conducting the mock test starting from 18th Feb till 22nd Feb 2023. Candidates can attempt the mock test from the link provided below.
Benefits of 3 Day Mock Challenge
Solving mocks before the exam is very important to practice to maintain accuracy and speed during exam time. Mocks Tests are similar to the actual exam. Solving mocks will give you an idea of the kind of questions that can be expected on the exam day. Mocks will familiarize you with the kind of syllabus, pattern, and difficulty level of the actual exam.
Candidates need to register themselves and attempt the mock to get the desired success. The mocks will be updated daily for the candidates for which the candidates need to download the Add247 app.
Mock will helps you to try and test different strategies.
It will help to manage the timing.
It will reduce your pre-exam nervousness.
It will improve your confidence.
Click Here to Register Yourself for AFCAT Free Mocks
AFCAT 3 Days 3 Free Mocks
Expert faculty will discuss the solutions of the mock test live on DefenceAdda Youtube channel. Solutions PDF will also be provided for all the mocks.
AFCAT 3 DAYS 3 MOCKS Challenge


Mock Name
Test Publish Time
Test Submission Time
Result Publish Time
Attempt Here
All India AFCAT Mock Test – Day 1
18th Feb [10AM]
18th Feb [11:55 PM]
19th Feb [11 AM]
Click Here
All India AFCAT Mock Test – Day 2
20th Feb [10AM]
20th Feb [11:55 PM]
21st Feb [11 AM]
Click Here
All India AFCAT Mock Test – Day 3
22nd Feb [10AM]
22nd Feb [11:55 PM]
23rd Feb [11 AM]
Click Here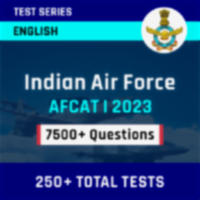 AFCAT Exam Links