Indian Navy SSR Previous Year Question Papers
Indian Armed Forces promises an exciting and adventurous career that is totally different from any other government or private organization. Joining the Indian Armed Forces as an officer requires a lot of Hard Work, Focus, and Dedication.
If you are thinking of making your career in the Indian Armed forces you should be aware of the selection procedure type of entries and competitive examination available to join the Indian Armed Forces. Joining the Indian Navy as a career offers a golden opportunity to be a part of the world's top Navy and get yourself trained to be an Officer and a Gentleman for life. If you have made your mind to join the Indian Navy, then you should stick to it and follow it till the time you achieve it.
Check:
Navy SSR Previous Year Question Papers
Indian Navy has released the official notification for Sailor Entry through Artificer Apprentice (AA-150) and Senior Secondary Recruit (SSR). A total of 500 vacancies are available for AA and 2000 vacancies for SSR.
Solving previous year's questions or sample questions papers helps in self-awareness about the questions asked in the exams and gives boosts to your preparation for the exam. Hence we have provided you with the model questions papers of the Indian Navy AA & SSR examination in an organised manner to help in your preparation.
Navy AA SSR Previous Year Question Paper
Practicing with Previous Year Question papers helps in familiarizing the aspirants with the pattern of the exam. It helps them to ascertain how much time they should spend on an average in solving a particular question and avoid situations where the bottom falls out of all their strategies when they get stuck pondering over a single low-scoring question for too long and thereby overlooking other high-scoring questions.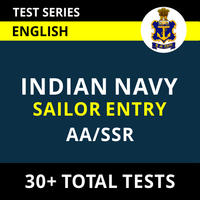 To check your daily progress, you must give as many mocks as you can. Adda will help you to check your daily progress by providing you 60+ mock tests.
CLICK HERE for the Test Series.

Aspirants, you have much time to ensure your selection as per our study plan strategy. If you follow this plan, your selection is confirmed. We are providing you the plan so that you can easily grab this chance. So without any delay just go through this study plan and study accordingly. Defence Adda team is with you aspirants, we will make your dream come true.
All the Best!
Navy SSR Previous Year Question Papers: FAQs
Q1. What are the total number of Vacancies in the Indian Navy Sailor AA and SSR 2022 Exam?
Ans. There are total  500 & 2000 vacancies (Approximately) respectively in the August 2022 batch.
Q2. What is the Indian Navy Sailor AA and SSR 2022 Exam Date?
Ans. Indian Navy will release the Indian Navy Sailor AA and SSR 2022 exam date soon on its official website.
Q3. Where can I download the Indian Navy SSR, AA Previous Question Papers?
Ans. Candidate can download the Indian Navy SSR, AA previous question papers by clicking on the link given in this article.