How to Prepare for CAPF ACs 2022?
A lot of youths want to serve for the National Security. For those who love to live a life full of adventure, pride, and leadership, Assistant Commandant in the Central Armed Police Forces (CAPF) is a wonderful opportunity. In this article, a strategy to crack the CAPF exam 2022 is discussed.
Click Here for the CAPF Official Notification
UPSC has released the CAPF 2022 notification on 20th April 2022. The notification has released and the students have already started to prepare for the exam as well.  If you analyze the recent papers of CAPF you will come to know that the level of questions asked in this examination is quite high. Questions are similar to the civil services prelims examination. Paper isn't very tough but the vast syllabus shifts it slightly towards the tougher side. So start preparing now. Be an early bird because only an early bird catches a worm.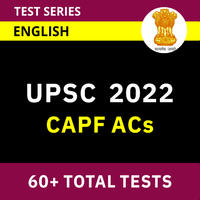 UPSC CAPF 2022: Exam Summary
Name of Exam
Central Armed Police Forces
Conducting Body
UPSC
Periodicity
Annually
Exam Level
National
Mode of Application
Online
Mode of Exam
Online (CBT)
Exam Rounds
3 Stages (Written + PFT + Interview)
Exam Dates

Written Test: 7th August
PFT: —-
Interview: —–

Expected Candidates
2 lakhs approx.
Available Seats
253
Job Location
Across India
Official Website
https://upsc.gov.in
CAPF 2022 Notification
20th April 2022
How to Prepare for UPSC CAPF ACs 2022 Examination
Apart from the MCQ-based paper, there is a descriptive paper too. So one should start working on his writing skills to reduce grammatical errors and improve the way of expression. Candidates should start reading newspapers like The Hindu, The Indian express etc. to improve their grasp over the current happenings. This will also help in the process of thought-generation while writing the essay. The essay paper is a scoring one. Choose the language you are comfortable with while writing the essay.
Tips to Prepare for UPSC CAPF ACs 2022
Following are some tips to prepare for UPSC CAPF ACs 2022:
Know your syllabus well. As the syllabus is very vast so one should not deviate from the syllabus. Take a printout of the syllabus and keep reading it on a regular basis.
if you are new to this exam start with the previous year's papers. These are easily available on the UPSC website.
Consistency is more important than the number of study hours. On a rough basis at least 3 months are required so one should regularly study for at least 6 hours minimum.
Keep in mind the 0.33 negative marking for the objective paper. Don't make guesses.
For science background students, quantitative aptitude and science questions will be an edge over others.
Prepare current affairs of at least the past 1 year from the date of examination. National and International events are important.
Economics questions are based on basic concepts. So a better understanding is required.
In history, go for modern history first as it has a higher weightage.
Geography has a vast syllabus so stick to the previous year's pattern.
Give special emphasis to the Indian Constitution part in Indian polity. M. Laxmikant is a good book for the same. Special focus on topics on news.
Keep revising your notes again and again.
The economics book by Ramesh Singh is a good source. Spectrum's book for modern history and G C Leong for Physical Geography
"A little progress every day, adds up to big results"
All the best.