500+ MCQs for CRPF Head Constable & ASI 2023 Exam
CRPF Recruitment 2023 Notification has been released by Central Reserve Police Force (CRPF) under the Ministry of Home Affairs for ASI (Steno) & HC (Ministerial) posts. A total of 1458 vacancies have been released through CRPF Recruitment 2023.
500+ MCQs for CRPF Head Constable & ASI 2023 Exam [In English]
500+ MCQs for CRPF Head Constable & ASI 2023 Exam [In Hindi]
Now CRPF 2023 is around the corner and candidates are leaving no stone unturned in their preparation, below we are providing the CRPF preparation strategy in detail for advanced preparation in the last 20 days.
Effective Tips to Prepare for CRPF 2023
Since only few days are remaining, the best thing a candidate can do is to concentrate more on the revision. It is advised to all the candidates not to begin with any new topic which has not already been covered. In the last few days, revise all the important formulae, topics, and rules. Candidates should also make some short notes of their revised topics. We are providing you with some tips and tricks that will help you to gain some extra marks in your exam –
Revise all the important topics as many times as possible
Solve CRPF 2023 mock tests and CRPF 2023 previous year's question papers. Candidates are advised to solve at least one Mock Test every day to enhance their preparations and analyze their performance.
Effective time management is crucial in these last 20 days of preparation. Make sure that you focus on every section and analyse your performance section-wise.
Solve questions of every section as per the time and try to complete each section in that time frame only.
Confidence is the key so do not panic in these last crucial days. Recreational breaks are essential to refresh your mind. Try to take some breaks in between study times.
Make sure that the candidate takes regular sleep and proper care of the diet. Do not ignore your Physical health while struggling with your last-time preparation as without good health your hard work is useless.
Every mark is important and can take you closer to the next stage of the selection process. If you are uncertain about a question then it's better to leave that and solve the ones in which you are confident. Guess answers in rare situations.
With these tips and tricks and a dedicated revision strategy, you can enhance your CRPF 2023 preparation in 20 days. Implement your study goals, revise the topics, and execute your strategies.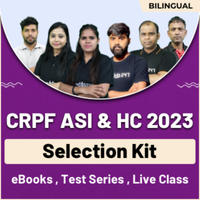 Section Wise Preparation Tips
If you want to clear the cutoff, you have to analyse your preparation strategy towards each section of the exam. You must do the topic-wise revision for these sections in the remaining 20 days. Know the tips and tricks CRPF 2023 Section Wise Preparation Tips in detail for each section:
Quantitative Aptitude Section –
This section contains Arithmetic, DI, Algebra, Ration, Proportion, Geometry, and other math topics. Arithmetic and Data interpretation are amongst the scoring categories covering almost 60-70 per cent of this section.
Math questions are mainly formula based so make sure that you have a hold over mathematical formulas for every individual topic.
Practice Short-cut Methods to improve the speed of calculation and solve questions in the minimum time possible.
English and Hindi Section –
This section tests your Vocabulary, grammar, and reading comprehension skills.
Solve at least 3-4 comprehension passages every day. With practice, you will be able to answer the questions before reading the passage thoroughly, so you can find the answer as you read the passage.
Daily take out some time to practice some grammar questions and revise your basic grammar.
Reasoning Section –
The reasoning section tests the cognitive and problem-solving skills of the candidate.
Candidate can score Maximum marks by solving as many questions as possible of every topic
Try to answer at least 20 questions with high accuracy in 15-20 minutes.
GK and General Awareness Section –
This section helps to know how aware a candidate is, by asking questions of general awareness of the situations and current events of national and international importance.
Read daily news and current affairs of the last 3 months at least. You can also watch Youtube channel of Defence Adda to know about current events.
The CRPF 2023 general awareness section also contains questions from static GK. So, along with current affairs, also emphasize Politics, History, and General Science.
Make your own notes of all the national and international events, important days and dates, etc.
Following these tips and tricks can help you to gain some extra marks. Most importantly, you just need to have faith in yourself and your hard work which will pay off eventually.
Your calmness, awareness, and relaxed mind along with your hard work decide whether you qualify for this exam or not. Be confident and attempt all you can accurately and timely.