Relevance
GS 3: Conservation, environmental pollution and degradation, environmental impact assessment.
Context
Recently, the much-awaited vehicle scrappage policy with an aim to phase out old and unfit vehicles in an environment-friendly manner was launched.
Key points
The national policy will give a new identity to the auto sector and promote a circular economy, making the process of economic development more sustainable and environment-friendly.
It aims to scrap old, unfit and polluting vehicles by creating an infrastructure for automated testing of vehicles that have completed the registration period.
As per law, a registration certificate for a passenger vehicle is valid for 15 years from date of issue. For a commercial vehicle, it is valid for a period of 10 years.

The scrappage policy will come into effect after the expiry of the above-mentioned period.
The vehicle will then have to undergo a mandatory fitness test.
Vehicles to be judged on basis of fitness test
A fitness certificate will be necessary for renewal of registration certificates after 15 years.
The certificate will be issued for a period of 5 years in case of private vehicles.
Which vehicles will be scrapped?
A vehicle will be scrapped not merely on the basis of age.
A scientific approach will be adopted through authorised, and automated testing centres.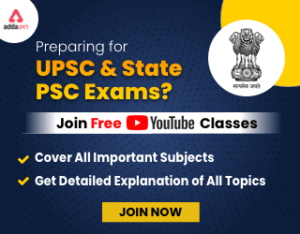 Get free video for UPSC CSE preparation and make your dream of becoming an IAS/IPS/IRS a reality
Incentives for scrapping old vehicles
Owners who scrap their old vehicle and plan to buy a new one will get incentives as part of this policy.
A value of the ex-showroom price of the old vehicle, ranging from 4 per cent to 6 per cent, will be given to the owner.

It will carry a potential discount in the range of Rs 30,000 (for a car costing Rs 6 lakh) to Rs 50,000 (for a car costing Rs 10 lakh).

A rebate of up to 25 per cent of road tax will be given to a person when he buys a new personal vehicle after scrapping an old one.

The rebate will be up to 15 per cent for commercial vehicles.

In addition, vehicle manufacturers have been advised to give a 5 per cent discount on new vehicle purchases to individuals who produce a scrapping certificate and a waiver on the registration fee.
Commission for Air Quality Management
Disincentives for holding old vehicles
Plying or holding an old vehicle, older than 15 years, will become costly. The cost of renewal of fitness certificate might go up by 62 times for commercial vehicles and by 8 times for private vehicles.
Moreover, states will impose green tax, besides the road tax that the users usually pay.
Implementation
Initially, it will be heavy commercial vehicles that will need to undergo fitness tests starting 1 April, 2023, while fitness tests will be made mandatory for all other types of vehicles from 1 June, 2024, in a phased manner.
Testing stations
In the first phase, 75 stations will be set up, which will eventually increase to 450-500 stations across the country.
Private players will be encouraged to invest in such infrastructure through PPP models.
Benefits
Scrapping an old vehicle and replacing it with a new one will bring substantial monetary benefits for motorists, in addition to reducing emissions and enhancing fuel efficiency.
It will attract investment of over Rs 10,000 crore, and generate 50,000 jobs in the country.
Proper recycling of raw materials obtained from the scrapping will help reduce import of materials such as aluminium, copper, steel, among others.
With the potential to recycle up to 99 percent of materials used in a vehicle, raw material costs are estimated to drop by as much as 40 percent.
It will make components cheaper for vehicle manufacturers, and will also lead to increased GST revenues of Rs 30,000-40,000 crore for both state and central governments.
There's also a possibility to derive materials needed for local production of lithium-ion batteries (to be used in electric vehicles) from scrapping older vehicles, which could help drive the growth of the EV business.