2 October, is Celebrated as Gandhi Jayanti to honor the memory and legacy of Mahatma Gandhi, one of the most prominent figures in India's struggle for independence from British colonial rule. Mahatma Gandhi played a pivotal role in India's fight for independence in a nonviolent way. Overall, 2 October, Gandhi Jayanti is a day of reflection, remembrance, and reverence for a man whose leadership and principles were instrumental in India's struggle for independence and who continues to inspire movements for peace and justice worldwide. It serves as a reminder of the enduring relevance of Gandhi's philosophy and values in today's world.
2 October 2023
2 October 2023: Every year on October 2nd, the nation commemorates the birth anniversary of Mahatma Gandhi. As a tribute and to remember his principles and philosophies, 2nd October is marked as a National Holiday every year and all educational institutions/banks are also closed on this day. 2nd October is a kind reminder of Gandhi Ji's power of love, tolerance, and resistance. In his honor, the day is celebrated with pomp and show across the country in banks, schools, colleges, and social, political, public, and private organizations.
2 October 2023 International Day of Non-Violence
October 2nd is also celebrated as the International Day of Non-Violence by the United Nations. Gandhi Ji's teachings of non-violence and political/social justice have inspired people around the world marking in June 2007 this day as the International Day of Non-Violence.
October 2 Special Day in India
October 2 is celebrated as a special day in the history of India and this special day is celebrated as Gandhi Jayanti and Lal Bahadur Shastri Jayanti.
154th Gandhi Jayanti Celebration
This year 2 October 2023 (Monday) marks the 154th Gandhi Jayanti on his birth anniversary. Commemorative events like prayer gatherings, school and college events, devotional songs on radio and television, award presentations, and rallies are likely to take place.
154th Gandhi Jayanti Theme 2023
Ek Tareekh Ek Ghanta Ek Saath is the theme for 2 October Gandhi Jayanti, A national call to action for 1 Hour of citizen-led shramdaan for swachhata on 1st Oct, 2023 at 10 am. 
PM Modi on 154th Gandhi Jayanti, 2 October 2023
Nine years ago, in 2014, Prime Minister Shri Narendra Modi issued a compelling call for cleanliness. People from various backgrounds responded with tremendous enthusiasm, embracing the responsibility for a cleaner India. Consequently, cleanliness transformed into a widely adopted national practice, and the Swachh Bharat Mission became a familiar term in households across the country.
Mahatma Gandhi has always preached about cleanliness and hygiene. Gandhi Jayanti in 2014 emerged Swacch Bharat Abhiyan (Clean India Campaign) promoting cleanliness and sanitation throughout the country.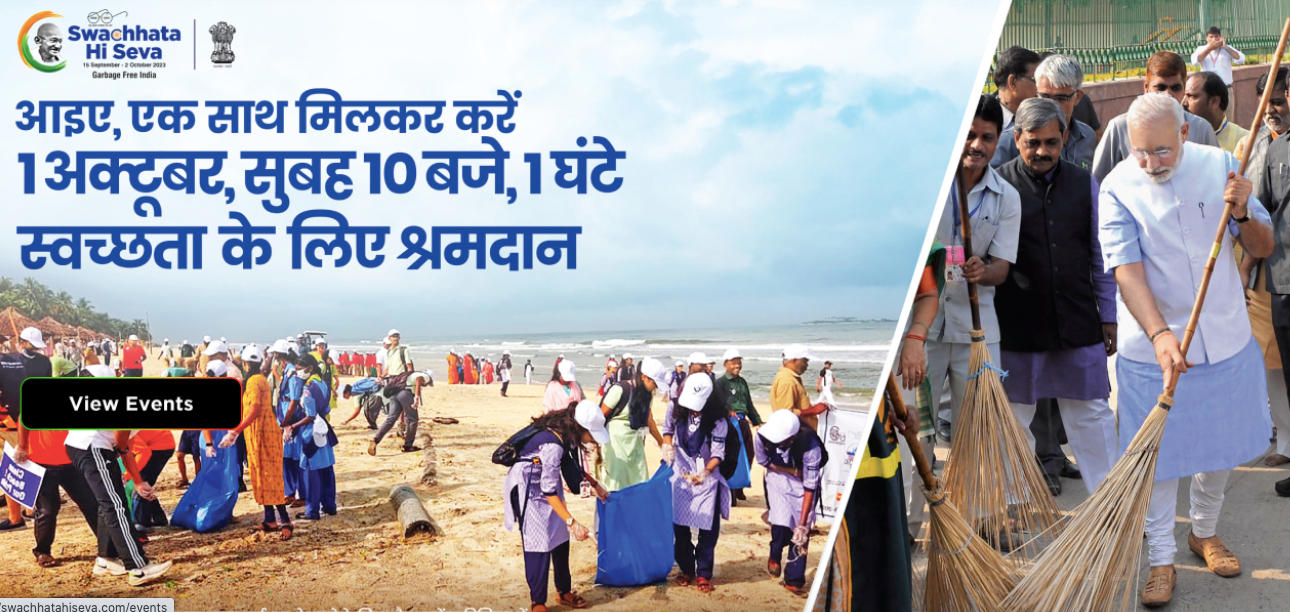 In preparation for Gandhi Jayanti, the Prime Minister has issued a unique call to action. For the celebration of Gandhi Jayanti Celebration 2023,  PM Narendra Modi has announced a campaign 'Ek Tareekh, Ek Ghanta, Ek Saath.' He has urged the citizens of India to do Shramdaan under the campaign 'Ek Tareekh, Ek Ghanta, Ek Saath.'
During the 105th episode of Mann Ki Baat, the Prime Minister urged all citizens to participate in a one-hour voluntary cleanliness drive, known as "SHRAMDAAN," at 10 a.m. on October 1st. This collective effort is a tribute, or 'SWACHHANJALI' to Mahatma Gandhi on the eve of his birthday.
Speaking about the Swachhata Hi Sevaabhiyan, he said, "A significant cleanliness event is scheduled for Sunday, October 1st, at 10 a.m. PM Modi Said, I encourage everyone to spare some time and contribute to this cleanliness campaign. You can join in by cleaning up your street, neighborhood, park, river, lake, or any other public area."The cleanliness events will be available for public information on a specially-architecture platform Swachhata Hi Seva – Citizens Portal https://swachhatahiseva.com/
A mega cleanliness drive is arranged to enable people from all walks of life to join activities at public places on October 1, 2023.
Rituals of Gandhi Jayanti
On 2nd October, a prayer meeting at Raj Ghat, Gandhi's memorial in New Delhi is held in the morning. Dignitaries like the President and Prime Minister of India are present during the prayer at the memorial. All the followers, political leaders, activists, and people pay their respects by laying flowers or garlands on his samadhi. The devotional song 'Raghupati Raghava Raja Ram' is sung/played in his memory.
Iconically, a moment of silence at 11 a.m. is observed across public places in his honor and Non-violent marches or padayatras have been prominent tasks on Gandhi Jayanti highlighting and promoting his principles of justice, love, unity, and non-violence.
Gandhian ideals are also showcased by service activities like set-ups of blood donation camps, tree plantation drives, and free health check-ups.
In schools, colleges, and different organizations throughout the nation every year Gandhi Jayanti is celebrated. Different themes, decorations, prayer and poetry meets and various creative activities take place on this special day. These celebrations revive the learnings and teachings of Mahatma Gandhi in the present generation. Also, everyone gets a chance to present new imaginative and creative ideas every year.
National Holiday on 2 October 2023
To honor the great leader and his principles and as a tribute and to remember his principles and philosophies, 2nd October is marked as a National Holiday every year and all government offices, educational institutions, and banks are also closed on this day.
'Ek Tareekh, Ek Ghanta, Ek Saath' Campaign
An initiative by the PM to celebrate Gandhi Jayanti on 2nd October, 2023.  'Ek Tareekh, Ek Ghanta, Ek Saath' Campaign is a mega cleanliness drive under the 'Swachhata Pakhwada- Swachhata Hi Seva' 2023 campaign.
PM Modi has appealed to the nation to observe a nationwide campaign –
"A big event on cleanliness is going to be organized on the 1st of October i.e. Sunday at 10 am. You too should take your time and help in this campaign related to cleanliness. You can also join this cleanliness campaign in your street, or neighbourhood…or at a park, river, lake or any other public place."
 A major event for cleanliness is to be organised all around the Nation under the campaign encouraging people to dedicate their one hour of time and effort to contribute towards a meaningful and sustainable concept.
Details:
1 hour of Shramdaan for Swachhata at 10 a.m. on 1st October 2023 by all citizens of the country.
Citizens get to participate in cleaning activities of public places like market spaces, railway tracks water bodies tourist locations, religious places, etc.
Every town, Gram Panchayat, and sector of the government public institutions will be facilitating cleanliness events led by the citizens.
This mega cleanliness drive will majorly cover the public spaces.
A special and dedicated online portal is also enabled to help organizations to further organize different events.
This event is also open for influencers and citizens to join this people's movement as Swachhata Ambassadors.
Volunteers will have access to the necessary resources and materials for their chosen tasks in their respective regions.
Participants have been asked to document their activities through photos and videos. They can upload them on the portal as their attendance.
After the campaign, a virtual or in-person event will be conducted to celebrate the impact of collective efforts.
Certificates and acknowledgments will be provided to participants to recognize their contributions.
The campaign aims to harness the power of collective action for a positive impact on society, bringing people together to make a difference in just one hour.
Gandhi Jayanti's Significance in the History of India
Mahatma Gandhi learned and believed in various sources like Bhagavad Geeta, Jainism, Buddhism, the Bible, and Gopal Krishna Gokhale. His ideologies namely, truth and non-violence were the two most prominent principles.
He chose Satyagraha as a weapon to fight for rights and put across the message through self-suffering instead of violence. He used this technique of peaceful protests in South Africa against racism and discriminatory treatment of low castes and women.
He worked tirelessly for the upliftment of untouchables and gave them a new name Harijan (the children of God).
Mahatma Gandhi organized satyagraha movements amongst cotton mill workers and peasants in different parts of the nation.
Gandhiji also performed a satyagraha against the Rowlatt Act that the British had passed as the act affected fundamental rights.
He also observed Non-Cooperation with British rule where people were asked to stop attending schools, colleges, and law courts, and not pay taxes.
Dandi Salt March, Gandhi ji began walking from his ashram at Sabarmati towards the ocean for 3 weeks.
He changed the Indian National Congress a peoples' Congress and the national movement a mass movement.
He launched the Quit India Campaign which led to a mass movement collecting ordinary people and youth to go to jails and fight against British rule.
He made people fearless and taught them to be vocal against injustice. He is remembered for his struggle for freedom and his great movements in getting Independence with his non-violent ways.
154th Gandhi Jayanti UPSC
This year 154th Gandhi Jayanti will be celebrated with the new initiative of the PM by walking on the same path as of Gandhi Ji's teachings and principles. The national holiday will be celebrated by performing a combined gesture under the 'Ek Tareekh, Ek Ghanta, Ek Saath' Campaign. The intention of the government is to unite the people of the nation and preach non-violence and peace.
Also Read: