Rajasthan PCS Examination RPSC RAS (2023-2024) Online Preparation
If you are preparing for the Rajasthan State and Subordinate Services Combined Competitive Examination (RPSC RAS/RTS Exam), then forget your worries as Adda247 has launched this "Yudhveer" Batch exclusively for you. With this course, you get 900+ hours of live interactive classes, counseling sessions, expert guidance, preparation tips, and a lot more. The classes are power packed and brain stormed through practice questions based on amalgamation of static and current portion of the topics so that students can understand concepts and solve the questions easily in the examination. Our teachers are from different backgrounds like IIT, Delhi University, JNU, Delhi School of Economics and other top institutions with vast experience of tutoring thousands of successful aspirants for UPSC and PCS Examinations.
For any Query related to this  YUDHVEER BATCH please call or WhatsApp on: 7678246017, 8178018562, 7678242792
YUDHVEER BATCH से सम्बंधित किसी भी जानकारी के लिए दिए गए नंबर पर Call या WhatsApp करें: 7678246017, 8178018562, 7678242792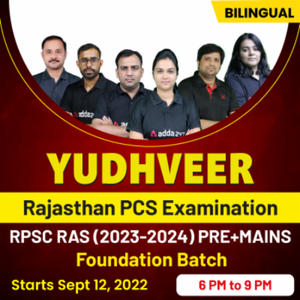 Note – RPSC RAS युद्धवीर बैच राजस्थान और दिल्ली के सर्वोत्तम FACULTIES द्वारा पढाया जायेगा जिन्हें की 15 वर्षो से अधिक का अनुभव है | या बैच आपके सिलेक्शन में महत्वपूर्ण योगदान करेगा |
Super Specialty – इस बैच के साथ आपको mentorship भी दी जाएगी, भारत के सर्वश्रेष्ट शिक्षको के द्वारा |
YUDHVEER – Rajasthan PCS Examination RPSC RAS (2023-2024) PRE+MAINS Foundation Batch
Batch Start: 12-Sep-2022
Time: 6:00 PM to 9:00 PM
Check the study plan here.
कोर्स की मुख्य विशेषताए
यह कोर्स 900 से अधिक घंटो का है |
क्लासेज BILINGUAL होंगी जिससे की हिंदी माध्यम और इंग्लिश माध्यम के सभी STUDENTS आसानी से इसे पढ़ सके |
इसमें आपको नियमित टेस्ट कराया जायेगा |
इसमें नियमित रूप से MENTORSHIP दी जाएगी |
प्रे और मैन्स का पूरा SYLLABUS कराया जायेगा |
बैच के प्रारंभ में प्री और बाद में मैन्स की क्लासेज करायी जाएँगी | जैसा की स्टडी प्लान में है |
सभी FACULTIES आपसे वीक में एक बार 1 TO 1 डिस्कशन करेंगी |
सभी क्लास के बाद आपको PDF दी जाएगी |
Course Highlights
Total Course Duration 900+ hours
Study plan (Fixed Class schedule)
Bilingual only
Comprehensive Study Material
Pre-Class Study Material
Mains Class Study Material
Special Issues (Annual Current Affairs, Economic Survey and Budget)
Testing Plan
Weekly Class Tests
Subject-End Class Tests
Doubt Clearance with Personal Mentors.
Hindi and English compulsory Class
Current Affairs
RPSC RAS EXAM PATTERN
The RAS Exam is conducted in three stages (similar to the UPSC IAS Exam)
Stage 1: RAS Pre – One Paper – Objective Type – 200 Marks
Stage 2: RAS Mains – 4 Papers – Theory/Descriptive – 800 Marks Total
Stage 3: RAS Interview/Personality Test/Viva-voce – 100 Marks
Subject We covered for Pre & Mains Exam
RAS Syllabus – Prelims
Rajasthan Specific Parts
General Topics
1. Literature, Tradition, Culture, Art, History and Heritage of Rajasthan
1. Indian History – Ancient, Medieval, Modern
2. Geography of Rajasthan
2. Geography – Indian. World
3. Administrative and Political System of Rajasthan
3. Indian Political System, Constitution and Governance
4. Economy of Rajasthan
4. Economic Concepts and Indian Economy
5. Current Affairs – Rajasthan
5. Science and Technology
6. Reasoning and Mental Ability
7. Current Affairs
​​​
RAS Syllabus – Mains
Paper I
General Studies I
Unit 1 – History
Unit 2 – Economics
Unit 3 – Sociology, Management, Accounting & Auditing
Paper II
General Studies II
Unit 1 – Administrative Ethics
Unit 2 – General Science & Technology
Unit 3 – Earth Science (Geography and Geology)
Paper III
General Studies III
Unit 1 – Indian Political System, World Politics and Current Affairs
Unit 2 – Concepts, Issues and Dynamics of Public Administration and Management
Unit 3 – Sports and Yoga, Behaviour and Law
Paper IV
General Hindi and General English
Grammar and Usage
Comprehension, Translation and Precis Writing
Composition & Letter Writing
Note: All Above Subjects (Pre+Mains) will be covered in this batch.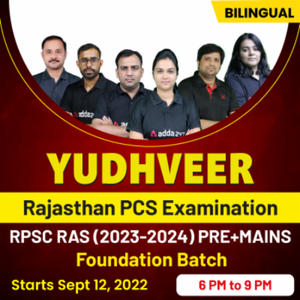 Exam Covered:-
Rajasthan PCS Examination RPSC RAS (2023-2024) PRE+MAINS
Course Language:-
Classes: Hindi and English (Bilingual)