Coal gasification UPSC: Relevance
GS 3: Infrastructure: Energy, Ports, Roads, Airports, Railways etc.
National Coal Gasification Mission: Context
Recently, the union Government has prepared a National Mission document to achieve 100 million tonne (MT) coal gasification by 2030 to diversify coal usage.
Coal gasification by 2030: Key points
India has a reserve of 307 billion tonne of thermal coal and about 80 per cent of coal produced is used in thermal power plants.
Diversification of coal has become imperative for its sustainable use due to environmental concerns and development of renewable energy.
Coal gasification is the future and it is considered a cleaner option compared to burning of coal.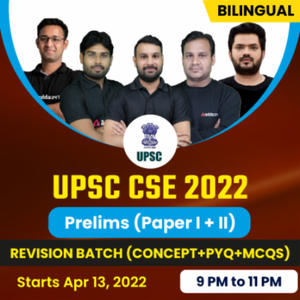 What is coal gasification?
Coal gasification is a process in which coal is partially oxidated by air, oxygen, steam or carbon dioxide under controlled conditions to produce a fuel gas.
Coal gasification process: It involves 5 stages—Gasification, Cooling and cleaning, Shifting, Purification, and Usage.
Coal Gasification in India
In 2020, Ministry of Coal said that India aims for 100 million tonnes (MT) coal gasification by 2030 with investments worth over Rs. 4 lakh crores.
In 2021, government rolled out National Coal Gasification Mission to use sustainably in future.
All coal companies have been advised to appoint a nodal officer and to prepare an action plan for gasifying at least 10% of their coal production.
Further, in all future commercial coal block auctions, a provision has been made for 20% rebate in revenue share for the coal used for gasification purpose provided the coal quantity used for gasification is at least 10% of total coal production.
Coal gasification: Why needed?
India, being a signatory to the Paris Agreement, 2016 has declared three quantitative climate change goals as its Nationally Determined Contribution (NDC).

Reduction in emissions intensity of Gross Domestic Product (GDP) by 33 to 35 percent by 2030 from 2005 level.
Achieving about 40 percent cumulative electric power installed capacity from non-fossil fuel-based energy resources by 2030.
Creating an additional carbon sink of 5 to 3 billion tonnes of carbon dioxide equivalent through additional tree & forest cover by 2030.

Most of India's known coal deposits are non-recoverable as they are deep, scattered and covered by forests. Underground coal gasification could help extract this plentiful reserve.
राष्ट्रीय कोल गैसीकरण मिशन: भारत ने 2030 तक 100 मीट्रिक टन कोल गैसीकरण का लक्ष्य रखा है
Benefits of coal gasification
Environmental benefits: Coal gasification provides a more environment friendly method of producing energy. The process of gasification converts organic materials into carbon monoxide, carbon dioxide and hydrogen gas. This process is widely used on industrial scales for the generation of electricity from fossil fuels. Gasification plants produce significantly lower quantities of air pollutants.
Economic benefits: Gasification can be utilized to turn lower-priced feedstock, such as pet coke and coal, into valuable products, like electricity, fuels and fertilizers. Moreover, the operating costs of a gasification power plant are lower than conventional coal-fired plants and require less pollution control equipment.
Producing transportation fuels: The gasification process can be used to produce methanol and chemicals like ammonia and urea, which are the foundation of many fertilizers. Gasification can also be used to produce transportation fuels from oil sands, coal and biomass.
Reliable technology: Gasification has been used on a commercial scale around the world for more than 50 years in the refining, fertilizer and chemical industries. As the uses for gasification expand into municipal and hazardous waste conversion, plant operators have the opportunity to conserve resources and limit hazardous emissions.
Read current affairs for UPSC