First Movers Coalition UPSC: Relevance
GS 2: Bilateral, regional and global groupings and agreements involving India and/or affecting India's interests.
First Movers Coalition India: Context
Recently, India has joined the First Movers Coalition todecarbonise the heavy industry and long-distance transport sectors that are responsible for 30 per cent of global emissions.
First Movers Coalition: Key points
India, along with Japan and Sweden, has also joined the steering board of the coalition.
Besides India, Denmark, Italy, Japan, Norway, Singapore, Sweden and the United Kingdom have also joined the US as government partners to create early markets for clean technologies through policy measures and private sector engagements.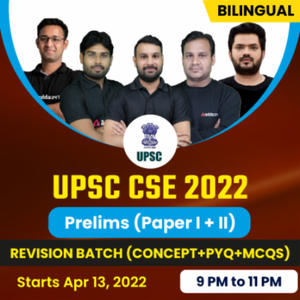 About First Movers Coalition
First Movers Coalition is a flagship public-private partnership launched by US and WEF to clean up the most carbon-intensive sectors.
The coalition also saw 50 new corporate members with collective market cap of USD 8.5 trillion joining the force.
Since it was launched at COP26, the First Movers Coalition has brought together global companies with supply chains across carbon-intensive sectors.
The First Movers Coalition targets sectors, including aluminium, aviation, chemicals, concrete, shipping, steel and trucking, which are responsible for 30 per cent of global emissions – a proportion expected to rise to over 50 per cent by mid-century without urgent progress on clean technology innovation.
First Movers Coalition objectives
The coalition's members have committed to a percentage from suppliers using near-zero or zero-carbon solutions, despite the premium cost.
If enough global companies commit a certain percentage of their future purchasing to clean technologies in this decade, this will create a market tipping point that will accelerate their affordability and drive long-term, net-zero transformation across industrial value chains.
The coalition also announced two new target sectors: carbon dioxide removal and aluminium, which join the four existing sectoral pledges (aviation, shipping, steel and trucking) launched at COP26.
Once the tipping point is reached in the market, the First Movers Coalition will demonstrate that a net- or near-zero transformation across the value chain is not only possible but that it will be no more expensive than the high-emitting alternative.
India's attempt to decarbonise the economy
The idea of LIFE – "Lifestyle For Environment" call for a global mass movement on sustainable lifestyles, is very critical for combating climate change.
India has also taken global leadership with initiatives like the International Solar Alliance, One Sun One World One Grid, and the Coalition for Disaster Resilient Infrastructure.
Read current affairs for UPSC