Context
Recently, Assam government has decided to grant an extra week's leave to its employees every year to spend time with their elderly parents.
The special leave will come with a condition – the employees cannot use it for any other purpose.
Geriatric Care: Geriatrics is a branch of medicine that deals with the problems and diseases of old age and aging people. Geriatric care covers all aspects of elderly care.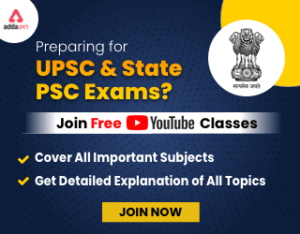 free video for UPSC CSE preparation and make your dream of becoming an IAS/IPS/IRS a reality
Statistics about senior citizens in India
Population Census 2011: there are nearly 104 million (8.6% of the total population) elderly persons in India.

71% (around 73 million) of the elderly population resides in rural areas.

Projection: A UN Population Fund report suggests that India's elderly population is expected to increase to 19.4% by 2050.

Feminization of ageing in India: The report noted that between 2000 and 2050, the population of 80-plus people would have grown 700% "with a predominance of widowed and highly dependent very old women".
Plastic Waste Management Amendment Rules, 2021
Provisions for Geriatric care in India
Constitutional provisions: Article 41 and Article 46 talk about elderly care in India. Though they are not enforceable in the court of law but create a positive and moral obligation on the state while enacting any law.
Legal provisions:

Hindu marriage and adoption act, 1956: makes it mandatory for children to ensure maintains of their parents.
Maintenance and Welfare of Parents and Senior Citizens Act, 2007: provides for a legal route to elderly who can seek maintenance legally from their children or heirs in case they refuse to take care.

Key Governments schemes:

Integrated Program for Older Persons (IPOP): it is a central sector scheme implemented by the Ministry of Social Justice and Empowerment (MoSJ&E).

Aim: to improve the quality of life of older persons by providing basic amenities like shelter, food, medical care, and entertainment opportunities, etc.

Rashtriya Vayoshri Yojana (RVY): a central sector scheme of MoSJ&E, funded from the Senior Citizens' Welfare Fund.

Under this, aids and assistive living devices are provided to senior citizens belonging to the BPL category who suffer from age-related disabilities such as low vision, hearing impairment, loss of teeth, and locomotor disabilities.

Indira Gandhi National Old Age Pension Scheme (IGNOAPS): Rs 200 per month is provided to people in the age group of 60-79 years and Rs 500 per month to persons of 80 years and above.
 Also read –Global Youth Development Index 2020