"UPSC News Diary For Today" is every day published in the evening between 6-7 PM and contains all current affairs articles from the day on a single platform. "UPSC News Diary For Today" covers various topics from UPSC Syllabus and is very helpful and time managing for UPSC Aspirants. The framing of this daily current affairs compilation article is easy to read and understandable also.
In the "UPSC News Diary For Today" article, we focus on both UPSC Preliminary and Mains exam-oriented current affairs & prepare a gist of daily important news articles from leading National Newspapers, PIB, and other various official sources.
Lumpy skin disease
Lumpy skin disease: In News
With the lumpy skin disease spreading fast among bovines in western and northern Rajasthan, cattle-rearers in the State are suffering heavy losses.
Lumpy skin disease: About LSD
Lumpy skin disease (LSD) is a devastating disease of cattle and buffalo caused by a capripox virus.
The disease is spreading rapidly internationally.
LSD was first reported in Asia and the Pacific region in 2019 in north west China, Bangladesh and India.
During 2020, LSD continued to spread across continental Asia with many countries including Bhutan, Hong Kong, Myanmar, Nepal, Taiwan, Vietnam and Sri Lanka, reporting outbreaks.
In 2021, the disease was confirmed in Vietnam, Thailand, and Malaysia. Indonesia reported confirmed cases in March 2022.
The World Organisation for Animal Health (the OIE) is encouraging members in at-risk areas to initiate vaccination campaigns ahead of virus entry and to continue timely reporting of all outbreaks.
Lumpy skin disease: How is the Virus Spread?
It is not fully understood how lumpy skin disease virus is transmitted between animals. It is believed that arthropod vectors, direct contact, contaminated feed and water and iatrogenic means (for example, repeated use of needles on different animals) can all spread the disease.
The virus is present in high concentrations in the skin nodules and scabs on affected animals and can be isolated from blood, saliva, ocular and nasal discharges and semen.
Lumpy skin disease virus can be found in blood for up to 21 days post-infection but shedding in semen may continue for at least 42 days post-infection.
African Swine Fever
African Swine Fever: In News
Barely a week after about 500 pigs were culled in Kerala's Wayanad district to prevent the spread of African swine fever detected there, new cases of the disease have been reported from there and Kannur.
African Swine Fever: What is it?
African swine fever is a highly contagious and deadly viral disease affecting both domestic and feral swine of all ages.
ASF is caused by the African swine fever virus (ASFV), a genetically complex virus belonging to the genus Asfivirus of the family Asfarviridae.
ASF is not a threat to human health and cannot be transmitted from pigs to humans. It is not a food safety issue.
Why is African Swine Fever a Concern?
ASF is a devastating, deadly disease that would have a significant impact on livestock producers, their communities and the economy.
There is no treatment or vaccine available for this disease. The only way to stop this disease is to depopulate all affected or exposed swine herds.
National Digital Livestock Mission (NDLM)
In News
Department of Animal Husbandry and Dairying (DAHD) has set up a dedicated 'One Health Unit' in collaboration with the Gates Foundation. One of the primary focus areas of the unit has been on coming up with an "animal pandemic preparedness" model by creating a mechanism for storage and seamless exchange of data and information on livestock health — this will be implemented through the National Digital Livestock Mission (NDLM).
Why NDLM?
To create a farmer-centric, technology-enabled ecosystem where the farmers are able to realize better income through livestock activities with the right information and enabling infrastructure to obtain timely, high-quality services and access to markets as a result of well-functioning, connected systems that optimize for sustainable economic opportunities and health of both the animals and the people.
5G Spectrum Auction
5G Spectrum Auction: In News
1.5 In ₹ lakh crore, the worth of the 5G telecom spectrum sold in a seven-day auction.
5G Spectrum Auction: Key Points
The mop-up from the 5G spectrum, capable of offering ultra-high speed mobile internet connectivity, is almost double the ₹77,815 crore worth of 4G airwaves sold last year and triple of ₹50,968 crore garnered from the 3G auction in 2010.
Reliance Jio was the top bidder to the airwaves capable of offering speeds about 10 times faster than 4G. It was followed by Bharti Airtel and Vodafone Idea Ltd.
5G Spectrum Auction: What is Spectrum Auction?
Devices such as cellphones and wireline telephones require signals to connect from one end to another. These signals are carried on airwaves, which must be sent at designated frequencies to avoid any kind of interference.
The Union government owns all the publicly available assets within the geographical boundaries of the country, which also include airwaves. With the expansion in the number of cellphones, wireline telephone and internet users, the need to provide more space for the signals arises from time to time.
To sell these assets to companies willing to set up the required infrastructure to transport these waves from one end to another, the central government through the DoT auctions these airwaves from time to time.
These airwaves are called a spectrum, which is subdivided into bands which have varying frequencies. All these airwaves are sold for a certain period of time, after which their validity lapses, which is generally set at 20 years.
School Innovation Council (SIC)
School Innovation Council (SIC)- Relevance for UPSC Exam
GS Paper 2: Governance, Administration and Challenges- Government policies and interventions for development in various sectors and issues arising out of their design and implementation.
School Innovation Council (SIC) in News
Recently, key details of School Innovation Council (SIC) was provided by the Minister of State for Education, Smt. Annpurna Devi in a written reply in the Lok Sabha.
School Innovation Council (SIC)
About: School Innovation Council (SIC) is an initiative taken by the Ministry of Education's Innovation Cell (MIC).

School Innovation Council (SIC) was launched on 1 July 2022.

Mandate: School Innovation Council (SIC) is a council of teachers, students, and experts from industry and academia to-

Conduct round the year activities for students and teachers on Innovation and Entrepreneurship,
Monitor through the SIC portal of the MIC,
Record the influence at the ground level.

Implementation: School Innovation Council (SIC) has been introduced to all schools of all the states including Rajasthan.
SIC Portal: It has been developed to implement the SIC council in all schools across the nation. schools can register themselves on the SIC Portal.
Role of Schools: All registered schools are encouraged to perform innovation-related activities as per the SIC Calendar Activities that includes-

Leadership talk,
Motivation sessions,
Webinars,
Sessions,
Awareness,
Boot camps inviting innovative ideas from the student,
Developing the prototype, and
National level exhibition of the best prototypes etc.

Significance: SIC will enable mindset change, awareness, and training on Ideation, Innovation and Entrepreneurship, design thinking, Intellectual Property Rights, start-up finance, and HR among teachers and students.

School Innovation Council (SIC) will also enable the ranking system for schools on the level of innovation-oriented activities.
School Innovation Ambassador Training program (SIATP)
About: School Innovation Ambassador Training program (SIATP) was launched through online Mode to strengthen the mentoring capacity of teachers for cultivating and handholding innovative and ingenious ideas from students.
Teacher Training Modules: Under SIATP, teachers will be trained under following five modules-

Design Thinking & Innovation;
Idea generation & Idea hand-holding;
Finance/Sales/HR;
Intellectual Property Rights(IPR);
Entrepreneurship and Prototype/ Product Development;

Innovation Ambassadors: Under SIATP, teachers undergo 72 hours of training, and those who qualify all the five modules with a minimum 50% as passing marks are recognized as "Innovation Ambassadors".

It makes them competent to nurture the young school students on Ideation, IPR, product development, design thinking, problem-solving, critical thinking and skills of entrepreneurship.
Tribes In Gujarat
Tribes In Gujarat: Introduction
According to the 2011 Census, the tribals account for 109 million and represent 8.6% of the country's total population.
As per the 2011 Census, the total population in Gujarat was 604.39 lakh out of which the tribal population accounts for 14.76%.
There are several scheduled Tribe groups in the State.
Tribes of Gujrat primarily reside in the rugged regions of Aravallis, Vindhya, Satpura and Sahyadri ranges.
Tribes In Gujarat: List Of Scheduled Tribes in GUJARAT
1. Barda
2. Bavacha, Bamcha
3. Bharwad (in the Nesses of the forests of Alech, Barada and Gir)
4. Bhil, Bhil Garasia, Dholi Bhil, Dungri Bhil, Dungri Garasia, Mewasi Bhil, Rawal Bhil Tadvi Bhil, Bhagalia, Bhilala, Pawra, Vasava, Vasave.
5. Charan (in the Nesses of the forests of Alech, Barada and Gir)
6. Chaudhri (in surast and Vvalsad districts)
7. Chodhara
8. Dhanka,Tadvi, Tetaria, Valvi
9. Dhodia
10. Dubia
11. Dubla Talavia, Halpati
12. Gamit, Gamta, Gavit Mavchi, Padvi
13. Kathodi, Katkari, Dhor Kathodi, Dhor Katkari, Son Kathodi, Son Katkari
14. Kokna, Kokni, Kukna
15. Koli (in Kutch district)
16. Koli Dhor, Tokre Koli, Kolcha, Kongha
17. Kunbi (in the Dangs districts)
18. Naikda, Nayaka, Cholivala Nayaka, Kapadia Nayaka, Mota Nayaka, Nana Nayaka
19. Padhar
20. Paradhi (in Kutch District)
21. Pardhi, Advichincher, Phanse Pardhi (excluding Amreli, Bhavanagar, Jamnagar, Jungadh, Kutch, Rajkot and Surrendranagar district)
22. Patelia
23. Pomla
24. Rabari (in the Nesses of the forest of Alech, Barada and Gir)
25. Rathawa
26. Siddi (in Amreli, Bhavnagar, Jamnagar, Junagadh, Rajkot and Surendranagar districts)
27. Vaghri (in Kutch district)
28. Varli
29. Vitolia, Kotwalia, Barodia
30. Bhil, Bhilala Barela, Patelia
31. Tadvi Bhil, Bawra, Vasave,
32. Padvi
Tribes In Gujarat: Few Prominent Tribal communities in Gujarat
Bhil
The word Bhil comes from the Dravidian word "billu" which means bow to shoot arrows. The Bhils have been carrying arrows with them since ancient times.
The Bhil tribe lives in Banaskantha, Sabarkantha, Aravalli, Panchmahal, Dahod, Dang, Baruch, Narmada, Tapi, and Surat districts.
Warli
Warli comes from the word "waral" which means a small piece of land.
The community is famous for their Warli paintings which are made on the walls of dung with soaked rice water, using acacia and bamboo sticks.
Gond
Gond people speak Gondi dialects which are derived from a mix of Tamil, Kannada and Telugu.
It could therefore be presumed that they might have come from South India.
A Gond dynasty is said to have ruled for several centuries in the Chandama region.
Siddi
Siddis mainly reside across India, especially in Gujarat, Andhra Pradesh, Maharashtra, and Kerala.
They also reside in Karnataka in Ankola, Solapur and Mangrol taluka.
Siddis are a tribe of African descent who migrated and settled in rural areas in India.
They are included in the primitive group.
They are famous for their Dhamal Dance.
Rathwa
Rathwas came from Alirajpur near Madhya Pradesh. Farming, animal husbandry, poultry farming, and forestry are their main occupations.
Dhodia
This tribe is found in the Bang, Naysari, Surat, Valsad, and Tapi districts of Gujarat.
In the Bhili dialect, the roof is called Dhuda and its inhabitants are known as Dhodia.
Chaudhri
Chaudhri community living in the districts of South Gujarat considers itself to be of Rajput descent.
Patelia
After the fall of Patai Rawal Pavagadh, those Rajputs and Kshatriyas who settled in different forest areas were known as Patelia.
They became leaders of the village and were managing village affairs, thus becoming "Patel" of a village.
Tribes In Gujarat: Culture
Art
Pithora paintings: The Rathwa tribes have their bamboo walls plastered with clay and the local deity Pithoradev is painted on the wall.
Warli paintings: Paintings of Warlis are ritual decorations during weddings where women draw patterns on the walls of the bride's house with rice powder after clay-plastering.
Tribal Wear
Tribal individuals are known to use clothing such as langoti, Chaniya (a skirt), faliya (headscarf), coloured Kabja (jacket, blouse), Odhni (headcloth), Baloyas (kind of bangles) from wrist to elbow, and Pijaniyas (heavy anklet) of brass on legs.
Tribal Healing System
Bhagat Bhava: This healing system is mainly found in the tribal belts of Gujarat, especially Dang, Narmada, Vaisad, and forest-dominated areas of Dahod, Pancharnahal, Sabarkantha, and Banaskantha. It plays an important part in the religion, health and society of the tribals.
Ex VINBAX 2022
Ex VINBAX 2022- Relevance for UPSC Exam
GS Paper 2: International Relations- Bilateral, regional and global groupings and agreements involving India and/or affecting India's interests.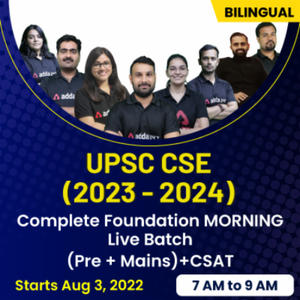 Ex VINBAX 2022 in News
The 3rd Edition of Vietnam India Bilateral Army Exercise "Ex VINBAX 2022" is scheduled to be conducted at Chandimandir from 01 to 20 Aug 2022.
The Editorial Analysis-What Numbers Don't Reveal About Tiger Conservation?
Ex VINBAX 2022
Background: The exercise VINBAX 2022 is a sequel to previously conducted bilateral exercise in Vietnam in 2019.
About: Ex VINBAX 2022 is a bilateral joint military exercise between India and Vietnam military.

Ex VINBAX 2022 is a major milestone in strengthening the bilateral relations between India and Vietnam.
Indian Army is being represented by troops from the 105 Engineer Regiment in the Ex VINBAX 2022.

Location: 3rd VINBAX 2022 Exercise will be held at Chandimandir
Ex VINBAX 2022 Theme: Theme of the third VINBAX 2022 exercise is "employment and deployment of an Engineer Company and a Medical Team under United Nations Contingent for Peacekeeping Operations".
Key Activities to be Undertaken: Under Ex VINBAX 2022-

A 48 hours Validation Exercise is part of the schedule to assess the standards achieved by both contingents while executing technical military operations under similar scenarios in UN missions.
A Humanitarian Assistance & Disaster Relief demonstration and equipment display will showcase India's capacity to undertake rescue and relief operations during natural and manmade disasters utilising indigenous solutions.
Ex VINBAX 2022 Significance
India and Vietnam share a Comprehensive Strategic Partnership and defence cooperation is a key pillar of this partnership.
Vietnam is an important partner in India's Act East policy and the Indo-Pacific vision and VINBAX 2022 will help in strengthening it.
The conduct of Ex VINBAX – 2022 as a field training exercise with enhanced scope from previous editions of bilateral exercise will-

Strengthen mutual confidence, inter-operability and
Enable sharing of best practices between the Indian Army and Vietnam People's Army.

The joint exercise will also provide an opportunity to the troops of both the Contingents to learn about the social and cultural heritage of each other.
India-Vietnam Relations: India and Vietnam Sign Mutual Logistics Agreement
India- Myanmar Relation
Relevance for UPSC Exam
General Studies II- India and its neighborhood- relations.
In News
August 1 marked 18 months of the military coup in Myanmar
'Coup'is generally described as a sudden, violent, and illegal seizure of power from a government.
Historical Background
In February, 2021, military seized control of Myanmar in a coupand detained Aung San Suu Kyi and other leaders of her National League for Democracy (NLD).
This was the third time in the nation's historysince its independence from British rule in 1948 that military has taken over the control.
According to the 2008 military-drafted constitution, the military holds 25% of the total seats in Myanmar's parliament.
After securing majority in November 2020 parliamentary election, Suu Kyi's party National League for Democracy (NLD)was about to hold the first session of the parliament when the military imposed a state of emergency for one-year illegal voting in the parliamentary elections.
Significance for India
Being at the center of the India-Southeast Asiageography, Myanmar is geopolitically significant for India and also plays an important role in India's "Neighborhood First" policy and its "Act East" policy.
As part of India'sSAGAR Vision, India developed the Sittwe port in Myanmar's Rakhine state which is seems to be India's answer to the Chinese-fronted Kyaukpyu port, which is intended to cement China's geostrategic footprint in Rakhine.
Interest-Gateway to the East
India considers Myanmar as Gateway to the east and ASEAN countries.
India committed itself to Operationalisation of the crucial Sittweport in Myanmar's Rakhine.
India assists infrastructure projects such as the India-Myanmar-Thailand trilateral highwayand the Kaladan Multi-Modal Transit Transport Project.
Linkage of Kolkata to Sittwein Myanmar and then from Myanmar's Kaladan river to India's north-east is on cards as well.
According to the Land Border Crossing Agreement in 2018 signed between the two countries, the bona fide travellers with valid documents are allowed to cross the border at two international points of entry/exit- Moreh-Tamu and Zokhawthar-Rih.
Security: Indian seeks support and coordination from Myanmar for the maintenance of security and stability along its North East border areas which has seen a rise in the activities of some militant groups like the United National Liberation Front (UNLF) and National Democratic Front of Bodoland (NDFB) from the North-East region which have taken shelter in Myanmar.
With Indian investments of over USD 1.2 billion, Myanmar holds considerable importance than any other country in South Asia.
The two countries are also expanding partnership in the area of energy cooperation which can be seen from India approval for an investment of over USD 120 million in the Shwe Oil and Gas project.
Challenges for India
China's Influence on Northeast Insurgency has increased and China's grip over Myanmar has become stronger with a special focus on projects that are in the interest of China.
China is trying create trouble in the Northeast as can be seen from the deadly attack on an Assam Rifles convoy near the Myanmar border.

Rohingya Issue: Aung San Suu Kyi's silence on the Rohingya crisis in Myanmar has increased plight of the hapless Rohingya which is not in India's national security interest in the north-east.
The 1643-km-long Indo-Myanmar border, facilitating the cross-border movement of militants, illegal arms and drugs, is extremely open.
The border runs along hilly and inhospitable terrain and provides cover to the activities of various Indian Insurgent Groups (IIGs).
What can be done?
India should continue to work closely with the present regime in Myanmar towards mutual development of people of both the countries.
India should help Myanmar towards achieving the goals in constitutionalism and federalism so that the prevailing stalemate can be resolved.