National Crime Records Bureau (NCRB)- Relevance for UPSC Exam
GS Paper 3: Security- Challenges to internal security through communication networks; Various Security forces and agencies and their mandate.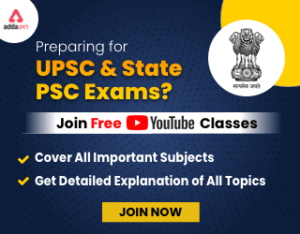 Get free video for UPSC CSE preparation and make your dream of becoming an IAS/IPS/IRS a reality
NCRB Crime in India 2020 Report- Context
According to the recently released National Crime Records Bureau (NCRB) report, overall crime numbers in the country increased by 28 percent in 2020 over the non-pandemic year 2019.
However, this increase has been largely attributed to crimes registered for Covid-19 violations as other crimes actually decreased in 2020 compared to 2019.

According to the home ministry, people violating the Centre's guidelines on Covid containment were supposed to be booked under IPC Section 188 and Disaster Management Act.
NCRB Crime in India 2020 Report- Key Findings  
Increase in Overall Crime Case Registration: Overall crime registration in India increased by 14,45,127 (28%) cases over 2019 (51,56,158 cases).

The NCRB Report recorded 66,01,285 cognizable crimes comprising 42,54,356 Indian Penal Code (IPC) crimes and 23,46,929 Special and Local Laws crimes.

Increased Crime Rate: The crime rate (the number of cases registered per one lakh population) increased from 385.5 in 2019 to 487.8 in 2020.
Increase in Caste-based crimes:

Crimes against Scheduled Castes: showed an increase of 9.4%.
Crime against Scheduled Tribes: Showed an increase of 9.3% over 2019.

Decline in Crime Against Women: There was an 8.30% decline in cases of crime against women.

A majority of the cases were related to "cruelty by husband or his relatives" (30.0%), followed by "assault on women with intent to outrage her modesty" (23.0%), "kidnapping & abduction of women" (16.8%) and "rape" (7.5%).
Crime Rate against women: The crime rate registered per lakh women population is 56.5 in 2020 in comparison with 62.3 in 2019.

Decline in Crimes by Juveniles: A total of 29,768 cases were registered against juveniles during 2020, showing a decrease of 7.8%.
Murder registered a marginal increase of 1 percent while offenses in the category of "Violent Crimes" decreased by 0.5 percent.
Increased rate of Charge-sheet filing: In nearly 26.12 lakh cases, charge sheets were filed, resulting in a charge-sheeting rate of 75.8%, an increase by 12.50% compared to 2019.

The States reporting high charge-sheeting rates under IPC crimes were Gujarat (97.1%), Kerala (94.9%), and Tamil Nadu (91.7%).

COVID-19 led Lockdown Effect: due to covid led lockdown in India last year, cases of crime against women, children and senior citizens, theft, burglary, robbery and dacoity declined.
Decline in overall registered Economic Offenses: showing a decrease of 12%.

Decline of 27% in cases under the Prevention of Corruption Act from 4,244 to 3,100 cases.
Increased Cybercrimes: with 50,035 cases, cybercrimes recorded an 11.80% increase.

Decline in Cases of Human Trafficking: declined from 2,208 to 1,714 cases.

The number of missing persons decreased by 15%. A 19.80% dip in children who were reported missing in 2020, compared to 2019.

Increase in Environment-related offenses: The year 2020 saw a 78.1 percent increase in Environment Related Offences compared to 2019.
National Crime Records Bureau (NCRB)- Key Points
About NCRB: It is a government agency, established in 1986, for collecting and analyzing crime data as defined by the Indian Penal Code (IPC) and Special and Local Laws (SLL).

Headquarter: New Delhi, India

Parent Ministry: It functions under the administrative control of the Ministry of Home Affairs.
Key Functions of the NCRB: The following are the key functions of the NCRB-

To Create, lead, and coordinate the development of IT applications for Police.
To Collate information and maintain statistics on crime and criminals at the national level.
Creation and maintenance of Database at the National level for law enforcement agencies.
To coordinate, guide and assist the functioning of the State Crime Records Bureaux, along with, providing training facilities to personnel of the Crime Records bureaux
To function as the National storehouse of fingerprint (FP) records of convicted persons including FP records of foreign criminals
To keep the central and state governments updated with the official records and findings related to any case.
Maintain a national database of fingerprints of all criminals in India.