Daily Current Affairs For UPSC Exam 24 December 2022: Daily Current Affairs For UPSC Exam are based on the principle of updating UPSC CSE aspirants with Most Important Daily UPSC Prelims Specific Current Affairs. These Daily Current Affairs are prepared in Bit Form/Abridged Form to save the precious time of UPSC Aspirants.
Human Papillomavirus (HPV)
Why HPV is in news?
The Central government announcing that it will roll out vaccination for girls aged between 9 and 14 years through schools.
The decision comes at a critical juncture with a study in The Lancet published this month showing that India accounts for the highest number of cervical cancer cases in Asia, followed by China.
What is Cervical cancer?
Cervical cancer is a preventable and treatable cancer.
It is caused by infection with the human papillomavirus (HPV) and there are vaccines which protect against carcinogenic HPV.
WHO Guidelines
With more than 6,00,000 women diagnosed with cervical cancer worldwide in 2020, the World Health Organization laid down several guidelines that countries need to follow to eliminate it as a public health problem.
According to the International Agency for Research on Cancer, the WHO has specified that countries must reach and maintain an incidence rate of fewer than 4 new cases of cervical cancer per 1,00,000 women a year.
To achieve that goal, it is necessary that 90% of girls will have to be fully vaccinated with the HPV vaccine by the age of 15.
To that end, the government's intent to introduce the HPV vaccine in the Universal Immunisation Programme (UIP) is a welcome move.
What is UIP?
– The UIP is one of the largest public health programmes targeting over 2 crore newborns and 2 crore pregnant women annually, and offers free vaccines for at least 12 diseases.
– To battle cervical cancer, India is expected to roll out the indigenously developed Cervavac vaccine by mid-2023.
Also Read:
Daily Current Affairs for UPSC Exam- 23 December | Prelims Bits
Also Read:
How Effective is Gene Therapy for Cancer Cure?
ICAR-IISWC
Why ICAR-IISWC is in news?
The Forest Department and the Indian Institute of Soil and Water Conservation (IISWC) in Udhagamandalam(T.N.) are at loggerheads.
Udhagamandalam is one of the Research Centre of ICAR-Indian Institute of Soil and Water Conservation.
Know about ICAR-IISWC
The ICAR-Indian Institute of Soil and Water Conservation (ICAR-IISWC), (Formerly CSWCRTI) was established on 1st April,1974 with Headquarters at Dehradun by combining Soil and Water Conservation Research.
The Institute and Research Centres have focused on evolving strategies for controlling land degradation following watershed approach, tackling special problems such as ravines, landslides, mine spoils and torrents, demonstration of technologies for popularization and imparting training besides developing technologies for water harvesting and recycling.
Also Read:
Analysis Of Down To Earth Magazine: The Earth Since Stockholm Conference of 1972|Biodiversity loss|Soil Degradation|Global Food Crisis
Also Read:
Daily Current Affairs For UPSC Exam 22nd December 2022 | Prelims Bits
Joynagarer Moa
Why Joynagarer Moa is in news?
This winter is going to be special for the Joynagar moa, the popular Bengal sweetmeat available only during the colder months of the year, with the number of registered manufacturers witnessing a massive rise and its Geographical Indication tag getting a 10-year extension.
The Joynagarer Moa sweet is unique because the main ingredients, kanakchur khoi, and nolen gur, are available only during the winter months between November and January.
Know about Joynagarer Moa
Who Invented?
– According to researchers, Joynagarer Moa was invented by Jamini-buro, a resident of Bahru village, near Joynagar town.
– It is said that he once prepared and served moa made with his own farm-grown Kanakchur Khoi and Nolen Gur to Sri Chaitanya Mahaprabhu who was very happy to partake in the sweetmeat.
How Joynagar Moa is made?
– The fragile and soft melt-in-your-mouth moa is made with Kanakchur Khoi (fried, aromatic slender rice variety cultivated in Joynagar) and Bengal's legendary nolen gur (a liquid jaggery made from date palms and found only in winter), laced with crushed cardamom and raisins.
– The jaggery is best if it is poyra gur (the batch made from the first sap of the season).
GI Tag for Joynagar Moa
Joynagar Moa Nirmankari Society was set up in 2005 to act as a watchdog and conduct a thorough examination before authorizing any outlet to make the sweet.
In 2015, Joynagarer Moa received the Geographical Indication (GI) tag and this boosted the morale of the moa makers.
Recently its Geographical Indication tag has got a 10-year extension.
Also Read:
iNCOVACC
Why Intranasal Vaccine Against COVID-19(iNCOVACC) is in news?
Bharat Biotech's intranasal Covid vaccine has been approved by the Union Health Ministry for inclusion in the vaccination programme as a booster dose for those above 18 years of age.
Key Details about iNCOVACC
iNCOVACC is the world's first intranasal Covid vaccine to receive approval for the primary 2-dose schedule and heterologous booster dose. iNCOVACC is stable at 2-8°C for easy storage and distribution.
iNCOVACC is a recombinant replication deficient adenovirus vectored vaccine with a pre-fusion stabilized SARS-CoV-2 spike protein.
This vaccine candidate was evaluated in phases I, II and III clinical trials with successful results.
iNCOVACC has been specifically formulated to allow intranasal delivery through nasal drops.
The nasal delivery system has been designed and developed to be cost-effective in low and middle-income countries.
iNCOVACC was developed in partnership with Washington University, St Louis.
Also Read:
India Developed World's First Intranasal Vaccine Against COVID-19 | The Hindu Editorial
Also Read:
Daily Current Affairs for UPSC Exam 21 December | Prelims Bits
Daily UPSC Prelims Current Affairs Bits, 20th December 2022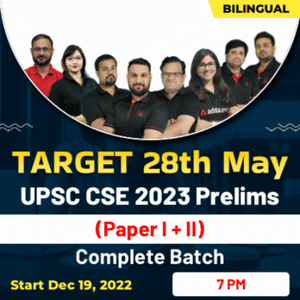 Economy Current Affairs:
IR Current Affairs:
Editorial Analysis: