MPLAD Scheme
Context
About half of a belated ₹2,200 crore allotted for completing ongoing MPLADS projects in 2020-21 simply lapsed, as reported by the Standing Committee on Finance.
This happened mainly because the Finance Ministry granted "barely a week" to the Ministry of Statistics and Programme Implementation (MoSPI) to release the funds.

Due to the Covid-19 pandemic, MPLAD Funds Scheme is currently suspended and the disbursed funds were allocated earlier.
Fast Track Special Courts (FTSCs) in India: Context, Meaning, Need, Advantages and Way Forward
Key points about the MPLAD scheme
About: Member of Parliament Local Area Development Scheme or MPLAD scheme was formulated in 1993.

It enables Members of Parliament (MPs) to recommend development works in their constituencies with emphasis on the creation of durable community assets based on the locally felt need.
It is a Central Sector Scheme of the union government.

Implementing Ministry: Since 1994, the MPLAD Scheme is being implemented by the Ministry of Statistics & Programme Implementation.

Initially, it was under the control of the Ministry of Rural Development and Planning.

Funding: 5 crores in two installments of Rs. 2.5 crore each, is given to each MP on a yearly basis and these funds under MPLADS are non-lapsable.
Implementation of projects

Lok Sabha MPs: have to recommend projects to district authorities in their Lok Sabha Constituencies.
Rajya Sabha MPs: have to spend it in the state that has elected them to the House.
Nominated MPs: can recommend Projects/works anywhere in the country.
Krishna River Water Dispute: Background, Present Issues, Constitutional Provisions and Suggestive Measures
Additional information:
Guidelines on Members of Parliament Local Area Development Scheme (MPLADS): published by the Ministry of Statistics and Program Implementation in June 2016.

It says that the MPLAD funds can also be used for the implementation of the schemes such as Swachh Bharat Abhiyan, Accessible India Campaign (Sugamya Bharat Abhiyan), conservation of water through rainwater harvesting and Sansad Aadarsh Gram Yojana, etc.
 National Commission for Protection of Child Rights (NCPCR): Constitution, Composition and Key Functions
INS Vikrant: First Indigenous Aircraft Carrier
Context
Recently, India's first indigenous aircraft carrier (IAC) Vikrant, the largest and most complex warship to be built in the country, began its sea trials.
It propelled India into a select group of countries having capabilities to build state-of-the-art aircraft carriers.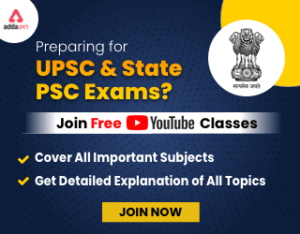 Get free video for UPSC CSE preparation and make your dream of becoming an IAS/IPS/IRS a reality
Key points about INS Vikrant
It has been named Vikrant after the decommissioned maiden carrier of the Indian Navy.
Part of India's Atma Nirbhar Bharat: as it is India's first indigenous aircraft carrier likely to be commissioned in 2022.

At present, India has only one aircraft carrier, the Russian-origin INS Vikramaditya.

It will operate MiG-29K fighter jets, Kamov-31 helicopters, MH-60R multi-role helicopters, and has over 2,300 compartments, designed for a crew of around 1700 people, including specialized cabins to accommodate women officers.

The shipborne weapons include Barak LR SAM and AK-630, while it has MFSTAR and RAN-40L 3D radars as sensors.
It has a pair of runways and a 'short take-off but arrested recovery' system to control aircraft operations.

Manufacturing: It has been manufactured by Cochin Shipyard Limited (CSL).
Prelims Specific Articles- 4 August 2021
Special Drawing Rights
Context
The Board of Governors of the International Monetary Fund (IMF) has approved the $650 billion allocations of IMF Special Drawing Rights (SDR), the largest-ever distribution of monetary reserves.
Ozone Pollution: Causes, Impacts and Steps taken to Reduce Ozone Pollution
Key points
It will benefit all the members of IMF, besides addressing the long-term global need for reserves.
It will also build confidence, and foster the resilience and stability of the global economy.
In particular, emerging and developing countries will be given a new boost in combating the economic consequences of the coronavirus pandemic.
The last SDR distribution came in 2009 when member countries received $250 billion in SDR reserves to help ease a global financial crisis.
Wetland Ecosystem: Importance, Concerns and Conservation Measure
Additional information
SDR: It is an international reserve asset, created by the IMF in 1969 to supplement its member countries' official reserves.

The value of the SDR is based on a basket of five currencies—the U.S. dollar, the euro, the Chinese renminbi, the Japanese yen, and the British pound sterling.
It is neither a currency nor a claim on the IMF.
It is a potential claim on the freely usable currencies of IMF members and the SDRs can be exchanged for these currencies.
The voting power of IMF members is directly linked with their quotas.
| | |
| --- | --- |
| Countries | Quotas |
| US | 17.47% |
| China | 6.41% |
| India | 2.75% |
Competition Commission of India: India's Anti-trust Regulator
Flex Fuel Vehicles in India
Context
Recently, union road transport and highways minister Nitin Gadkari emphasized the roll-out of flex-fuel vehicles (FFVs) in the Indian auto market within a year.
Key points
FFV: These are modified vehicles that can run both on petrol and ethanol blended petrol.
Why needed?

Change the automobile landscape: The government is pushing for reduction in fossil fuels usage. Programs like 20% ethanol blended petrol b 2025 can get a boost by rolling out flex fuel vehicles.
It won't be impossible for the manufacturing companies to adapt to the changing reality as the flex-fuel technology already exists, and these multi-fuel engines are available in countries like Brazil, Canada, and the US.
Rising fuel prices have become a cause of concern for the public at large.
Additional information
Government efforts to decrease vehicular emission:

The transition from BS3 to BS4 engine for vehicles.
Similarly, skipping from BS4 to BS6 engine, skipping the BS5 engine for vehicles.
FAME II policy for encouraging electric vehicles adoption.

How do FFVs work?

FFVs have an internal combustion engine and are capable of operating on petrol and any blend of petrol and ethanol up to 83%.
Most components of FFVs are the same as those found in a conventional petroleum-only car.
However, some special ethanol-compatible components are required such as modifications to the fuel pump and fuel injection system.
The engine control module (ECM) is also calibrated to accommodate the higher oxygen content of ethanol.