Relevance
GS Paper 2: Indian Constitution- Historical underpinnings, evolution, features, amendments, significant provisions, and basic structure; Separation of powers between various organs dispute redressal mechanisms and institutions.
 The Editorial Analysis: Criminalising welfare issues
Context
Chief Justice of India offered to send a water dispute case filed by Andhra Pradesh against Telangana for mediation while saying that the people of the two southern States were "brothers" and should not even "dream" of doing harm to each other.

The case concerned Andhra Pradesh's petition accusing Telangana of depriving its people of their legitimate share of water for drinking and irrigation.

A recent point of friction is led by the Telangana government's notification that aims to generate hydel power up to 100% installed capacity which may result in a lack of water for the people of Andhra Pradesh (feared by the AP government).
Andhra Pradesh accuses Telangana of

Refusing to follow decisions taken on river water management in the Apex Council constituted under the Andhra Pradesh Reorganisation Act of 2014.
Ignoring the directions of Krishna River Management Board (KRMB) constituted under the 2014 Act and the Central government.
Issue of Surveillance in India: Pegasus Spyware, Associated Concerns and Way ahead
About Krishna River Water Dispute
Background: it is a very old dispute, beginning with the erstwhile Hyderabad and Mysore states, and later continuing between successors Maharashtra, Karnataka, and Andhra Pradesh.
First Krishna Water Disputes Tribunal (KWDT): set up in 1969 under the Inter-State River Water Dispute Act, 1956, and presented its report in 1973 which was published in 1976. It divided the 2060 TMC (thousand million cubic feet) of Krishna water at 75 percent dependability into three parts:
560 TMC for Maharashtra.
700 TMC for Karnataka.
800 TMC for Andhra Pradesh.
It also provided for revision of the order by a competent authority or tribunal at any time after May 31, 2000. In addition to this, new grievances among the states led to the formation of a second KWDT in 2004.

Second KWDT: Set up in 2004 and gave its report in 2010, which made allocations of the Krishna water at 65 percent dependability and for surplus flows as follows:
81 TMC for Maharashtra,
177 TMC for Karnataka, and
190 TMC for Andhra Pradesh.
United Nations Security Council: Composition, Functioning and Indian Engagement at UNSC
Formation of Telangana state and present issue:
Both states have proposed several new projects without getting clearance from the river boards, the Central Water Commission, and the Apex Council, as mandated by the Andhra Pradesh Reorganisation Act, 2014.

The Apex Council comprises the Union Water Resources Minister and the Chief Ministers of Telangana and Andhra Pradesh.
Andhra Pradesh: proposed to increase the utilization of the Krishna water from a section of the river above the Srisailam Reservoir, led to the Telangana government filing a complaint against Andhra Pradesh.
Demands of AP for reallocation of water among four states instead of three: by considering Telangana as a separate party at the KWDT. It is relying on Section 89 of The Andhra Pradesh State Reorganisation Act, 2014.
Telangana: Palamuru-Rangareddy, Dindi Lift Irrigation Schemes on the Krishna River and Kaleshwaram, Tupakulagudem schemes, and a few barrages proposed across the Godavari are opposed by AP.
Opposition by Karnataka and Maharashtra: they said that Telangana was created following the bifurcation of Andhra Pradesh. Therefore, the allocation of water should be from Andhra Pradesh's share which was approved by the tribunal.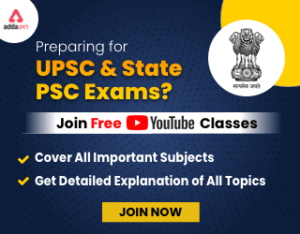 Get free video for UPSC CSE preparation and make your dream of becoming an IAS/IPS/IRS a reality
Constitutional provisions about Inter-state river water disputes
Article 262: provides for the adjudication of inter-state water disputes. It says that-

Parliament may by law provide for the adjudication of any dispute or complaint with respect to the use, distribution, or control of the waters of, or in, any Inter-State River or river valley.

The Parliament has enacted two laws, the River Boards Act (1956) and the Inter-State Water Disputes Act (1956).

Parliament may, by law provide that neither the Supreme Court nor any other court shall exercise jurisdiction in respect of any such dispute or complaint as mentioned above.

Entry 56 of Union List: The regulation and development of inter-state rivers and river valleys to the extent declared by Parliament to be expedient in the public interest.
Digital Rupee: India's National Digital Currency
Way forward:
Accepting the recommendations of the Mihir Shah panel: suggested to set up a National Water Commission by subsuming Central Water Commission and Central Ground Board.
Enact Inter-State River Water disputes (Amendment) Bill, 2019: It will help in faster adjudication of water disputes between the states.

It provides for the constitution of a single tribunal with different benches, and the setting up of strict timelines for adjudication.
The tribunal will be mandated to deliver the final award in two years and it is proposed that whenever it gives an order, the verdict gets notified automatically.

Depoliticization of water issue: water should be treated as a national resource and must not be made an emotional issue linked with regional pride.
Read Also- Prelims Specific Articles- 4 August 2021