Relevance
GS Paper 2: Welfare schemes for vulnerable sections of the population by the Centre and States and the performance of these schemes;

Mechanisms, laws, institutions and Bodies constituted for the protection and betterment of these vulnerable sections.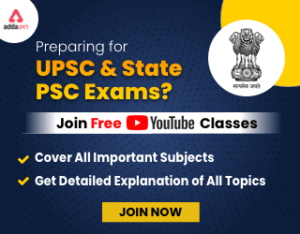 Get free video for UPSC CSE preparation and make your dream of becoming an IAS/IPS/IRS a reality
Context
Recently, the Union Cabinet has approved the continuation of 1,023 Fast Track Special Courts (FTSCs) including 389 exclusive POCSO Courts, from April 1, 2021, to March 31, 2023.

The Cabinet has provided an outlay of Rs 1572.86 crore for this purpose.
The Centre's share of ₹971.70 crores will come from the Nirbhaya Fund which is disbursed by the Union Ministry of Women and Child Development.
Wetland Ecosystem: Importance, Concerns and Conservation Measure
About Fast Track Special Courts (FTSCs)
Origin: they were established in the year 2000 following the report of the 11th Finance Commission.
Meaning: they are special courts for speedy trials. Fast track courts deal with speedy disposal or solution of cases to make the judiciary more effective and to avail justice as fast as possible.

They are 'special court' is one which is to deal with special types of cases under a shortened and simplified procedure

In 2019, the union government set up 1,023 fast-track courts (FTCs) for expeditious trial and disposal of pending cases of rape and offences against children under the Protection of Children from Sexual Offences Act (POCSO), 2012.

The government had taken up the work of setting up of FTSCs as a part of the National Mission for Safety of Women (NMSW).
The NMSW covers all aspects from free medical care to legal aid to the victims of sexual assault by engaging public prosecutors in states and setting up nearly 1,023 fast track courts for speedy justice.
The Supreme court in a Suo moto order directed the government to set up special courts in the districts with more than 100 cases pending under the POCSO Act.

Funding: it is a centrally sponsored scheme (CSS) with a 60:40 funding ratio between Union and states respectively, 90:10 for special category states.
Implementation: It is being implemented by the Department of Justice of the Ministry of Law and Justice since 2019 as a CSS. Since the setting up of FTSCs, over 51,600 cases of rape and POCSO offenses have been expeditiously disposed of through 660 FTSCs in 26 states.
Krishna River Water Dispute: Background, Present Issues, Constitutional Provisions and Suggestive Measures
Need for FTSCs
Rising violence against women and children: there were around 1.67 lakh cases of rape and cases under the POCSO Act in 2019, which has increased to 2.34 lakh cases as of 4 August 2021.

Covid-19 impact: resulted in a backlog of cases as courts were not functioning effectively. This is one of the reasons for a huge jump in the cases.

To ensure Speedy justice: more than 3 crore cases are pending in the lower courts across the country, resulting in delayed justice for victims of rape and POCSO.

This nudged the government to set up FTSCs to provide quick justice to victims of sexual crimes.

Reducing the number of undertrials: according to official data, more than 60% of the prisoners are undertrials. Fast track courts will help in providing relief to undertrials and lessen the burden on prison infrastructure.
The Editorial Analysis: Criminalising welfare issues
Advantages of FTSCs
Act as a deterrent: speedy justice acts as an effective deterrence in reducing crime in society.
Promotes specialization and professionalism: as different types of cases require special knowledge of that particular field which can be assimilated into the justice delivery system through FTCs.
Speedy justice results in enhanced efficiency and effectiveness of our judicial system, promoting people's confidence in the justice delivery mechanism in India.
Ozone Pollution: Causes, Impacts and Steps taken to Reduce Ozone Pollution
Way forward
For the overall system to work productively, it is important to ensure that its various components work efficiently and without any hindrance.
The time is ripe for a lead agency to be established by Central and State Governments to review the functioning of courts, gauge the need for improvements, and allocate adequate resources for their functioning in a systematic and streamlined manner.
Government should also focus on creating adequate infrastructure by allocating more financial resources for justice delivery systems. This will facilitate access to speedy justice delivery to the people of India.
To read more about UPSC Prelims news- Prelims Specific Articles- 4 August 2021