Relevance
GS Paper 3: Environment: Conservation, environmental pollution, and degradation.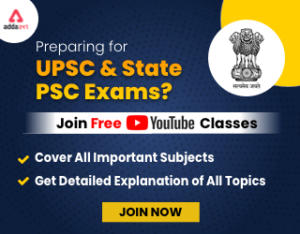 Get free video for UPSC CSE preparation and make your dream of becoming an IAS/IPS/IRS a reality
Context
Recently, a study conducted by the Centre for Science and Environment has found that ozone levels are exceeding the permitted levels even during winter in Delhi-NCR, making the smog more "toxic".
The study was done by analyzing the Central Pollution Control Board (CPCB) data.
National Commission for Protection of Child Rights (NCPCR): Constitution, Composition and Key Functions
Key findings of the study
Despite the pandemic and lockdowns, more days and locations witnessed a higher and longer duration of ozone spells.
Contrary to the notion that ozone is predominantly a summer phenomenon, the analysis finds the gas has emerged as an equally strong concern during winter as well.
Even smaller towns of NCR, including Bulandshahar in Uttar Pradesh and Bhiwani in Haryana, appeared in the top 20 list of ozone-afflicted towns and cities.
South Delhi locations dominate the list with four mentions in the top 10.
Insolvency and Bankruptcy Code (Amendment) Bill 2021
About Ground-level Ozone
Ozone (O3) is a colorless, reactive oxidant gas that is a major constituent of atmospheric smog.

It is ground-level ozone which is known as tropospheric ozone.

Formation: Ozone is produced photochemically from the interaction between gases in the presence of sunlight.

It is created by chemical reactions between oxides of nitrogen (NOx) and volatile organic compounds (VOC) in the presence of
Major sources of NOx and VOC: Emissions from industrial facilities and electric utilities, motor vehicle exhaust, gasoline vapors, and chemical solvents.

A sunny weather problem in India: the presence of sunlight has a direct impact on the formation of ground-level ozone.

Heat acts as a catalyst, facilitating photochemical reactions. Hence, higher concentrations of ozone are seen during the summer months.
The Editorial Analysis: The long road to winning the battle against trafficking
Impact of Ozone pollution
On health:

Highly reactive gas and even short-term exposure of an hour is dangerous for those with respiratory conditions and asthma.
Exposure to Ozone can cause chest pain, coughing, throat irritation and airway inflammation.
Long-term breathing of Ozone may cause cardiovascular diseases and result in premature death.

On Environment

Can reduce species diversity among animals, plants, insects, fish, etc.
Damage to crops: make vegetation prone to various diseases, leading to poor quality and quantity of grains produced.
Damage to forests: it may result in reduced forest growth and negatively affect habitat quality in the forests. It also results in reduced commercial forest yields.
Wetland Ecosystem: Importance, Concerns and Conservation Measure
Efforts taken to control ground-level ozone pollution
Adoption of BS-VI standards: The government has directed mandatory adoption of BS-VI norms for vehicles in India with an aim to control vehicular pollution including Ozone pollution.
Graded Response Action Plan (GRAP) for Delhi: it was prepared by the Ministry of Environment, Forests & Climate Change (MoEFCC) after the order of the Supreme Court of December 2016.

Environmental Pollution (Prevention and Control) Authority (EPCA) is responsible for its implementation.
It aims to prevent worsening of Air Quality of Delhi-NCR including Ozone pollution.

National Clean Air Programme (NCAP): government launched this campaign to reduce air pollution in 102 non-attainment cities including Ozone pollution.

Non-attainment cities: cities that have fallen short of the National Ambient Air Quality Standards (NAAQS) for over five years.
Way forward:
Promoting sustainable and healthier modes of transportation system like cycling and walking along with electric and CNG vehicles.

Government should also incentivize the use of public transportation through various measures.

Awareness generation: about various ill-effects of pollution in general and ozone pollution, in particular, will go a long way in ensuring a sustainable future.
Effective implementation of programs and policies: including extensive real-time monitoring infrastructure across cities.
Also read-Prelims Specific Articles- 31 July 2021