Relevance:
GS Paper 2: Indian Constitution- Statutory, regulatory, and various quasi-judicial bodies.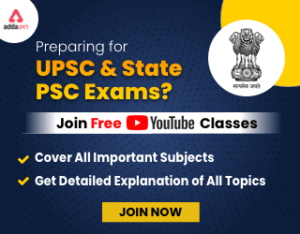 Get free video for UPSC CSE preparation and make your dream of becoming an IAS/IPS/IRS a reality
Context:
Recently, the Competition Commission of India has accused Amazon of concealing facts and making false submissions when it sought approval for a 2019 investment in a Future Group unit.
Important Prelims Articles- 23rd July 2021
Competition Commission of India (CCI)
About: The Competition Commission of India (CCI) was established in March 2009 (established in 2003 but became fully functional in 2009) by the Government of India under the Competition Act, 2002 for the administration, implementation, and enforcement of the Act.

It is a statutory and quasi-judicial body and works under the Ministry of Corporate Affairs.

Competition Act, 2002: it repealed and replaced the Monopolies and Restrictive Trade Practices Act, 1969 (MRTP Act).

Under the Act, the Competition Commission of India and the Competition Appellate Tribunal (COMAT) have been established.
The Act prohibits anti-competitive agreements, abuse of dominant position by enterprises, and regulates combinations (acquisition, acquiring of control, and Merger and acquisition), which causes or are likely to cause an appreciable adverse effect on competition within India.
In 2017, functions of the COMAT were subsumed under National Company Law Appellate Tribunal (NCLAT).

Composition: it has a chairperson and 6 Members appointed by the Central Government.
These members are appointed for 5 years or 65 years of age (whichever comes first). However, these members are eligible for reappointment.
Objectives and functions of CCI:

To Eliminate practices having an adverse effect on competition
To promote and sustain competition
To protect the interests of consumers
To ensure freedom of trade in the markets of India
To Establish a robust competitive environment through:

Proactive engagement with all stakeholders, including consumers, industry, government, and international jurisdictions.
Being a knowledge-intensive organization with high competence level.
Professionalism, transparency, resolve, and wisdom in enforcement.
Menace of Drug/Substance abuse in India: Causes, Impacts and Solutions
Powers of the CCI:
  It derives the following authority from the competition Act 2002-
It can inquire about the acquisition or combination to understand if there is any appreciable adverse effect on competition.
CCI has the authority to notify organizations that sell to India if it feels they may be negatively influencing competition in India's domestic market.
It can issue interim orders in case of an anti-competitive agreement.
The central or state government may reference the commission for the opinion. But that is not binding on the Government.
CCI gets its powers to execute orders against any unlawful trade practices.
Financial Action Task Force (FATF): Composition, Functions, and Its Fight against Terror Financing
Functions of CCI:
It takes the following measures to achieve its objectives-
Ensuring that markets work for the benefit and welfare of consumers.
Ensure fair and healthy competition in economic activities in the country for faster and inclusive growth and development of the economy.
Implement competition policies: aimed at ensuring the most efficient utilization of economic resources.
Ensure effective relations and interactions with sectoral regulators: to ensure smooth alignment of sectoral regulatory laws in tandem with the competition law.
Awareness generation: among all stakeholders to establish and nurture competition culture in the Indian economy.
The Editorial Analysis: India must directly engage with Taliban 2.0
Why do we need an Anti-trust regulator?
To protect the interests of the consumers: competition leads to fair pricing of goods and services. Lack of competition leads to monopoly, harming the interests of the consumers. CCI ensures that the interests of the consumer are secured by ensuring fair competition in the market.
To provide an equal opportunity to all enterprises by ensuring fair competition: by thwarting the big players in a particular industry from misusing their position to avoid competition.
To counter market distortion: Markets are prone to failures and distortions, and various players can resort to anti-competitive activities such as cartels, abuse of dominance, etc. CCI aims to protect consumers against these malpractices.
Bad Bank: Importance And Criticism
Way forward
CCI is an important institution to ensure fair competition in the Indian economic system. This will boost the confidence of various stakeholders in the Indian market. In this context, the government should further strengthen the institutional and functional capacity of the CCI by ensuring adequate financial and human resources.