PM SVANidhi Scheme- Relevance for UPSC Exam
GS Paper 2: Governance, Administration and Challenges- Welfare schemes for vulnerable sections of the population by the Centre and States and the performance of these schemes.

PM SVANidhi Scheme in News
Recently, the Cabinet Committee on Economic Affairs has approved the continuation of lending under the Prime Minister Street Vendor's AtmaNirbhar Nidhi (PM SVANidhi) from March 2022 till December 2024.
Extension of the PM SVANidhi Scheme has been done with a focus on enhanced collateral-free affordable loan corpus, increased adoption of digital transactions and holistic socio-economic development of the Street Vendors and their families.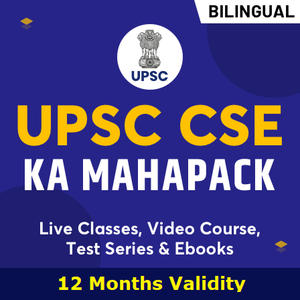 Extension of PM SVANidhi Scheme
Need: The proposed extension of the PM SVANidhi Scheme has been necessitated as the COVID-19 pandemic and related stress on the small businesses, have not fully retracted.
Increased Fund Allocation: The extension of the PM SVANidhi Scheme has increased the loan amount to Rs. 8,100 crore, from present Rs. 5000 Crore, thereby providing the Street vendors working capital to further expand their business and making them AtmaNirbhar.
Expected Benefits to the poor: The extension of the PM SVANidhi Scheme is expected to benefit nearly 1.2 crore citizens of Urban India. The extension of lending till December 2024, would-

Assist in institutionalizing the access to formal credit channels,
Provide an assured source of credit to help them plan their business expansion,
Increasing the adoption of digital transactions,
Reduce the impact of potential NPAs on the Lending Institutions and
Provide holistic socio-economic upliftment for the Street Vendors and their families.
PM SVANidhi Scheme: Micro Credit Scheme for Street Vendors
About: PM Street Vendor's AtmaNirbhar Nidhi (PM SVANidhi) scheme is a Special Micro-Credit Facility Scheme for providing affordable loans to street vendors.
Parent Ministry: PM SVANidhi scheme is being implemented by the Ministry of Housing and Urban Affairs. Urban Local Bodies will play a pivotal role in the implementation of the scheme.
Beneficiaries: Over 50 lakh people, including vendors, hawkers, thelewalas, rehriwala, theliphadwala etc. in different areas/ contexts are likely to benefit from the PM SVANidhi scheme.

The goods supplied by them range from vegetables, fruits, ready-to-eat street foods, tea, pakodas, breads, eggs, textiles, apparel, footwear, artisan products, books/ stationaries etc.
The services include barbershops, cobblers, pan shops, laundry services etc.

Implementation:

An Integrated IT Platform has been developed for the implementation of the PM SVANidhi Scheme. The application process is fully online.
Street Vendors can apply for loans directly through PM SVANidhi Portal. The application can also be submitted at Municipal Offices and Common Service Centres (CSCs).
In addition, the SVs can approach municipal functionaries or representatives of Lending Institutions to apply through PM SVANidhi mobile App.

Providing Capital (Loan facility): The street vendors can avail of a working capital loan of up to Rs. 10,000, which is repayable in monthly installments within a year.

This loan would be collateral-free and there will be no penalty on early repayment of the loan.
PM SVANidhi Scheme: 'Main Bhi Digital 3.0' Campaign for Digital Onboarding of Street Vendors
PM SVANidhi Scheme: 'Main Bhi Digital 3.0' Campaign for Digital Onboarding of Street Vendors