UPSC CSE 2022 Study Plan
Union Public Service Commission (UPSC) had released the notification for Civil Services Examination 2022 (CSE 2022) for 1011 vacancies. UPSC Civil Services Prelims Exam 2022 is scheduled on 05th May 2022. This means that the candidates are only left with 60 days to prepare for this exam and ensure their candidature for the mains examination. But scoring qualifying marks in any UPSC Exam is not a piece of the pie. The candidate must have a precise and efficient study plan to crack this examination. In this article, we will be discussing a 60 days study plan for the static part of UPSC syllabus which the candidates can follow while preparing for the UPSC CSE 2022.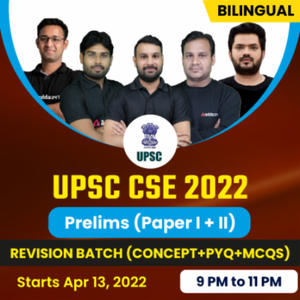 UPSC CSE 2022 Strategy
UPSC CSE consists of majorly seven sections: Indian Polity, Indian Freedom Movement, Geography—world and India, Environment, Art and Culture, Science and Technology, Economics, and Current Affairs. Candidates will be given two hours for this examination. The examination is scheduled to be held on 05th June 2021. Below is the detailed study plan which the candidates can follow to ensure that these remaining 60 days comes out to be fruitful for them.
| | | |
| --- | --- | --- |
| Date | Most Scoring Section | Concept Building Lectures |
| 06th April 2022 | List of Vice-Presidents of India | History 1 |
| 07th April 2022 | List of Lok Sabha Speakers | History 2 |
| 08th April 2022 | List of Critically Endangered Species of India | History 3 |
| 09th April 2022 | List of National Waterways in India | Polity 1 |
| 10th April 2022 | List of Technologies developed by DRDO | Polity 2 |
| 11th April 2022 | Battle of Wandiwash | Third Carnatic War | Polity 3 |
| 12th April 2022 | List of Peasant Movements in India | Geography 1 |
| 13th April 2022 | Coming Soon | Coming Soon |
| 14th April 2022 | Coming Soon | Coming Soon |
| 15th April 2022 | Coming Soon | Coming Soon |
| 16th April 2022 | Coming Soon | Coming Soon |
| 17th April 2022 | Coming Soon | Coming Soon |
| 18th April 2022 | Coming Soon | Coming Soon |
| 19th April 2022 | Coming Soon | Coming Soon |
| 20th April 2022 | Coming Soon | Coming Soon |
| 21st April 2022 | Coming Soon | Coming Soon |
| 22nd April 2022 | Coming Soon | Coming Soon |
| 23rd April 2022 | Coming Soon | Coming Soon |
| 24th April 2022 | Coming Soon | Coming Soon |
| 25th April 2022 | Coming Soon | Coming Soon |
| 26th April 2022 | Coming Soon | Coming Soon |
| 27th April 2022 | Coming Soon | Coming Soon |
| 28th April 2022 | Coming Soon | Coming Soon |
| 29th April 2022 | Coming Soon | Coming Soon |
| 30th April 2022 | Coming Soon | Coming Soon |
| 01st May 2022 | Coming Soon | Coming Soon |
| 02nd May 2022 | Coming Soon | Coming Soon |
| 03rd May 2022 | Coming Soon | Coming Soon |
| 04th May 2022 | Coming Soon | Coming Soon |
| 05th May 2022 | Coming Soon | Coming Soon |
| 06th May 2022 | Coming Soon | Coming Soon |
| 07th May 2022 | Coming Soon | Coming Soon |
| 08th May 2022 | Coming Soon | Coming Soon |
| 09th May 2022 | Coming Soon | Coming Soon |
| 10th May 2022 | Coming Soon | Coming Soon |
| 11th May 2022 | Coming Soon | Coming Soon |
| 12th May 2022 | Coming Soon | Coming Soon |
| 13th May 2022 | Coming Soon | Coming Soon |
| 14th May 2022 | Coming Soon | Coming Soon |
| 15th May 2022 | Coming Soon | Coming Soon |
| 16th May 2022 | Coming Soon | Coming Soon |
| 17th May 2022 | Coming Soon | Coming Soon |
| 18th May 2022 | Coming Soon | Coming Soon |
| 19th May 2022 | Coming Soon | Coming Soon |
| 20th May 2022 | Coming Soon | Coming Soon |
| 21st May 2022 | Coming Soon | Coming Soon |
| 22nd May 2022 | Coming Soon | Coming Soon |
| 23th May 2022 | Coming Soon | Coming Soon |
| 24th May 2022 | Coming Soon | Coming Soon |
| 25th May 2022 | Coming Soon | Coming Soon |
| 26th May 2022 | Coming Soon | Coming Soon |
| 27th May 2022 | Coming Soon | Coming Soon |
| 28th May 2022 | Coming Soon | Coming Soon |
| 29th May 2022 | Coming Soon | Coming Soon |
| 30th May 2022 | Coming Soon | Coming Soon |
| 31st May 2022 | Coming Soon | Coming Soon |
| 01st June2022 | Coming Soon | Coming Soon |
| 02nd June2022 | Coming Soon | Coming Soon |
| 03rd June 2022 | Coming Soon | Coming Soon |
| 04th June 2022 | Coming Soon | Coming Soon |