"UPSC News Diary For Today" is every day published in the evening between 6-7 PM and contains all current affairs articles from the day on a single platform. "UPSC News Diary For Today" covers various topics from UPSC Syllabus and is very helpful and time managing for UPSC Aspirants. The framing of this daily current affairs compilation article is easy to read and understandable also.
In the "UPSC News Diary For Today" article, we focus on both UPSC Preliminary and Mains exam-oriented current affairs & prepare a gist of daily important news articles from leading National Newspapers, PIB, and other various official sources.
PSLV C53 / Polar Satellite Launch Vehicle (PSLV)
In News
The PSLV C53 mission has achieved a new milestone by launching two payloads of Indian Start-ups in Space.
Aim of the PSLV C53 Mission
This is the 55th mission of PSLV and 15th mission using PSLV-Core Alone variant. It is the 16th PSLV launch from the second launch pad. The mission proposes to demonstrate the utilization of the spent upper stage of the launch vehicle as a stabilized platform for scientific payloads subsequent to the separation of the satellites.
About the PSLV
Polar Satellite Launch Vehicle (PSLV) is the third generation launch vehicle of India. It is the first Indian launch vehicle to be equipped with liquid stages.
After its first successful launch in October 1994, PSLV emerged as the reliable and versatile workhorse launch vehicle of India with 39 consecutively successful missions by June 2017.
During 1994-2017 period, the vehicle has launched 48 Indian satellites and 209 satellites for customers from abroad.
Besides, the vehicle successfully launched two spacecraft – Chandrayaan-1 in 2008 and Mars Orbiter Spacecraft in 2013 – that later traveled to Moon and Mars respectively
Payload to SSPO: 1,750 kg
PSLV earned its title 'the Workhorse of ISRO' through consistently delivering various satellites to Low Earth Orbits, particularly the IRS series of satellites. It can take up to 1,750 kg of payload to Sun-Synchronous Polar Orbits of 600 km altitude.
Payload to Sub GTO: 1,425 kg
Due to its unmatched reliability, PSLV has also been used to launch various satellites into Geosynchronous and Geostationary orbits, like satellites from the IRNSS constellation.
Strap-on Motors
PSLV uses 6 solid rocket strap-on motors to augment the thrust provided by the first stage in its PSLV-G and PSLV-XL variants. However, strap-ons are not used in the core alone version (PSLV-CA).
First Stage: PS1
PSLV uses the S139 solid rocket motor that is augmented by 6 solid strap-on boosters.
Second Stage: PS2
PSLV uses an Earth storable liquid rocket engine for its second stage, known as the Vikas engine, developed by Liquid Propulsion Systems Centre.
Third Stage: PS3
The third stage of PSLV is a solid rocket motor that provides the upper stages high thrust after the atmospheric phase of the launch.
Fourth Stage: PS4
The PS4 is the uppermost stage of PSLV, comprising of two Earth storable liquid engines.
States' Start-up Ranking
In News
States' Start-up Ranking 2021(3rd edition) to be declared on 4th July.
Key points about States' Start-up Ranking
The Department for Promotion of Industry and Internal Trade (DPIIT) conducted the 3rd edition of the States' Start-up Ranking Exercise with the key objective to promote India's vision of competitive and cooperative federalism.
The exercise was launched in 2018 to encourage states and union territories to work towards easing regulations for the growth of start-ups and strengthening the support to the start-up ecosystem.
A total of 24 States and 7 Union Territories participated in the exercise this year, an increase from 25 last year and the highest till date.
As India becomes one of the leading start-up nation globally, the growth of the entrepreneurship in Tier-II and Tier – III cities in the country has become necessary.
There were 4 states/UTs with start-up policies in 2016. Today, there are over 30 states/UTs who have start-up policies, and 27 states/UTs have their own state start-up portal.
This edition had 7 broad Reform Areas consisting of 26 action points which are essential in providing regulatory, policy and economic support to startups and stakeholders of the ecosystem.
The reform areas included Institutional Support, Fostering Innovation and Entrepreneurship, Access to Market, Incubation support, Funding Support, Mentorship Support and Capacity Building of Enablers.
The Digital District Repository (DDR)
About DDR
The Digital District Repository (DDR) is an attempt to discover and document stories of India at the 'micro level' of district.
It is divided into four categories (People and Personalities, events and happenings, Living traditions and art forms, hidden Treasures) in accordance with the contribution to our freedom struggle
About Azadi Ka Amrit Mahotsav
It is an initiative of the Government of India to celebrate and commemorate 75 years of independence and the glorious history of it's people, culture and achievements.
The official journey of Azadi ka Amrit Mahotsav commenced on 12th March 2021 which started a 75-week countdown to our 75th anniversary of independence and will end post a year on 15th August 2023.
India's largest floating Solar Power Project / Ramagundam Floating Solar Power Project
In News
NTPC declared that India's largest floating Solar Power Project is now fully operational.
About Ramagundam Floating Solar Power Project
The 100-MW Floating Solar project at Ramagundam is endowed with advanced technology as well as environment friendly features.
The project spreads over 500 acres of its reservoir. Divided into 40 blocks, each having 2.5 MW.  Each block consists of one floating platform and an array of 11,200 solar modules.
The floating platform consists of one Inverter, Transformer, and a HT breaker.
The solar modules are placed on floaters manufactured with HDPE (High Density Polyethylene) material.
The entire floating system is being anchored through special HMPE (High Modulus Polyethylene) rope to the dead weights placed in the balancing reservoir bed.
The power is being evacuated up to the existing switch yard through 33KV underground cables.
This project is unique in the sense that all the electrical equipment including inverter, transformer, HT panel and SCADA (supervisory control and data acquisition) are also on floating ferro cement platforms.
Key environmental advantages
From environmental point of view, the most obvious advantage is minimum land requirement mostly for associated evacuation arrangements.
Further, with the presence of floating solar panels, the evaporation rate from water bodies is reduced, thus helping in water conservation.
Approximately 32.5 lakh cubic meters per year water evaporation can be avoided.
The water body underneath the solar modules helps in maintaining their ambient temperature, thereby improving their efficiency and generation.
Similarly, while coal consumption of 1,65,000 Tons can be avoided per year; Co2 emission of 2,10,000 tons per year can be avoided.
Sant Kabir
Relevance for UPSC Exam
Sant Kabir: Kabir was an extra-ordinary poet of the Bhakti Movement. Kabir is revered and respected across the religion for his teachings and beliefs. Sant Kabir and Bhakti movement is an Important Part of the UPSC Mains GS Paper 1 Syllabus (Indian History- Indian culture will cover the salient aspects of Art Forms, Literature and Architecture from ancient to modern times.)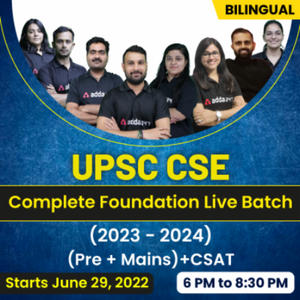 Sant Kabir in News
Recently, the President Ram Nath Kovind inaugurated the Sant Kabir Academy and Research Centre Swadesh Darshan Yojana and paid tribute to the Bhakti saint, Kabir at Maghar (Uttar Pradesh).
According to legends, Kabir is said to have departed from the mortal world in Maghar, Uttar Pradesh.
12th BRICS Agriculture Ministers Meeting 2022
Sant Kabir
Birth and Death: Kabir was born in Varanasi and lived between the years 1398 and 1448, or till the year 1518 according to popular belief.
Family profession: Kabir was from a community of 'lower caste' weavers of the Julaha caste. He also learned the art of weaving.
Kabir's Guru: Kabir also believed to be (but not on strong historical grounds) a disciple of the famous guru Ramananda, a 14th century Vaishnava poet-saint.
Part of Bhakti Movement: One school within the Bhakti movement was the Nirguni tradition and Sant Kabir was a prominent member of it. In this tradition, God was understood to be a universal and formless being.
Literary Contribution: Kabir wrote many poems like Bijak, Sakhi Granth, Kabir Granthawali and Anurag Sagar.

His verses are found in Sikhism's scripture Guru Granth Sahib.
The major part of his work was collected by the fifth Sikh guru, Guru Arjan Dev.
Kabir- Key Belief
On Religion: Kabir is in modern times portrayed as a figure that synthesized Islam and Hinduism.

He was against any religious discrimination and readily accepted all the religions.

Universal God: He believed in the oneness of God. In the Dabistan of Mohsin Fani and Ain-i-Akbari of Abul Fazl, he is mentioned as a 'Muwahid' (Believer in one God).
Against Idol Worship: Kabir opposed the idea of worshipping the idols and showed clear confidence in Bhakti and Sufi ideas.
Against Caste System: Kabir was against the caste system practiced in the Hindu community.

Kabir also criticised the rites, rituals and customs which he thought were futile.
Bhakti Movement
About: The Bhakti movement, which began in the 7th century in South India, had begun to spread across north India in the 14th and the 15th centuries.
Key Features: The bhakti movement was characterized by popular poet-saints who sang devotional songs to God in vernacular languages, with many preaching for the abolishing the Varna system and some kind of Hindu-Muslim unity.

They emphasized an intense emotional attachment with God.

Significance: Many of the saints of the Bhakti movement came from the ranks of the lower to middle artisanal classes.

Kabir was a 'low caste' weaver (Julaha), Raidas was a leather worker and Dadu a cotton carder.
Their radical dissent against orthodoxy and rejection of caste made these poet-saints extremely popular among the masses and their ideology of egalitarianism spread across India.
Sri Ramanujacharya | Statue of Equality to be Unveiled by the Prime Minister
Partnership for Global Infrastructure and Investment (PGII)
Relevance for UPSC Exam
Partnership for Global Infrastructure and Investment (PGII): PGII was recently launched by G7 countries at G7 Summit 2022. Partnership for Global Infrastructure and Investment (PGII) is important for UPSC Mains GS Paper 2 (International Relations- Effect of policies and politics of developed and developing countries on India's interests).
Partnership for Global Infrastructure and Investment (PGII) in News
Recently, U.S. President Joe Biden along with his G7 allies unveiled the Partnership for Global Infrastructure and Investment (PGII), largely seen as a counter to China's multi-trillion dollar Belt and Road Initiative (BRI).
Partnership for Global Infrastructure and Investment (PGII)
About: The Partnership for Global Infrastructure and Investment (PGII) was launched by G7 countries to aid lower and middle-income countries in building better infrastructure.

The Partnership for Global Infrastructure and Investment (PGII) was first unveiled by the G7 leadership in June 2021.

Mandate: PGII aims to collectively mobilise funds to invest in sustainable and quality infrastructure projects in developing countries, including India, and strengthen global supply chains.
Four Priority Pillars of PGII: All PGII projects will be driven by "four priority pillars that will define the second half of the 21st century".

Tackling the climate crisis and ensuring global energy security,
Bolstering digital information and ICT networks,
Promoting gender equality and equity, and
Build and upgrade the global health infrastructure.

Funding: A funding of $600 billion by 2027 would be mobilized by the G7member countries towards developing sustainable infrastructure and reliable global supply chain.

USA has pledged to channel $200 billion in grants, public financing, and private capital over the next five years for the PGII.
European Commission President Ursula von der Leyen declared Europe's pledge of mobilising 300 billion euros for the partnership over the same period.
PGII Projects in India
A PGII project has already been announced in India but India had opted out of China's BRI, being wary of Beijing's aim to increase its influence in the Indian Ocean Region by roping in Pakistan as a major BRI recipient.
In India, the U.S. DFC will invest up to $30 million in Omnivore Agritech and Climate Sustainability Fund 3.

Omnivore Agri-tech and Climate Sustainability Fund 3 is an impact venture capital fund that invests in entrepreneurs building the future of agriculture, food systems, climate, and rural economy in India.
Partnership for Global Infrastructure and Investment
China's BRI and G7's PGII- A Comparative Analysis
About BRI: The Belt and Road project was started to revive connectivity, trade, and infrastructure along what was China's ancient Silk Road.

China had announced a two-pronged approach of building a Silk Road Economic Belt on Land and a maritime 21st century Silk Road.
The project initially aimed to strengthen connectivity with Southeast Asia but later expanded to South and Central Asia, Africa, Europe, and Latin America.

About PGII: The G7 meanwhile has specifically touted the PGII as a values-based plan to help underfunded low and middle-income countries meet their infrastructure needs.
Focus on Sustainable Infrastructure: PGII has laid focus on climate action and clean energy, while China has built large coal-fired plants under BRI along with solar, hydro, and wind energy projects.
Funding Mechanism: While the G7 has pledged $600 billion by 2027, Morgan and Stanly estimate that China's overall funding for BRI by that time could reach $1.2 to 1.3 trillion dollars with the actual funding being higher.

Under the PGII, large private capital will be also mobilised while China's BRI is majorly state-funded.

Transparency Concerns: While G7 leaders emphasised 'transparency' as the cornerstone of PGII projects, the BRI has faced criticism for making countries sign confidential tenders for extending massive loans, leaving countries indebted to China.

For instance, after the BRI's flagship $62 billion China-Pakistan Economic Corridor, Pakistan owes Beijing a large proportion of its foreign debt.
Read current affairs for UPSC
BRAP
UPSC: Relevance
GS 2: Government policies and interventions for development in various sectors and issues arising out of their design and implementation.
BRAP 2020: Context
Recently, Ministry of Commerce & Industry has declared the Assessment of States/UTs based on the implementation of Business Reforms Action Plan for the year 2020.
BRAP 2020
The BRAP 2020 includes 301 reform points covering 15 business regulatory areas such as Access to Information, Single Window System, Labour, Environment, Land Administration & Transfer of Land and Property, Utility Permits and others.
118 new reforms were included to further augment the reform process. Sectoral reforms with 72 action points spread across 9 sectors namely Trade License, Healthcare, Legal Metrology, Cinema Halls, Hospitality, Fire NOC, Telecom, Movie Shooting and Tourism were introduced for the first time to expand the scope of reform agenda.
Unlike previous years, where States/UTs were ranked, this year they have been placed under the four categories viz. Top Achievers, Achievers, Aspirers and Emerging Business Ecosystems.
BRAP Objective
The broader aim is to boost investor confidence, foster business friendly climate and augment Ease of Doing Business through a system of assessing states based on their performance in the implementation of Business Reforms Action Plan.
The objective of assessing the States/UTs is not to create a hierarchy amongst States/UTs but to rather create an enabling framework wherein learnings can be shared amongst States/UTs which in turn will lead to a nationwide spill over of good practices.
The assessment gives full weightage to the feedback obtained from actual users/respondents at the ground level, who provided their feedback about the effective implementation of reforms.
DPIIT since 2014 has been assessing States/UTs based on their performance in implementation of prescribed reforms in Business Reforms Action Plan (BRAP) exercise.
Business Reforms Action Plan: Key results
Categories
States
Top Achievers
Andhra Pradesh

Gujarat

Haryana

Karnataka

Punjab

Tamil Nadu

Telangana

Achievers
Himachal Pradesh

Madhya Pradesh

Maharashtra

Odisha

Uttarakhand

Uttar Pradesh

Aspirers
Assam

Chhattisgarh

Goa

Jharkhand

Kerala

Rajasthan

West Bengal

Emerging Business Ecosystems
Andaman & Nicobar

Bihar

Chandigarh

Daman & Diu, Dadra & Nagar Haveli

Delhi

Jammu & Kashmir

Manipur

Meghalaya

Nagaland

Puducherry

Tripura
Read current affairs for UPSC
Anti-Defection Law
Relevance for UPSC Exam
Anti-Defection Law: Anti-Defection Law is mechanism to use disqualify MPs/MLAs who act against their official party line. Anti-Defection Law is part of UPSC Mains GS Paper 2 (Indian Constitution- Parliament and State Legislatures – structure, functioning, conduct of business, powers & privileges and issues arising out of these.)
Anti-Defection Law in News
The political crisis in Maharashtra, and many others before it, are grim reminders of what the Tenth Schedule can and cannot do.
The practice of legislators from changing political parties during their term continues unabated in Indian legislatures despite the Tenth Schedule having been inserted into the Constitution in 1985.
Anti-Defection Law in India
Tenth Schedule: 52nd Constitutional Amendment Act added a new Tenth Schedule containing the details regarding Anti-defection law. Tenth Schedule allows for disqualification of an elected member of a House-

If such member belonging to any political party has voluntarily given up membership of their party, or
If they vote in the House against such party's whip.

91st Constitutional Amendment Act, 2003: It provided that If two-thirds of the members agree to a merger with another party, they will not be disqualified.

It removed the exemption from disqualification if one-third of the members form a separate group (the rule prior to the amendment).

Disqualifying Authority: Speaker of the State Legislative Assembly is the final authority when it comes to disqualifying a member under Anti-defection law.
Merger Provisions under Tenth Schedule of the Constitution
Paragraph 4 of Tenth Schedule is spread across two sub-paragraphs. A conjoint reading of which suggests that a merger can take place only when-

An original party merges with another political party, and
At least two-thirds of the members of the legislature party have agreed to this merger.

It is only when these two conditions are satisfied that a group of elected members can claim exemption from disqualification on grounds of merger.
Need for Merger Exception: The merger exception was created-

To save instances of the principled coming together of political groups from disqualification under the anti-defection law, and
To strike a compromise between the right of dissent and party discipline.
Concerns with Tenth Schedule
Vague Provisions: creates a "legal fiction" so as to indicate that a merger of two-third members of a legislature party can be deemed to be a merger of political parties, even if there is no actual merger of the original political party with another party.
Against Small Parties: Defection gets easier in smaller legislative assemblies, where even a sole member can account for two-thirds of the legislature party's strength to cross the floor without attracting disqualification.
Against Individual Freedom: Presently, while individual Members of Legislative Assemblies remain vulnerable to disqualification for crossing the floor, group defections remain exempt.
Conclusion
Legal fiction created by paragraph 4 of tenth schedule should be deleted as suggested by the Law Commission in 1999 and the National Commission to Review the Working of the Constitution ((NCRWC) in 2002.
Till that happens, an academic revisiting of the Tenth Schedule by the Supreme Court, so as to guide future use of the anti-defection law, is timely and should happen soon. That would do a world of good for democracy in India.
Read current affairs for UPSC