UPPSC PCS Previous Year Papers Analysis 2021: A few months ago, Uttar Pradesh Public Service Commission released the notification to fill a total of 416 vacancies for various Provincial Civil Service posts.
The UPPCS exam will be conducted in three stages, namely prelims, mains, and interviews. The UPPCS 2021 prelims is scheduled on 24th October 2021. The dates for UPPCS mains 2021 and UPPCS interview 2021 will be declared later by the commission.
According to UPPSC, a total of more than 6 lakhs form have been filled to fill the vacancies. Giving the stiff competition, the aspirants need to give their best to secure a rank in this prestigious examination.
Click here to get UPPSC Prelims Previous Year Question Papers.
UPPSC Previous Year Paper Analysis
In this article, we will discuss the previous year exam analysis that will guide you in preparing better for UP PCS exam 2021.
Our analysis will be restricted till 2017 as the pattern was different before this year. Till 2015, the exam was conducted against 400 marks, unlike the present pattern where it is conducted against 200 marks.
UPPSC previous year paper prelims
Broadly the subjects from which UP PCS generally frames question in UP PCS exam are Current affairs, Art and Culture, Environment and Ecology, Indian Polity, Geography, UP specific GK, General Science, and Economics. By looking at the subjects, you might feel perplexed about the exam, however, when you see the exam closely, you can point the most important sections in the exam.
UPPSC PCS Previous Year Papers Analysis 2021
UP PCS subject wise question asked from 2017-2020 are given below. Look at the chart and make your own UPPSC PCS analysis about the sections that should not be left at any cost.
UPPSC Previous Year Question Paper Analysis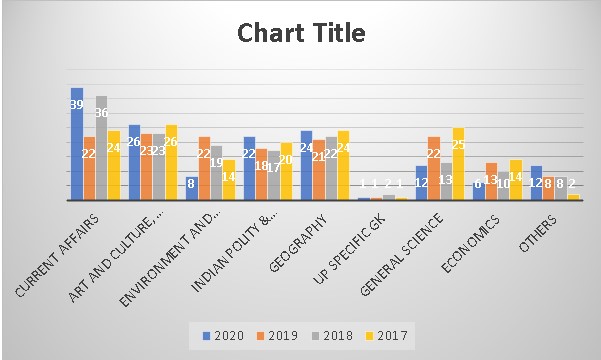 As you can see from the above chart, the question from current affairs forms the most important section in UP PCS pre-exam.
Follow this chart closely and plan your strategy accordingly.
If you want to know about the previous year questions, click UPPCS 2021 Previous Year Paper Prelims
If you want to know about various posts and salary of an officer at UPPCS, click UP PCS Posts and Salary 2021.
If you want to know the detailed syllabus of UPPCS, click UPPSC Syllabus 2021 UPPSC Exam Pattern 2021.
If you want to know what should be your strategy in last few days, click UPPCS Preparation Strategy.
If you want to know about the previous year cutoff, click UP PCS Previous Year Cutoff