Swami Vivekananda- Relevance for UPSC Exam
GS Paper 1: Indian History- Modern Indian history from about the middle of the eighteenth century until the present- significant events, personalities, issues.

Swami Vivekananda- Context
Recently, the Prime Minister has paid tributes to Swami Vivekananda on his Jayanti. On this occasion, he also inaugurated the 25th National Youth Festival in Puducherry, via video conferencing.
In India, the birth anniversary of Swami Vivekananda is observed as National Youth Day since 1984.
Netaji Subhas Chandra Bose had called Swami Vivekananda the "maker of modern India."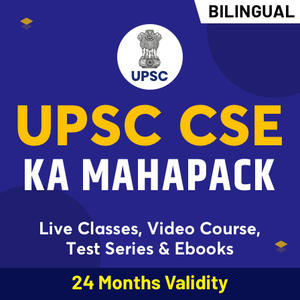 Swami Vivekananda- Key Points
Birth: Swami Vivekananda was born on 12th January 1863 in a Bengali family in Calcutta, West Bengal.

Swami Vivekananda was originally named Narendranath Datta.
In 1893, he took the name 'Vivekananda', upon the request of Maharaja Ajit Singh of the Khetri State.
The Government of India in 1984 declared his birthday National Youth Day.

Early Life and Education:

From a young age, Swami Vivekananda nurtured a keen interest in Western philosophy, history, religion, spirituality and theology.
Swami Vivekananda came into contact with his Guru Ramakrishna Paramhansa and remained devoted to him until the latter's death in 1886.
In 1886, Swami Vivekananda formally accepted monastic vows.

Death: Swami Vivekananda attained Mahasamadhi on 4th July 1902 in Belur Math, located in West Bengal.
Swami Vivekananda- Key Contributions
Philosophy of Yoga and Vedanta: Swami Vivekananda is credited with introducing Indian philosophies of Vedanta and Yoga to the Western world.

Swami Vivekananda represented India in the first Parliament of Religion held in Chicago (U.S.) in 1893.

Preached Philosophy of 'Neo-Vedanta': Swami Vivekananda preached 'neo-Vedanta', which is an interpretation of Hinduism through a Western lens and believed in combining spirituality with material progress.

Philosophy of Neo-Vedanta is a modern interpretation of Vedanta, with a liberal attitude toward the Vedas.
Philosophy of Neo-Vedanta reconciles dualism and non-dualism and rejects the "universal illusionism" of Shankaracharya.

Literary Works: Swami Vivekananda gave four pathways of attaining moksha from the worldly pleasure and attachment through his books –

Raja Yoga
Jnana Yoga
Karma Yoga
Bhakti Yoga

Associated Organizations:

Ramakrishna Mission: Swami Vivekananda established the Ramakrishna Mission in 1897.

Through Ramakrishna Mission, Swami Vivekanand aimed to bring the noblest ideas to the doorstep of even the poorest and the meanest.
Ramakrishna Mission works in the area of value-based education, culture, health, women's empowerment, youth and tribal welfare and relief and rehabilitation.

Belur Math: It was established by Swami Vivekanand in West Bengal in 1899 which became his permanent abode. He died here in 1902.

Focus on Education: Swami Vivekananda emphasized educating the young of India for the regeneration of our motherland.

Swami Vivekananda believed in imparting man-making character-building education.
Swami Vivekanand toured across India with an aim to educate the masses about ways to improve their economic condition along with imparting spiritual knowledge.
Swami Vivekananda believed that a nation is advanced in proportion as education is spread among the masses.
He also zealously worked for educating the women and the lower castes people.
National Youth Festival 2022- PM to Inaugurate 25th National Youth Festival
National Youth Festival 2022- PM to Inaugurate 25th National Youth Festival