Jayaprakash Narayan- Relevance for UPSC Exam
GS Paper 1: Modern Indian history from about the middle of the eighteenth century until the present- significant events, personalities, issues.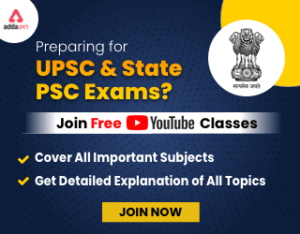 Get free video for UPSC CSE preparation and make your dream of becoming an IAS/IPS/IRS a reality
Jayaprakash Narayan- Context
The Bihar government took serious note of the removal of chapters on veteran socialist leaders Jayaprakash Narayan and Ram Manohar Lohia from the Post Graduate political science syllabus of the JP University.
Other eminent figures whose names have been omitted from the syllabus include Dayanand Saraswati, Raja Ram Mohan Rai, and Bal Gangadhar Tilak.
World Social Protection Report 2020-22
Jayaprakash Narayan- Key Points
About: Jayaprakash Narayan was born in the early hours of October 11, 1902, in the remote village of Sitabdiara, Bihar.
Socialist/ Marxist influence: Jayaprakash Narayan went to the US for education, where he was deeply influenced by Marxist ideology.

However, he rejected the ultimate solution of "revolution" to bring down capitalism as being advocated by the Marxists and instead advocated Socialism.
State Animal and State Bird of Ladakh
Jayaprakash Narayan- Contribution to Freedom Struggle
Association with Gandhi je: In 1921 he joined the Non-cooperation movement and was influenced by Gandhian Ideology.
Association with Indian National Congress (INC): In 1929, he joined the Indian National Congress at the invitation of Jawahar Lal Nehru.
Participated in Civil Disobedience Movement (CDM): Jayaprakash Narayan participated in CDM against British rule in India and was also sentenced to a year's imprisonment in 1932.
Formation of Congress Socialist Party (CSP): He played a key role in the formation of the Congress Socialist Party (1934), a left-wing group within the Congress Party.

Other key members of the CSP- Acharya Narendra Deva, Ram Manohar Lohia. Minoo Masani, Achyut Patvardhan and Ashok Mehta.

Second World War: he was imprisoned in 1939 for his opposition to Indian involvement in World War II on Britain's side, but he managed to flee and attempted to organize armed resistance against the British government during Quit India Movement.

He was recaptured in 1943 and sent to jail.
He was released in 1946 and tried to convince Congress representatives to pursue a more aggressive stance against British rule.
National Statistical Office (NSO)
Jayaprakash Narayan- Role in Post-Independence India
Formation of Praja Socialist Party (PSP): He left Congress in 1948 and started an anti-congress movement. Later, he formed Praja Socialist Party (PSP) in 1952.
Participation in Bhoodan Movement: In 1954, he devoted his time exclusively to Vinoba Bhave led Bhoodan Movement which demanded land redistribution to the landless.
Call for 'Total Revolution' ('Sampoorna Kranti') in 1974: When Indira Gandhi was found guilty of violating electoral laws by the Allahabad High Court, he called for a program of social transformation (termed it 'Sampoorna Kranti') in 1974 against corruption in public life.
Awarded the 'Bharat Ratna': For his "invaluable contribution to the freedom struggle and upliftment of the poor and downtrodden".