Dr. Ram Manohar Lohia: Relevance for UPSC Exam
GS Paper 1: Indian History- Modern Indian history from about the middle of the eighteenth century until the present- significant events, personalities, issues.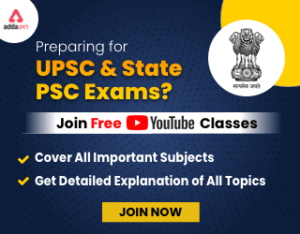 Get free video for UPSC CSE preparation and make your dream of becoming an IAS/IPS/IRS a reality
Dr. Ram Manohar Lohia- Context
The Bihar government took serious note of the removal of chapters on veteran socialist leaders Jayaprakash Narayan and Ram Manohar Lohia from the Post Graduate political science syllabus of the JP University.
Other eminent figures whose names have been omitted from the syllabus include Dayanand Saraswati, Raja Ram Mohan Rai, and Bal Gangadhar Tilak.
Dr. Ram Manohar Lohia- Key Points
Birth: Dr. Ram Manohar Lohia was born on March 23, 1910, in Akbarpur, Uttar Pradesh.

He died on 12th October 1967.

Educational Background: He secured his Bachelor's degree (1929) from the University of Calcutta and a doctorate (1932) from the University of Berlin (in economics and politics).

He wrote his Ph.D. thesis paper on the topic of 'Salt Taxation in India', with a focus on Gandhi's socio-economic theory.
The Charter Act of 1833 or The Saint Helena Act 1833
Dr. Ram Manohar Lohia- Contribution during Freedom Struggle Movement
Dr. Ram Manohar Lohia is known for his socialist ideology and participation in the Indian Freedom Struggle.
Association with the Congress Socialist Party (CSP): In 1934, he became actively involved in the Congress Socialist Party (CSP).

CSP was a left-wing group created in 1934 within the Indian National Congress.
Dr. Ram Manohar Lohia served on the CSP executive committee and edited its weekly journal.

Opposed Indian participation from the British side in World War II: He was arrested for his anti-British stance in 1939 and 1940.
Participation in the Quit India movement, 1942: He and other CSP leaders like Jaya Prakash Narayan mobilized support for Gandhi Je led the 'Quit India movement' through their underground activities. For such resistance activities, he was jailed again in 1944–46.
Dr. Ram Manohar Lohia- Role in Post-Independence India
He left congress in 1948 along with other Congress Socialist Party leaders.
Association with the Praja Socialist Party: It was formed in 1952 by Jaya Prakash Narayan. Dr. Ram Manohar Lohia became a member of the party after its formation and served as general secretary for a brief period.

He left it in 1955 due to internal conflicts.

Found 'New Socialist Party' in 1955: He became its chairman and also editor of its famous journal named 'Mankind'.

The party advocated various socio-political reforms including the abolition of the caste system, stronger protection of civil liberties, etc.

Important Literary works of Dr. Ram Manohar Lohia include-

'Wheel of History',
'Marx, Gandhi and Socialism',
'Guilty Men of India's Partition, etc.