"UPSC News Diary Today" is every day published in the evening between 6-7 PM and contains all current affairs articles from the day on a single platform. "UPSC News Diary Today" covers various topics from UPSC Syllabus and is very helpful and time managing for UPSC Aspirants. The framing of this daily current affairs compilation article is easy to read and understandable also.
In the "UPSC News Diary Today" article, we focus on both UPSC Preliminary and Mains exam-oriented current affairs & prepare a gist of daily important news articles from leading National Newspapers, PIB, and other various official sources.
NASA's DART Spacecraft
Why in news?
US space agency – NASA's Double Asteroid Redirection Test (DART) spacecraft successfully crashed into the asteroid Dimorphos at breakneck speed.
What is NASA's DART Mission?
The DART mission intentionally crashed on an asteroid to test a unique defence technology.
The target was Dimorphos, a 160-metre-tall asteroid. DART slammed into the harmless asteroid 9.6 million kilometres away at 22,500 kilometres per hour.
The crash is aimed at giving Earth a defence tool against future asteroids headed our way.
The 325 million dollar project was the first attempt to move a natural object in space but it will take days or perhaps weeks to assess how much the asteroid's path was altered.
The DART is a vending machine-sized spacecraft that was launched in November, used novel navigational techniques.
Typhoon Noru
Why in news?
In Philippines, thousands of people have been evacuated and government offices have been closed as super typhoon Noru lashes the country's eastern islands.
What are tropical cyclones?
These storms bring very strong winds and a lot of rain. They form over warm oceans and pick up energy as the warm air picks up water and rises.

When the warm ocean air rises it starts to cool and clouds form. This is called an area of high pressure.

As this air rises, there is a lot less air close to the ocean surface. We call this an area of low pressure. More air then moves in to fill the gap where the low pressure is.

This then warms and rises causing a spinning cycle as more air then moves in to full that space. As this warm air continues to rise and cool, more and more clouds form.
What is the difference between Cyclones, Hurricanes and Typhoon?
Tropical cyclones are powerful spinning storms. Depending on where in the world they form, they have different names.

Tropical cyclones that form in the Caribbean or North American region are known as hurricanes.

Those that form in the Far East, close to places like China and Japan are known as typhoons and those that form in the Indian Ocean are called cyclones.
If a tropical cyclone forms above, or north of the equator, it spins in an anti-clockwise direction. If it forms below, or south of the equator, it spins in a clockwise direction. This is all because of the way the Earth turns on its axis.
Foreign Trade Policy 2015-20
Why in news?
'Foreign Trade Policy 2015-20' extended for further period of six months.
Know about 'Foreign Trade Policy 2015-20'
Foreign Trade Policy 2015-20 was unveiled in 2015.
The policy provides guidelines for enhancing exports to push economic growth and create jobs and incentives under different schemes such as Duty Free Import Authorisation (DFIA) and Export Promotion Capital Goods (EPCG).
It also emphasizes on improving the ease of doing business.
India-UAE CEPA
India-UAE CEPA- Relevance for UPSC Exam
GS Paper 2: International Relations- Bilateral, regional and global groupings and agreements involving India and/or affecting India's interests.
India-UAE CEPA in News
Recently, government informed that, the India-UAE Comprehensive Economic Partnership Agreement (CEPA) which came into effect on the 1st of May 2022 is already creating a significant positive impact on India-UAE trade.
Impact of India-UAE CEPA on India-UAE Trade
Indian exports to the UAE, excluding petroleum products grew from US$ 5.17 billion during June-August 2021 to US$ 5.92 billion during June-August 2022, which denotes an increase of 14%.
It is pertinent to note that India's global non-petroleum exports during the same period (Jun-Aug 2022) grew by 3% on an annual basis.

This implies the growth rate of India's non-petroleum exports to the UAE is almost 5 times as that of India's non-petroleum exports to the world.

Excluding petroleum related imports, Indian imports from the UAE during the same three-month period grew from US$ 5.56 billion (June-August 2021) to US$ 5.61 billion (June-August 2022) or an increase of 1% in percentage terms.
India's Export Growth Trajectory in Recent Past
India's non-oil export growth of around 14% on year-on-year basis comes in the context of significant macroeconomic headwinds such as-

Conflict in Ukraine,
COVID-19 related lockdowns in China,
Rising inflationary pressures,
Expected Policy tightening in advanced economies,
Global growth slowdown and consequent reduced demand,
Reduction in global merchandize trade (growth slowed down to 3.2% in Q1 2022 vis-a-vis 5.7% in Q4 2021) etc.
India-UAE CEPA: Key Features
Tariff Reduction: India-UAE FTA is set to reduce tariffs for 80 per cent of goods and give zero-duty access to 90 per cent of India's exports to the UAE.

Annual exports worth about $26 billion from India that currently attract a 5-per cent import duty in the UAE are set to benefit.

Scope: The India-UAE CEPA agreement covers areas including-

Goods,
Services,
Rules of origin,
Customs procedures,
Government procurement,
Intellectual property rights, and
E-commerce.

Rules of Origin: India-UAE CEPA includes robust rules of origin to protect both economies from misuse of the agreement by third countries, including a requirement of "melt and pour" for steel exports to qualify as domestically produced products from either country.
Safeguard Mechanism: The agreement also provides a permanent safeguard mechanism to protect businesses in both countries to prevent "any unnecessary or unwarranted surge in volumes of (imports) any particular product
Speedy Regulatory Approval for Medical Products: Under the India-UAE CEPA, the UAE agreed to facilitate market access and regulatory approval within 90 days for Indian pharmaceutical products and medical products.

This facility is available to the products that have been approved in developed jurisdictions such as the US, the UK, the EU, Canada and Australia.

Focus on Technology and Sustainability: Technology, digital trade and sustainability have a big focus in the New India-UAE partnership.
An MoU among APEDA, DP World & Al Dahra on the UAE side regarding the "Food Security Corridor Initiative" has been prepared, under which India will be able to play an important role in food security of the UAE.
India-UAE CEPA | India-UAE Signed Comprehensive Economic Partnership Agreement
DefExpo 2022
DefExpo 2022- Relevance for UPSC Exam
GS Paper 2: Governance, Administration and Challenges

Government policies and interventions for development in various sectors and issues arising out of their design and implementation.
DefExpo 2022 in News
Recently, Defence Secretary comprehensively reviewed the preparations of the forthcoming DefExpo 2022 during the Apex Committee meeting at New Delhi.
DefExpo 2022
About: 12th edition of DefExpo 2022 is being held in a first ever four-venue format which promises to engage the public and inspire them to join the Aerospace and Defence manufacturing sector; for 'Aatmanirbharta' in Defence.
Venue: DefExpo 2022 is scheduled to be held in Gandhinagar, Gujarat between October 18-22, 2022.

The DefExpo 2022 was earlier scheduled from March 10-14, 2022 and was postponed due to logistical challenges being faced by participants at that stage.

Key Objective: The aim of 12th DefExpo is to showcase the might of the domestic defence industry which is now powering 'Make in India, Make for the World' resolve of the Government and the nation at large.
Theme: The theme of DefExpo 2022 is 'Path to Pride'.

It is in semblance with PM's vision to transform India into a strong and self-reliant nation by supporting, showcasing and forging partnerships for the Indian Aerospace and Defence manufacturing sectors with Indian as well as global customers.

Unique Features: 12th edition of DefExpo 2022 is the first-ever edition exclusively for Indian companies.

For DefExpo 2022, Indian companies, Indian subsidiaries of Foreign OEMs, Division of company registered in India, Exhibitor having Joint Venture with an Indian company will be considered as Indian participants.
Key Events Planned at DefExpo 2022
India Pavilion: It will showcase the maturity of indigenous defence products, start-ups, latest technology, including Artificial Intelligence in defence, and will present India's vision for 2047. It has been named 'Path to Pride'.

Indian Pavilion is a marque pavilion of Department of Defence Production, Ministry of Defence.

DefExpo 2022 will also mark the celebration of one year of the formation of the seven new defence companies, carved out of the erstwhile Ordnance Factories.

All these companies will be participating for the first time at DefExpo.

India-Africa Defence Dialogue (IADD): The DefExpo 2022 exhibition will also host the 2nd edition of the India-Africa Defence Dialogue (IADD), with invites extended to 53 African countries.
A separate Indian Ocean Region plus (IOR+) conclave with participation of approximately 40 countries is also on the anvil.
Intensive interactions and ideation at seminars, planned at the DefExpo 2022 with eminent panellists from Government, Industry, Industry associations, States, Academia, Think-tanks etc..

This will also provide important learnings/take-aways/action points for further growth of this sector.
Fly Ash
Fly Ash: Relevance for UPSC Exam
General Studies III- Environment.
Fly Ash: In News
The National Green Tribunal (NGT) noted that there was an urgent need to augment the utilization and disposal of fly ash in Chhattisgarh.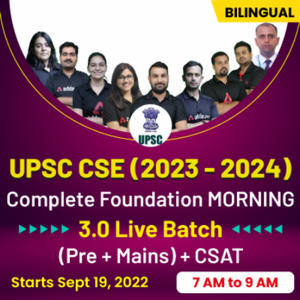 What is Fly Ash?
Fly ash is a by-product of coal combustion and contains Aluminium Silicate, SiO2, CaO, oxides of iron, magnesium and toxic metals like lead, arsenic, cobalt, and copper.
India is set to double its power generation in the next decade and with coal being the biggest source of fuel for power generation, the problem of fly ash is going to increase too.
 Fly Ash: Environmental Problems
All the heavy metals found in fly ash—nickel, cadmium, arsenic, chromium, lead, etc—are toxic in nature and potentially can leech into the surrounding soil and enter food-chain as well.
Fly ash gets easily ingested through respiration, which causes many diseases such as asthma, neurological disorders.
Suspended fly ash in the air acts as a global warming agent and heats the earth's surface.
Fly ash settles on leaves and crops and reduces crop productivity.
It pollutes the groundwater.
Reduces visibility by creating dense fog in the winter season.
 Fly Ash: Issues with management
The government mandates that all coal power plants (CPPs) reach 100% utilization of fly ash and CPPs should give a certain amount of fly ash free of cost for MSMEs to manufacture bricks, tiles and rest of the fly ash should be sold to other industries.
CPPs will have to maintain fly ash ponds to reduce its suspension in air but all these steps do little to mitigate the risks.
The pricing of fly ash is increasingly becoming a contentious issue that is hampering its gainful utilization.
The current approach of evaluating risks with fly ash disposal are very limited, and they may underestimate the true risks
In spite of initiatives taken by the government, several non-governmental and research and development organizations for fly ash utilization, the level of fly ash utilization in the country is quite low at only 38% which is less than the global standards.
Hence, rather than being utilized, fly ash is being stored despite warnings from regulators.
Deposition in storage places has negative influences on water and soil because of their mineral composition as well as morphology and filtration properties.
Ash-handling units are the biggest consumers of water in CPPs. The government advocates the designed ash-to-water ratios as approximately 1:5 for fly ash, but the observed ratios have been around 1:20.
Certain states have discouraged the use of blended cement and fly ash bricks in public works.
Fly Ash: Way Forward
Issues can be addressed by:
Greater regulatory oversight and price control.
Revision of cement blending standards.
Research in improving fly ash quality.
Reducing the cost of transportation.
Provisions for overcoming information asymmetries.
Incentivizing use in brick kilns for producing fly ash bricks.
Overall sensitization of key decision-makers on the matter.
Instead of dumping it on ash ponds, can be used for construction due to its reuse as pozzolan, and replacement of Portland cement by hydraulic cement.
Due to its grain size distribution, enhanced strength permeability, it can be used to construct embankments at road construction, concrete dams like GHATGHAR DAM.
Strong penalties for those production units who do not use proper filtration devices.
Moving to renewable energy production away from coal-based thermal production.
Conclusion
Utilization of Fly Ash is not only possible but also essential.
"Fly Ash Mission of Government of India" is a slow but steady start, the pace of which needs to be ramped up.
An honest effort is required by the concerned stakeholders to improve the perceptions of fly ash-based cement or concrete; increase its use, particularly for government works; and impart scientific knowledge about fly ash, its uses, and possible impacts.
Dharavi Redevelopment Project
Dharavi Redevelopment Project- Relevance for UPSC Exam
General Studies I: Urbanization, Their Problems & Remedies
Dharavi Redevelopment Project: In News
The Maharashtra government gave the go-ahead for fresh tenders in the Dharavi redevelopment project, almost two decades after it was first proposed.
About Dharavi
Dharavi, famous as one of the world's largest slums is located in the heart of India's financial capital – Mumbai.
The Dharavi slum came into being in 1884. It was originally inhibited by fisherfolk when the area was still creeks, swamps.
A city within a city, it is one unending stretch of narrow dirty lanes, open sewers and cramped huts.
It became attractive to migrant workers from South Mumbai and others when the swamp began to fill in due to natural and artificial causes.
The area grew as poor rural Indians migrated to urban Mumbai.
Today, an estimated 600,000 to 1 million people live crammed in Dharavi.
While the land (area of 535 acres) is owned by the government, the houses are maintained by individuals.
Dharavi Redevelopment Project: Economic significance
Dharavi is situated near the India's richest business district, the Bandra-Kurla Complex, where commercial office premiums are among the highest in the country.
The slum sprawl, spread over 2.8 sq.km. is home to an informal leather and pottery industry which employs over a lakh people.
What is the Dharavi Redevelopment Project all about?
The state had envisaged this sprawl be transformed into a cluster of high-rises with improved urban infrastructure.
It entailed resettling 68,000 people, including slum dwellers and those with commercial establishments.
The state was to provide 300-sqft houses for free to residents with proof that their slum structure was in existence before January 1, 2000.
The project was initially mooted in 2004, but never got off the ground due to various reasons.
Dharavi Redevelopment Project: Historical Background
In 1999, the government first proposed to redevelop Dharavi.
Thereafter, the government of Maharashtra in the year 2003-04 decided to redevelop Dharavi as an integrated planned township.
An action plan for redevelopment was approved by issuing a government resolution.
It was decided to develop Dharavi by using land as a resource to cross-subsidie the cost of development through a sale component on the basis of the Slum Rehabilitation Scheme.
The government also decided to notify the whole of Dharavi as an undeveloped area and to appoint a Special Planning Authority for its development.
In 2011, the government cancelled all tenders and drew up a master plan.
Poshan Vatikas
Poshan Vatikas- Relevance for UPSC Exam
GS Paper 2: Environment- Conservation, environmental pollution and degradation.
Nutri- gardens in News
Under ongoing Poshan Maah 2022, activities for setting-up nutri-gardens or retro-fitting Poshan Vatikas with backyard pultry / fishery units is being carried out in a big way across the country.
Nutri-gardens- Key Achievements
Under various interventions taken up by the Ministry of Women and Child Development jointly with Ministry of Ayush, close to 4.37 lakh Anganwadi Centres have set up Poshan Vatikas.

Additionally, so far, 1.10 lakh medicinal saplings have also been planted across some of the selected districts of 6 States.

So far, more than 1.5 lakh events on retrofitting Poshan Vatikas with backyard poultry and fishery units have been reported.
Also, more than 75 thousand sensitization camps have been conducted to promote millets and backyard kitchen gardens.
Interestingly, to replicate the model of Poshan Vatikas at/around new AWCs, close to 40 thousand land identification drives for nutri-gardens/Poshan Vatikas have also been reported under Poshan Maah so far.
What are Nutri Gardens?
A nutri-garden project is a cost-effective model to grow nutrient-rich crops for personal or community consumption to promote good health and well-being.
It helps tackle both under-nutrition and over-nutrition by adopting a sustainable life cycle approach.

Nutri Garden Odisha is one such successful model.

Nutri-gardens that are being set up across the country to provide easy and affordable access to fruits, vegetables, medicinal plants and herbs.
The idea is simple; to provide a fresh and regular supply of locally produced fruits, vegetables and medicinal plants to women and children straight from a nutri-garden at or near an Anganwadi Centre.
Importance of Nutri- gardens/ Poshan Vatikas
Poshan Vatikas can play an important role in enhancing dietary diversity by providing key micronutrients through local fruits and vegetables.
Poshan Vatikas are a good example of convergent action on-ground.
Beyond the reward of locally available wholesome produce, it will reduce external dependency and make communities atmanirbharfor their nutritional security.
Poshan Vatikas- Key Benefits
It provides nutritious food that can address micro & macro nutrient deficiencies and hidden hunger in children.
It provides better use of vacant land lying idle at the schools and AWCs (Aangan Waadi Centres).
It also ensures an inexpensive, regular and handy supply of fresh vegetables, which are basic to nutrition.
It brings diversification in the menu of mid-day meals at government schools and AWCs.
It turns children into catalysts who promote awareness and behavioural changes in society.