'UPSC News Diary Today" is every day published in the evening between 6-7 PM and contains all current affairs articles from the day on a single platform. "UPSC News Diary Today" covers various topics from UPSC Syllabus and is very helpful and time managing for UPSC Aspirants. The framing of this daily current affairs compilation article is easy to read and understandable also.
In the "UPSC News Diary Today" article, we focus on both UPSC Preliminary and Mains exam-oriented current affairs & prepare a gist of daily important news articles from leading National Newspapers, PIB, and other various official sources.
Double Asteroid Redirection Test (DART) Mission 
Why in news?
NASA announces DART mission test successful.
Key Points
DART is a spacecraft designed to impact an asteroid as a test of the technology. DART's target asteroid is not a threat to Earth.
Scientists have now confirmed the orbit of a 160m-wide (520ft) space rock known as Dimorphos was altered when the Dart probe struck it head-on last month.
Researchers came to the conclusion after making measurements using a range of space and Earth-based telescopes.
The mission was conceived to test a potential strategy to defend the Earth against threatening objects.
Dart's achievement proves such an idea would work, provided it was initiated early enough and the target wasn't overly massive.
Economics Nobel 2022
Why in news?
Former Federal Reserve Chair Ben Bernanke and two other U.S economists, Douglas Diamond and Philip Dybvig, won the Nobel Memorial Prize in Economic Sciences.
Why were they awarded the Nobel?
They have been awarded for the work over the course of four decades on the role that bank bailouts play in financial crises. This research dates back to the early 1980s.
Together, the work for which Bernanke, Dybvig and Diamond have been recognised has laid the foundation for modern bank regulations.
Indian Astronomical Observatory
Why in news?
Recently, in a first-of-its-kind initiative, the Department of Science & Technology (DST) has announced the setting up of India's first Dark Sky Reserve in Hanle, Ladakh.
Know About Indian Astronomical Observatory
Indian astronomers in India, led by R. Rajamohan, discovered an asteroid that was later named 4130 Ramanujan. It was the first time in 104 years that asteroids were discovered from India.
Their instrument, the 45-cm Schmidt telescope, was housed on the Javadi hills in Kavalur, Tamil Nadu and the spot is today called as Vainu Bappu Observatory.
It is today run by the Indian Institute of Astrophysics (IIA), Bengaluru, and is among India's foremost observatories.
It was chosen in the 1960s because it was at impressive 750 metres above sea level, located amid a forest and offered fairly unobstructed vistas of the night sky.
Kavalur's geography put it in the path of both monsoonal clouds, during June-September and the returning, or northeast monsoon in November, forcing the observatory to often shut down for months.
Also, rainclouds absorb starlight and radiation from cosmic objects, preventing them from being caught on the telescopes of cameras. Hence, the search began in the early 1980s for a place least affected by the monsoon.
NASA's DART Mission
NASA's DART Mission: Why in news?
NASA has confirmed that the collision of the auto-rickshaw sized 600 kilogram weighing DART, on the football stadium-sized Dimorphos, about five billion kilogram in mass (orbiting around the 780 metres wide primary asteroid Didymos), has deflected the trajectory of the pair of space rocks.
NASA's DART Mission: Background
On September 27the DART (Double Asteroid Redirection Test) spacecraft collided with the space rock Dimorphos (just 160 metres wide).
NASA's DART Mission: Introduction
To avert any future big asteroid collision with earth, NASA had been working to develop the capability to nudge an incoming asteroid to change its course.
In the last seven years, the American space agency spent millions on the mission, named Double Asteroid Redirection Test, or DART.
NASA wanted to see if the spacecraft's impact can change the trajectory of an asteroid.
NASA's DART Mission: When did a big asteroid hit the earth the last time?
The last time a big asteroid crossed the path with the earth was about 66-million years ago.
The impact was so devastating that it wiped out 70% of plants and several species, including the mighty dinosaurs.
Although chances of an asteroid that big hitting the earth again in near future are bleak, scientists don't rule it out completely.
And the likelihood of smaller asteroids coming in earth's way are much more. They can easily wipe-out a big city or even a state, if not a country.
NASA's DART Mission: Key Points
The DART spacecraft was launched in November 2021 by a SpaceX rocket.
Travelling at a speed of 24,000 km per hour, the 570-kg spacecraft took almost ten months to reach the target, an asteroid named Dimorphos.
Dimorphous is about 170 meters in diameter and orbits a parent asteroid five times larger called Didymos, which is 10-km long. Both the asteroids don't pose a threat to earth.
The NASA vehicle crashed into Dimorphos at a blistering speed of around 4 miles per second.
Mission control at the Johns Hopkins Applied Physics Laboratory (APL) in Maryland, announced the successful impact.
DART's on-board camera livestreamed second-by-second images to the earth till it went blank due to the collision with the asteroid.
NASA's DART Mission: Which technique did NASA use?
NASA undertook the 'kick' technique.
Compared to the massive Dimorphos, DART is a tiny Goliath.
Yet crashing at a breakneck speed of 23,760 kilometres per hour, the momentum is adequate to slash the angular momentum of Dimorphos, making it speed up and move closer to Didymos.
All of these reduce the orbital period and the time taken for the moonlet to go around the primary asteroid. The pair's trajectory is thus deflected as the net result of these dynamics.
Consider it like this: a fast-moving moped slamming into a truck is sure to undergo a massive crash and burn, yet will veer the massive truck a bit. This is the essence of the 'kick' technique.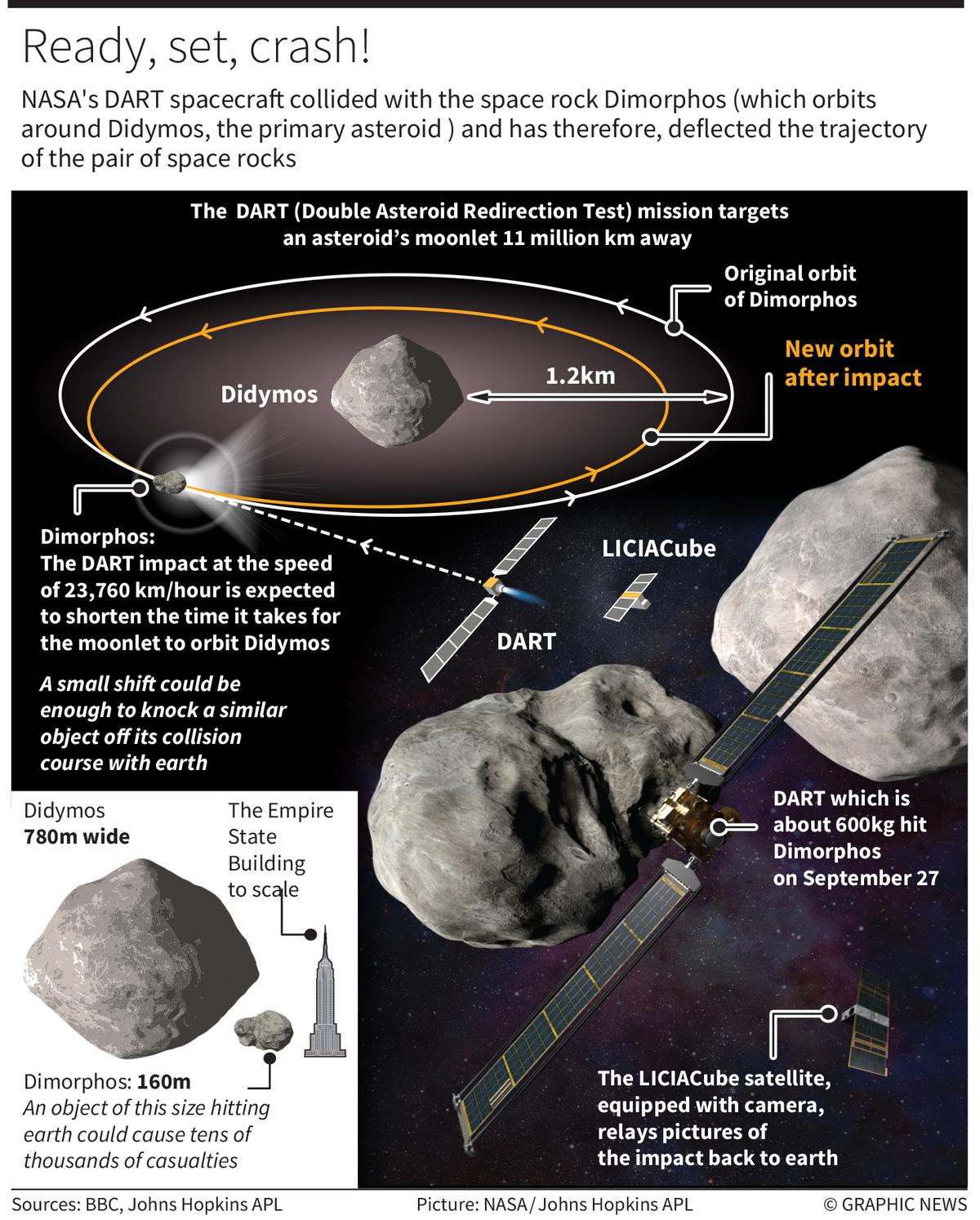 NASA's DART Mission: What are asteroids?
Leftover materials from the formation of the sun, earth and planets, through the accretion and agglomeration of giant gas and rocks, are scattered as comets, asteroids and meteoroids in the solar system.
Some of these cross their path and collide with earth from time to time, resulting in a spectacular meteor shower. Most rocks are so small that they burn up completely in the atmosphere due to frictional heating.
If they are large enough, the charred piece falls through as a meteorite.
The falling piece from a meteoroid 140 metres wide or more will be capable of completely wiping out a city.
The impact would be devastating if it was one or more kilometres wide.
National Conference on Project Mausam
National Conference on Project Mausam- Relevance for UPSC Exam
GS Paper 1: Indian History- Indian culture will cover the salient aspects of Art Forms, Literature and Architecture from ancient to modern times.
National Conference on Project Mausam in News
Recently, the Archaeological Survey of India (ASI) organized a two-day National Conference on Project Mausam at India Habitat Centre, New Delhi.
National Conference on Project Mausam 2022
About: National Conference on Project Mausam is being organized with the objective of promoting further research and broadening our understanding of this
Theme: National Conference on Project Mausam 2022 is being organized on the theme of "Jaladhipurayatra: Exploring Cross- Cultural Linkages along the Indian Ocean Rim Countries".
Associated ministry: ministry of culture is organizing the National Conference on Project Mausam 2022
Participation: Over twenty scholars from different parts of India participated in the Academic Sessions of the Conference.

These include meteorologists, archaeologists, historians and internationally-renowned experts in the fields of climate change, underwater explorations and intangible cultural heritage.
Key Sessions in National Conference on Project Mausam
The Conference consists of a Plenary Session followed by six Academic Sessions, each  dealing with a particular aspect of India's maritime interactions.
One session exclusively deals with issues relating to the World Heritage properties with special reference to-

Identification of historical sites and structures located in different countries of the Indian Ocean region and
Exemplifying inter-country relations, thus qualifying for trans-national nomination for UNESCO World Heritage certification.

This was followed by a unique session in which the representatives and ambassadors of the different Indian Ocean region countries discussed-

Different aspects of the region's inter-country ties and
Trans- national nomination of important sites in the region for the World Heritage status.
Project 'Mausam'
Background: Project Mausam' was launched by the Ministry of Culture, Government of India at UNESCO's 38th World Heritage Committee Meeting held at Doha, Qatar, in 2014.

Currently, the Project is being administered by the Archaeological Survey of India (ASI).

About: Focusing on monsoon patterns, cultural routes and maritime landscapes, Project 'Mausam' is examining key processes and phenomena that link different parts of the Indian Ocean littoral as well as those that connect the coastal centres to their hinterlands.
Implementation: Project 'Mausam' is a Ministry of Culture project.

It is to be implemented by Indira Gandhi National Centre for the Arts (IGNCA), New Delhi as the nodal coordinating agency with support of Archeological Survey of India and National Museum as associate bodies.
UNWGIC 2022
UNWGIC 2022- Relevance for UPSC Exam
GS Paper 2: International Relations- Important International institutions, agencies and fora- their structure, mandate.
UNWGIC 2022 in News
Recently, the Second United Nations World Geospatial Information Congress (UNWGIC 2022) began in Hyderabad.
In his inaugural address, the Hon'ble Prime Minister of India, Shri Narendra Modi, said "There is a need for an institutional approach by the international community to help each other during a crisis".

He cited that the geospatial technology has been driving inclusion and progress in national development projects like SVAMITVA, PM Gati Shakti master plan, JAM Trinity, etc.
UN World Geospatial Information Congress 2022
Venue: UNWGIC 2022 is being held in Hyderabad.
Theme: UN World Geospatial Information Congress 2022 is being organized on the theme of 'Geo-Enabling the Global Village: No one should be left behind,'.
Organizing Agency: The five-day UNWGIC 2022 conference is being hosted by the Department of Science & Technology, Ministry of Science and Technology.

UNWGIC 2022 is convened by the United Nations Committee of Experts on Global Geospatial Information Management.

Significance: Second UNWGIC 2022 will reflect on the importance of integrated geospatial information infrastructure and knowledge services to support the implementation and monitoring of sustainable development goals.

It will also mirror the well-being of society, address environmental and climate challenges, embrace digital transformation and technological development, and catalyze a vibrant economy.
Importance for India
The Congress will discuss the liberalized geospatial policy of India and how it has impacted the geospatial ecosystem.
To achieve India's vision of Atmanirbhar Bharat and the objective of a $5 trillion economy, geospatial data and map restrictions are being completely liberalised, with major changes to India's mapping policy this year, primarily for Indian firms.
What is freely available around the world does not need to be restricted in India, therefore geospatial data that was previously restricted will be freely available now.
UN World Geospatial Information Congress
About: UN World Geospatial Information Congress is conducted every 4-years to ensure collaboration and cooperation in the field of geospatial information among member countries.

In October 2018, China hosted the first United Nations World Geospatial Information Congress (UNWGIC 2018).

Organizing Body: The Congress is hosted by United Nations Committee of Experts on Global Geospatial Information Management (UN-GGIM).
Mandate: The objective is to improve international collaboration in geospatial information management and capacity among the member states and all the concerned stakeholders.
What is Geospatial Data?
Geospatial data, known as geodata has location information, such as an address, area, or ZIP code, linked to a dataset.
They can also come from Global Positioning System (GPS) data, geospatial satellite imagery, telematics devices, Internet of Things (IoT), and geotagging.
NITI Aayog's Geospatial Energy Map of India
Vyommitra Humanoid
Vyommitra Humanoid: Relevance for UPSC Exam
General Studies III- Awareness In The Fields Of It, Space, Computers, Robotics, Nano-Technology, Bio-Technology, Pharma Sector & Health Science
Vyommitra Humanoid: Context
Vyommitra, the humanoid designed and developed by the ISRO to fly aboard unmanned test missions ahead of the Gaganyaan human space-flight mission, is undergoing pre-flight ground tests at the ISRO Inertial Systems Unit (IISU).
Vyommitra Humanoid
The AI-based robotic system is developed at a robotics lab at the Vikram Sarabhai Space Centre (VSSC) at Thumba, Thiruvananthapuram.
The AI-enabled robot is designed to fly aboard a rocket, withstanding vibrations and shock during the flight.
Vyommitra will fly aboard the first unmanned test flight ahead of the crewed Gaganyaan flight expected in 2024.Functions of the humanoid
Vyommitra, equipped with a head, two arms and a torso, is built to mimic crew activity inside the crew module of Gaganyaan.
Vyommitra Humanoid: Facts
'Vyommitra', the humanoid designed and developed by the ISRO to fly aboard unmanned test missions ahead of the Gaganyaan human space-flight mission, is undergoing pre-flight ground tests.
Vyommitra is a half-humanoid lacking lower limbs.
IISU was responsible for the design, development, and integration of the robot, while sister ISRO centre Vikram Sarabhai Space Centre (VSSC) at Thumba developed its fingers.
Attaining launch and orbital postures, responding to the environment, generating warnings, replacing carbon dioxide canisters, and operating switches, monitoring of the crew module, receiving voice commands, and responding via speech (bilingual) are among the functions listed.
Vyommitra Humanoid: Recent development
The IISU has successfully integrated it with a computer "brain", which enables it to "read" control panels aboard the unmanned test flights and communicate with the ISRO ground stations.
It has a certain level of intelligence.
It is intended to operate and read the display panels and communicate back to ground station using its own voice.
'
B20 Indonesia Global Dialogue
B20 Indonesia Global Dialogue- Relevance for UPSC Exam
GS Paper 2: International Relations- Bilateral, regional and global groupings and agreements involving India and/or affecting India's interests.
B20 Indonesia Global Dialogue in News
Recently, Department for Promotion of Industry and Internal Trade (DPIIT) hosted Conference on B20 Indonesia Global Dialogue in partnership with Confederation of Indian Industry (CII) in New Delhi.
B20 Indonesia Global Dialogue
B20 Indonesia Global Dialogue 2022 was hosted by India with the aim of aligning the perspectives of Indian industry with the policy recommendations of B20 Indonesia.
The B20 Indonesia Global Dialogue conference would set tone for the deliberations to ensure that the Indian perspectives are well represented in the policy recommendation of B20 Indonesia.
Participation: More than 20 business delegates from Indonesia attended the conference.

The Indian Government side was represented by Shri Amitabh Kant, India's Sherpa to G20, Shri Anurag Jain, Secretary, Department of Promotion of Industry and Internal Trade and other senior officers from DPIIT and other concerned Ministries.

Themes for Discussion: Perspectives from B20 Indonesia was followed by perspectives from Indian Industry and Government of India on following themes-

Trade & Investment
Energy, Sustainability & Climate
Digitisation and
Finance and Infrastructure
What is Business 20 (B20)?
About: Business 20 (B20), formed in 2010, is the official G20 dialogue forum with the global business community.
Mandate: B20 aims to deliver concrete actionable policy recommendations on the priorities by each rotating presidency to spur economic growth and development.
G20 Summit 2022
Background: The G20 was formed in 1999 in the backdrop of the financial crisis of the late 1990s that hit East Asia and Southeast Asia in particular.

The first G20 Summit took place in 2008 in Washington DC, US.

About: G20 is a global grouping that aims to secure global financial stability by involving middle-income countries.

In addition to G20 Summits, the Sherpa meetings (that help in negotiations and building consensus), and other events are also organised throughout the year.

G20 Members: Full members of G20 are- Argentina, Australia, Brazil, Canada, China, France, Germany, India, Indonesia, Italy, Japan, Mexico, Russia, Saudi Arabia, South Africa, South Korea, Turkey, the United Kingdom, the United States and the European Union.

Each year, the presidency invites guest countries.

G20 Secretariat: The G20 has no permanent secretariat.
G20 Sherpas: The agenda and work are coordinated by representatives of the G20 countries, known as 'Sherpas', who work together with the finance ministers and governors of the central banks.

India recently said ex-NITI Aayog CEO Amitabh Kant would be the G20 Sherpa after Piyush Goyal.

Significance: Together, the G20 countries include 60 per cent of the world's population, 80 per cent of global GDP, and 75 per cent of global trade.
G20 Presidency: The presidency of the G20 rotates every year among members. Presently Indonesia have the G20 Presidency.

G20 Presidency 2023: India will inherit the G20 Presidency for the year 2023.

G20 Troika: Country holding the G20 presidency, together with the previous and next presidency-holder, forms the 'Troika' to ensure continuity of the G20 agenda.

Italy, Indonesia, and India are the Troika countries right now.
India's presidency of the G20-Opportunity for India's growth
OPEC Plus
OPEC Plus: Relevance for UPSC Exam
General Studies II- Important International Institutions
OPEC Plus: Context
Oil prices rose about 1%, as OPEC+ members agreed to its deepest cuts to output since the 2020 COVID pandemic, despite a tight market and opposition to cuts from the United States and others.
What is OPEC+?
The non-OPEC countries which export crude oil along with the 14 OPECs are termed as OPEC plus countries.
OPEC plus countries include Azerbaijan, Bahrain, Brunei, Kazakhstan, Malaysia, Mexico, Oman, Russia, South Sudan, and Sudan.
Saudi and Russia, both have been at the heart of a three-year alliance of oil producers known as OPEC Plus — which now includes 11 OPEC members and 10 non-OPEC nations — that aims to shore up oil prices with production cuts.
OPEC Plus: Slashing production
Oil prices skyrocketed after Russia's invasion of Ukraine.
The cut made recently is the biggest of its kind since 2020 when OPEC+ members slashed outputs by 10 million bpd during the Covid-19 pandemic.
The reductions would boost prices and be extremely beneficial for the Middle Eastern member states, to whom Europe has turned for oil after levelling sanctions against Russia since it invaded Ukraine.
OPEC+ members are concerned that a faltering global economy would reduce the demand for oil, and the cuts are seen as a way to protect profits.
OPEC Plus: Concerns for India
Even after importing cheap Russian oil, India has not seen any cut in fuel prices.
Rising oil prices are posing fiscal challenges for India, where heavily-taxed retail fuel prices have touched record highs, threatening the demand-driven recovery.
India imports about 84% of its oil and relies on West Asian supplies to meet over three-fifths of its demand.
As one of the largest crude-consuming countries, India is concerned that such actions by producing countries have the potential to undermine consumption-led recovery.
This would hurt consumers, especially in our price-sensitive market.