Relevance
GS 3: Economics of animal-rearing.
Palk Bay Yojna 2021: Context
Under the Palk Bay Scheme/ Palk Bay Yojna, the Union Government is considering increasing the unit cost of deep-sea fishing vessels to make it more attractive to fisherfolk.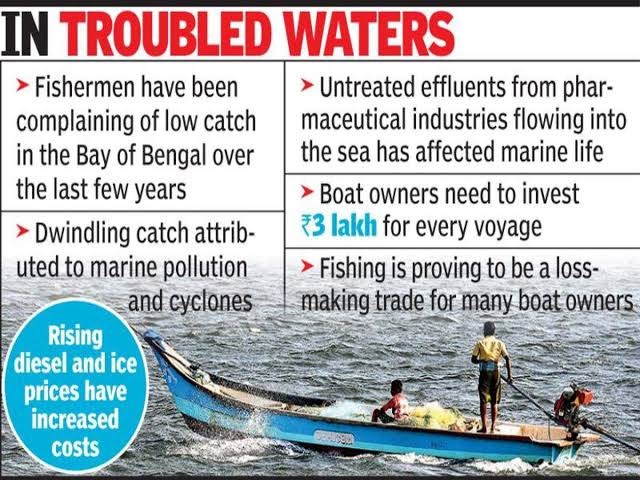 Palk Bay Yojna: Key points
As of now, the original unit cost of 80 lakhs were inadequate to meet the requirements of the fisherfolk.
So, the government is considering to increase the unit cost to 1.3 crores.
Fishery Subsidy And The Issues Arising From It
About Palk Bay scheme
Palk Bay scheme was launched in 2017 to abandon bottom trawling.
It was launched as a part of Blue Revolution
It was jointly financed by the Union and the State Governments with beneficiary participation.
The scheme, crafted specifically for Tamil Nadu, envisages the provision of 2,000 vessels in three years to the fishermen of the State to motivate the fishery community to stop using bottom trawling.
| | |
| --- | --- |
| Name of Scheme | Palk Bay Scheme |
| Launch Year | 2017 |
| Launched Under | Blue Revolution Programme |
| Type of Scheme | Centrally Sponsored Scheme |
| Purpose | To abandon Bottom Trawling |
What is bottom trawling?
Bottom trawling means trawling along the seafloor.
It is a fishing practice that herds and captures the target species, mostly fishes, by towing a net along the ocean floor.
It has a huge impact on the coastal ecosystem as it leads to post‐fishing mortality, changes in the benthos, and damages the coral reefs.
Marine Fishery Bill
Our country does not have any law to regulate fishing activity taking place beyond 12 nautical miles from the shore. The state laws are in place only up to 12 nm. The Bill addresses this loophole.
It is intended to protect fishermen if there is any illegal activity by a foreign fishing vessel in the EEZ (Exclusive Economic Zone).
The fishermen had to register themselves as part of the legislation.
There would be a fine of Rs. 1,000 if they are not registered and are found in EEZ without licence.
Fishery interventions in Tamil Nadu
Tamil Nadu would get a special economic park as a pilot project for the promotion of seaweed farming.
Kisan Credit Card would also be extended to the fishing community.
Under the PMMSY (Pradhan Mantri Matsya Sampada Yojana)., five fishing harbours would be modernised as per international standards and the idea was to encourage exports of fish products.
Palk Bay location
Palk Bay is a semi-enclosed shallow water body with a water depth maximum of 13 m. It is located between the southeast coast of India and Sri Lanka.