Draft NCR Regional Plan-2041- Relevance for UPSC Exam
GS Paper 2: Governance, Administration and Challenges: Government policies and interventions for development in various sectors and issues arising out of their design and implementation.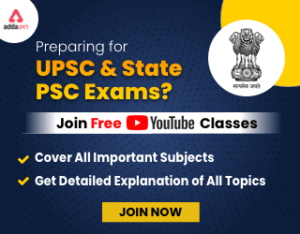 Get free video for UPSC CSE preparation and make your dream of becoming an IAS/IPS/IRS a reality
Draft NCR Regional Plan-2041- Context
Recently, the National Capital Region Planning Board (NCRPB) deferred its decision on the draft NCR Regional Plan-2041, which proposes high-rise development and five to eight new greenfield townships.

NCRPB meeting was chaired by Union Housing and Urban Affairs Minister.

Earlier, the draft had been sent to the NCR constituent States- Delhi, Uttar Pradesh, Haryana, and Rajasthan for their comments.
Tackling Air Pollution: Commission for Air Quality Management in NCR and Adjoining Areas Bill, 2021
Draft NCR Regional Plan-2041- Key points
About: The regional plan is being drafted keeping citizens at the center. Improving the ranking of NCR cities on the ease of living index, boosting economic activity and opportunity, and furthering the sustainability of the NCR Region.
NCR Regional Plan-2041 is expected to replace the NCR Regional Plan-2021.

NCR Regional Plan-2021: to guide the development of the region from 2001 until 2021. It was notified in 2005. It was first to introduce the concept of a natural conservation zone.

Nodal Authority: The National Capital Region Planning Board (NCRPB) has been entrusted with the task of preparation of this regional plan.
Country's First Smog Tower in Delhi
Draft NCR Regional Plan-2041-key proposals
NCR cities and towns should be "planned with an optimum high rise and high-density norms";
The Floor Area Ratio (FAR) norms should be similar to international standards;
Mixed land-use of residential, commercial, and institutional should be allowed "both vertically and horizontally" in the older areas of the NCR;
Private land-owners should have the authority to cut or replace trees planted on their land, and
The elements under the Natural Conservation Zones in the RP-2021 will remain, but there would be a distinction between "forests and green cover".

Areas currently categorized as 'forests', will continue to be conserved in RP-2041.
Microplastic Pollution: Severity of the Problem, Its Impacts and Suggestive Measures
National Capital Region Planning Board (NCRPB)
About: National Capital Region Planning Board is a statutory body that was constituted by the Act of Parliament in 1985.
Nodal Ministry: It functions under the Ministry of Housing & Urban Affairs, Govt. of India.
Mandate: to evolve policies for the control of land uses and development of infrastructure in the region so as to avoid any haphazard development.