Relevance
GS Paper 3: Environment: Conservation, environmental pollution, and degradation.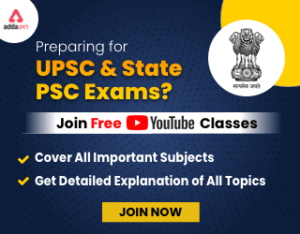 Get free video for UPSC CSE preparation and make your dream of becoming an IAS/IPS/IRS a reality
Context
A new study by an NGO has found evidence of a modern-day scourge, microplastics, in the river Ganga, with the highest concentrations in Varanasi and Kanpur, followed by Haridwar.

'Quantitative analysis of Microplastics along River Ganga' study was conducted and published by Delhi-based environment NGO Toxics Link.
Key findings of the report
Microbeads were observed in Varanasi and Kanpur, while no beads were found in Haridwar.
The shapes and nature of the observed resins ranged from fibers to fragments, films, and beads.
Fragments were the predominant shape in all locations, followed by film and fiber.
Their sources could be tires, clothing, food packaging, bags, cosmetics with microbeads, garland covers, and other municipal waste.
Competition Commission of India: India's Anti-trust Regulator
About Microplastics:
Microplastics are small pieces of plastic, less than 5 mm (0.2 inches) in length, that occur in the environment as a consequence of plastic pollution.
Microplastics are present in a variety of products, from cosmetics to synthetic clothing to plastic bags and bottles. Many of these products readily enter the environment in wastes.
They can be classified into two categories based on their origin-
Primary microplastics: include microbeads found in personal care products, plastic pellets (or nurdles) used in industrial manufacturing, and plastic fibers used in synthetic textiles (e.g., nylon).
Secondary microplastics: originate from the breakdown of larger plastics. Plastic bottles, bags, fishing nets, and food packaging are some examples of the larger pieces that break down into microplastics, eventually finding their way into the soil, water, and the air we breathe.
Important Prelims Articles- 24rth July 2021
Microplastic Pollution in the World
Microplastic pollution in the Arctic: was discovered by a study. Wind acted as transporting agent for this.

The study claims to be the first that contains data on the contamination of snow by microplastics.

According to an estimate, an average human ends up consuming at least 50,000 particles of microplastics in food every year.
Marine plastic pollution: According to the International Union for Conservation of Nature (IUCN), at least 8 million tons of plastic end up in the oceans every year.
Measurements of the top 200 meters of the Atlantic found 11.6 – 21.1 million tonnes of microscopic particles.
In India: The average Indian consumes approximately 11 kg of plastic products in various forms every year. Though it is much less than what an American or a Chinese does, it still is a problem.
Financial Action Task Force (FATF): Composition, Functions, and Its Fight against Terror Financing
Impacts of microplastic pollution
On human health:

Human exposure to microplastics is likely to come from airborne dust, drinking water (including treated tap water and bottled water)
Microplastics can reach our stomach where they can either be excreted, get entrapped in the stomach and intestinal lining, or move freely in body fluids such as blood, thereby reaching various organs and tissues of the body.
Negatively affects the nervous system, hormones, immune system and have cancer-inducing properties.

On marine ecosystem:

On marine organisms: when consumed, microplastics are stuck in their digestive tracts and also alter their feeding behavior.
Accumulation of toxic plastics in the stomach leads to starvation and death, resulting in reduced growth and reproductive outputs.
Magnify marine pollution: by acting as a binding and transporting agent for heavy metals and organic pollutants because of its water-repellent properties.
Way forward
Reduce, reuse and recycle: this should be the mantra to eliminate the menace of microplastics in the world.

open landfills and open-air burning that are often practiced to manage domestic waste should be banned and replaced with 100% collection and recycling of the used plastics.

Promote bioplastics as an alternative to microplastics: this can be done by investing in the industry and government support, reducing its cost of production, and enhancing its attractiveness to various industries.
Awareness generation: among the masses on the lines of Swachha Bharat Mission (SBM), about microplastic derived products, harmful impacts, and ways to reduce its usage should be done on a priority basis.
A cooperative and collaborative partnership among all stakeholders (the community, industry, government, and civil society organizations) to ensure effective plastic waste management and the subsequent reduction in microplastic pollution.
To deal with a planetary crisis like Microplastic pollution, a global collaboration on the lines of the Paris agreement is the need of the hour. Collective public efforts to stop plastic pollution and safeguard our ecosystem are the way forward for ensuring safe and sustainable planet earth.