Context
Recently, the police invoked the stringent National Security Act (NSA) against four persons for allegedly raising pro-Pakistan slogans during a Muharram event in Ujjain of Madhya Pradesh.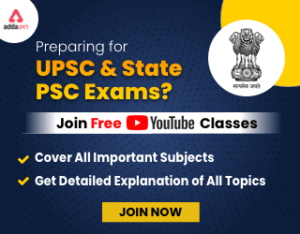 Get free video for UPSC CSE preparation and make your dream of becoming an IAS/IPS/IRS a reality
Key Points
About NSA: It is a preventive detention law that allows for the detention of alleged individuals for months if authorities are satisfied that a person is a threat to national security or law and order.

It is basically the detention of a person to keep him/her from committing future crimes and/or escaping future prosecution.
It was enacted in 1980 during the Indira Gandhi government.

Constitutional Provisions regarding Preventive detention:

Article 22 (3) (b): allows for preventive detention and restriction on personal liberty for state security and public order reasons.
Article 22(4): No law providing for preventive detention shall authorize the detention of a person for a longer period than three months unless an advisory board finds sufficient grounds for further extension of detention.

Ground for Preventive Detention under NSA: Authorities can invoke provisions of the NSA-

If a person is acting in any manner prejudicial to the defence of India, the relations of India with foreign powers, or the security of India.
To regulate the continued presence of any foreigner in India or make arrangements for his expulsion from India.
For preventing individuals from acting in any manner prejudicial to the security of the State or from acting in any manner prejudicial to the maintenance of public order or from acting in any manner prejudicial to the maintenance of supplies and services essential to the community it is necessary so to do.

Period of detention:

Under it, a suspected person can be detained without charge for up to 12 months. This can be further extended by the state if it finds fresh evidence for the same.
Initially, the concerned individual can be detained for 10 days even without being told the charges against them.

Appeal against detention: A detained person can appeal before a high court advisory board but they are not allowed a lawyer during the trial.